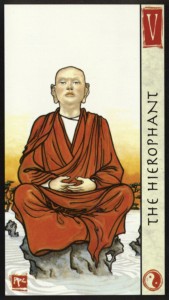 If you're interested in trying the Dharma Seed Virtual Retreat I wrote about in yesterday's post, it would be a good idea to listen to Guy Armstrong's Meditation Instructions, which he gave on the morning after the first talk.
The first talk is available: here. The meditation instructions are: here. The full list of all the retreat talks is: here.
Guy's instructions run 55 minutes. During the first 15 minutes, he gives very clear…and quite beautiful….guidance for using Awareness itself as an object of meditation. He talks about experiencing Awareness as an open field, as well as knowing it in relation to a chosen object, such as sounds, body sensations or the breath.
The next 30 minutes are silent. (So you can meditate!)
The last 10 minutes are Question & Answer.
Check it out.
(image from: Feng Shui Tarot)