Last night at the Hi-Pointe Sitting Group, I offered the following instructions from a really wonderful little book by Ajahn Sucitto, "Kamma and the End of Kamma." (Available as a free download here.)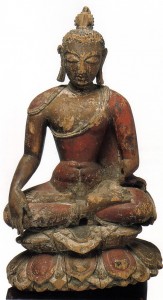 Sit still in a quiet and settled place in a way that feels comfortable. Relax your eyes, but let them stay open or half-open, with a relaxed gaze. Be aware of the sensation of your eyeballs resting in the eye-sockets (rather than focusing on what you can see). Be sensitive to the tendency for the eyes to fidget, and keep relaxing that. 
Bring your attention to the sensations of your hands, then your jaw and tongue. See if they, too, can take a break from being ready to act or be on guard. Let your tongue rest in the roof of your mouth. Then sweep that relaxing attention from the corners of the eyes and around the head, as if you were unfastening a bandana. Let the scalp feel free.
Let your eyes close. As you relax all around your head and face, bring that quality of attention, slowly, gradually, down over your throat. Loosen up there, as if allowing each out-breath to sound an inaudible drone.
Keeping in touch with these places in your body, be aware of the flow of thoughts and emotions that pass through your mind. Listen to them as if you're listening to flowing water, or the sea. If you find yourself reaching to them, bring your attention to the next out-breath, continuing to relax through the eyes, throat and hands.
While maintaining awareness of the overall presence of your body, practice stepping back from, or letting go of, any thoughts and emotions that arise. Don't add to them; let them pass. Whenever you do that, notice the sense of spaciousness, however brief, that seems to be there, behind the thoughts and feelings. Attune to the peacefulness of that.
Feeling the peacefulness of that, take it in. Rather than demand or try to achieve calm, make a practice of quietly offering peace to the energies that pass through you.