"All conditioned things are impermanent.
Their nature is to arise and pass away.
To be in harmony with this truth
Brings true happiness."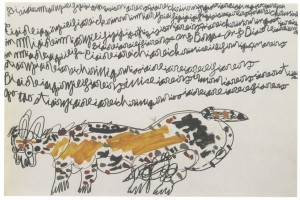 My cat Ruby is dying. She's about 15 years old and has been losing weight dramatically. She used to be…well…Rubenesque, but then all of a sudden (it seemed) she was looking rather svelte. But she kept losing weight and now she's way past the super model stage.
Yesterday, when I came home from work, I could see that Ruby had been sick all over the house. I found her hiding where she always goes when she wants to be invisible. I thought she was dead. But then she opened her eyes. And she came out. She walked around. She went to the water bowl and looked at it for a while. She didn't drink. But she didn't seem to be in any pain or distress.
It was Metta night, so I went to sit with the group. (Which is a wonderful thing to do in circumstances like these, by the way. Thank you to all who were there.)
I was afraid that I'd come home from the group to find her dead. She had hidden herself again, but she was alive. She came out then….even went all the way downstairs, jumped up on the couch, and sat in my lap!
So it's not over yet.
But it's close.
What is there to do, but to say metta phrases for Ruby: May you feel safe and protected. May you be peaceful. May you be comfortable. May you live..and die…with ease. And for myself as well: May I feel safe and protected. May I be peaceful. May I be strong. May I, too, live…and die…with ease.  
(image: "Outsider Art," Untitled, by Dwight Mackintosh)
4 Comments