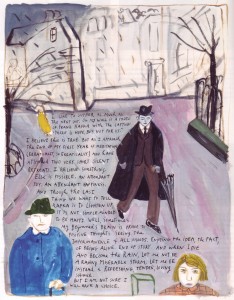 I'm back from the weekend retreat here in St. Louis with Rebecca Bradshaw, which was great. So I take this occasion to post another illustration by Maira Kalman, titled After the Retreat, in which she writes:
I like to suffer as much as the next guy. On my wall is a photo of Franz Kafka with the caption: "There is hope, but not for us." I believe this is true.
But as I approach the end of my first year of meditation (erratically, so erratically) and have attended two very short silent retreats, I believe something else is possible. An attendant joy. An attendant happiness. And though the last thing we want to tell Kafka is to lighten up, it is not simpleminded to be happy.
Well, sometimes. My beginner's brain is prone to positive thoughts. Seeing the impermanence of all moods. Enjoying the idea, the fact, of being alive. End of story.
And when I die and become the rain, let me not be a raging miserable storm. Let me be instead a refreshing, tender, loving shower. But I am not sure I will have a choice.
(image from Mindful magazine, Feb 2014. click to enlarge)