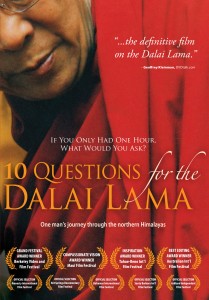 DHARMA MOVIE NIGHT TONIGHT
We'll be showing 10 Questions for the Dalai Lama, a 2006 documentary that asks: How do you reconcile a commitment to non-violence when faced with violence? Why do the poor often seem happier than the rich? Must a society lose its traditions in order to move into the future?
The film includes a look back at the spiritual leader's history and an exploration of the city of Dharamsala, India, where he now lives in exile. Watch trailer here.
Show starts tonight at 7:00pm at a private home inKirkwood. If you want to join us, contact me by email here.