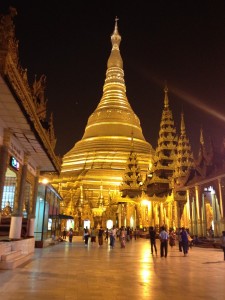 I mentioned yesterday that one of the great things about the Rainbow Hotel was that it was within walking distance of the Shwedagon Pagoda. As you may recall, I arrived in Yangon two days later than the rest of our group because my flight out of St. Louis had been canceled because of a big snowstorm. So I arrived at the hotel, alone, at about 11:00 at night…totally jet-lageed and disoriented…and then was told by the clerk at the front desk that they had no record of my reservation and that there was no rooms available that night.
!!!!
But it worked out because I kept saying that I was with Tempel Smith's group…the language barrier was a bit difficult, but they showed me a xerox of his passport and I said "Yes!" and then they called his room and then there was some confused back-and -forth over the phone, but after a while they did manage to find me a room for the night. I had to switch to a different room the next night–the room I wrote about on yesterday's post, which was much nicer than the room I was in the first night.
I managed to get up in time to meet everyone at breakfast, but they had all had several days to get oriented so the plan for was for them to take a bus about an hour away to visit U Tejaniya at the Shwe Oo Min monastery, and for me to hang around the hotel and relax. This was an excelled plan, since the next morning we were all scheduled to catch an early morning flight to Bagan.
But that meant that I wouldn't get a chance to see Yangon until we came back on the last day of our 2 weeks with Tempel. I was really tired and thought that it was all I would be able to do to get to the lobby the next morning at 4am to get to the airport, but everyone said that I really needed to go see the Shwedagon Pagoda.
I was nervous, actually, about going away from the hotel without Tempel, but just before sunset, Leahe took me by the hand and very compassionately walked me the 5 or 6 blocks to the Pagoda.
And wow, was it worth it. Not only was it gorgeous (see photo above) but there was such a powerful, sacred atmosphere of reverence, respect and both private and public devotion, mixed with a social, celebratory, almost festival feeling of community participation and a shared sense of deep spiritual wealth and abundance that's hard to put into words.
These pictures will have to try to tell the story. More on Monday.