Browsing Category "Talks"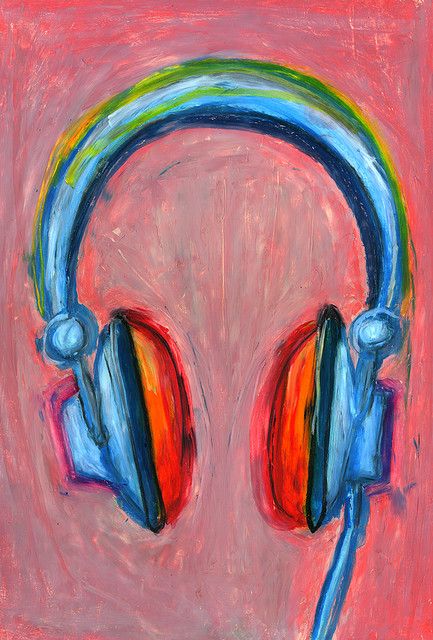 I discovered last night that talks from Ajahn Sucitto's month-long retreat — going on right now at the Forest Refuge — are starting to be posted on Dharma Seed.
I had tried to attend this retreat, but my name didn't get drawn. (Admission was by lottery.) The same thing happened to me when I tried to attend this retreat last year…and the year before that, and the year before that, and the year before THAT.
So I decided it's time for a new plan.
Instead of trying to win the Sucitto retreat lottery, I'm just going to meditate at home — BUT I'M STILL GOING TO SIT HIS RETREAT — because I can listen to the talks on-line.
I'll call it a head-phone retreat!!!
So I started it last night by listening to this very sweet little opening talk (just 14 minutes long), in which Sucitto explains the practice of alms giving (the ritual offering of a meal to monastics) — which I had never really given much thought to until the first time I attended a retreat where a monk was present, and then was so moved by the care and respect with which it was done, that I found myself welling up with tears.
Here's what Sucitto says about this in the first talk of the retreat:
"The first thing that's going to involve us monastics is the alms giving. This is a sign of the reciprocity in which everybody contributes, everybody participates and shares, in a kind of quiet and restrained and careful way. And so it establishes a relationship with an essential quality that has a certain special focusing, even sacred nature, to it.
"Because when we relate to each other, then we have to come out of our self a little bit — meet the other in that uncertain place. And that's where these valuable qualities of goodwill, self-respect, respect-for-other, and meaning, can occur.
"So the alms giving is not just having a meal. Essentially, the principle is, that the sammanas — "gone-forth people" we call monastics — make themselves available to receive what is offered. So the principle of our mendicant life is we never ask for anything, it's that we just make ourselves available. That's the principle of it.
"For those who offer it's not like: What would you want? What would you like? But: May I offer? And then whatever is offered, we receive it. So that allows a certain kind of openness, and the other people come in as they will. They don't have to offer anything. If not, well, then OK, maybe next time…
"Essentially, what is most highly regarded is the quality of the offering — the offering gesture — and the smoothness or the clarity, the caring quality that's imbued in that, rather than the actual nature of the material object.
"As gone-forth people, we place matters of the heart above matters of material form. These matters of the heart are: generosity, sharing, respect, and invitation and offering, rather than demand and obey…"
***
Sucitto then goes on to a few other items, concluding with this lovely bit of instructions for settling in:
"While you're finding your way into the retreat, let's make the effort to draw a circle around your life. Keeping it within this particular physical situation. So you can walk around the whole of the retreat facility — that's including the woodlands — but let's keep in this particular property, so you've got some sense of a boundary.
"And bring all your concerns within that. How you act, how you walk, how you relate to the earth, how you relate to other people, how you relate to your body, and how you relate to the sacred — to these four compass points.
"The earth, nature, how you feel connected to that — you're in that — a sense of respect and openness to that.
"To your own body — and here I will offer daily qigong to support you in that.
"How you relate to others — the precepts and the whole sense of acting as a group, which is part of that.
"And of course, how you relate to the sacred — your own values, your own virtues, both the moral virtues and the virtues in terms of parami — how you lift them up, how you respect them, how you respect them in others, how you venerate them in these symbolic ways using the shrine — so that's the one that covers all of it. Everything should be held in that particular domain. So the earth, your body, other people, and the sacred. These are four compass points…"
***
There's more to this talk. Click here to listen. (Maybe even try a head-phone retreat of your own!)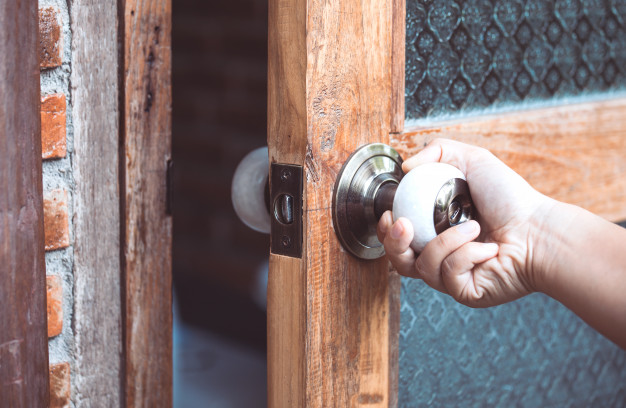 I've been listening to some of Phillip Moffitt's old talks this weekend and came across this little gem:
Your world becomes richer — far more interesting and mysterious — if, when you open that door, you feel "hand-ness" opening a door. So different than just getting somewhere.
With mindfulness of the body, you are present for the mystery of your own existence as embodied consciousness!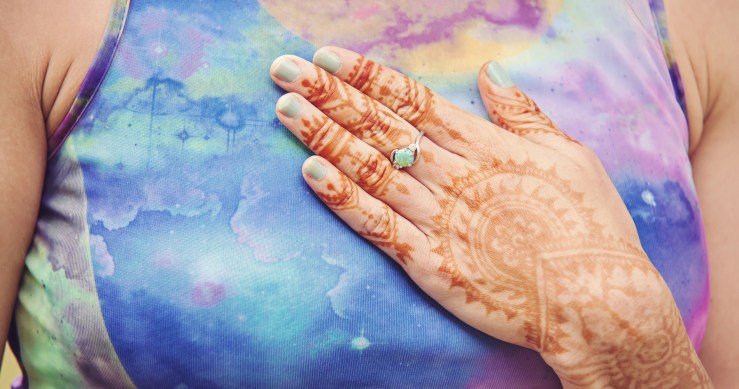 Last night I was watching the video of Phillip Moffitt leading the Oct 1 session of Monday Night at Spirit Rock and I was so struck by his use of the phrase "heart-felt practice" (which I don't think I've ever heard him use before), that I had to stop the tape and go back and write it down, exactly as he had said it.
Here it is in context. (It was at about the half-way point in the meditation instructions.)
"Staying with the breath….allow the breath to also breathe through your heart. That means to relax the heart as you relax the mind. Softening the heart. Just as you are softening the mind as you are staying with the object of breath or body. Just invite… See what happens if you invite the heart to relax a little. Give a little smile to the heart. Just even the slightest movement at the corner of the lips. It may change the breath in some way.
"This is a heart-felt practice. Even though we're developing concentration, the heart is not excluded. It's mind/heart: 'Bodhicitta.'
"Surrender even more deeply to knowing breath. Feeling it at the nostrils, or in the chest, or in the belly. Or you may experience the breath as a wave — in and out — like the tide at the shoreline. Intimate… Softening into… Heart-receiving… 
"If your mind is called away, notice what it is that has pulled you. Is it a memory, a plan, a fantasy, a comment that you're making, a complaint… Just be with that for a moment and acknowledge whatever it is.
"You're willing to receive it — but not now. Having noticed this, acknowledged it (very quickly, this isn't a long process) and then go back to the breath.
"The breath that is breathing with this soft heart. This body-breath. This soft heart."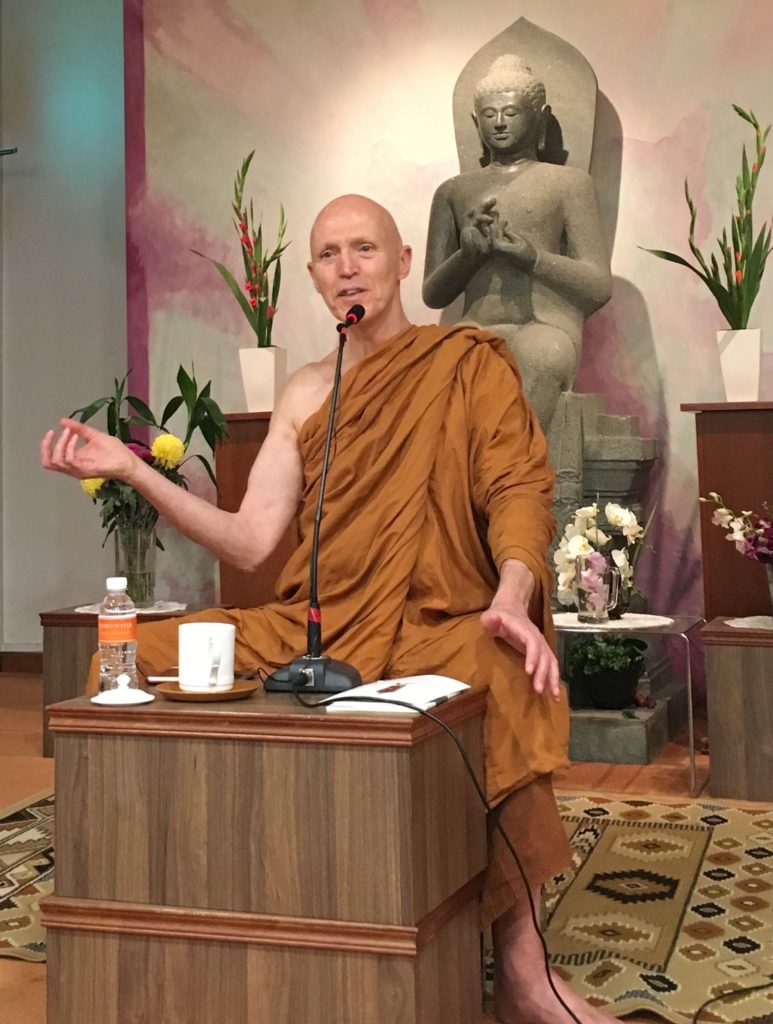 At the end of the retreat in Madison, Ajahn Sucitto gave this wonderful little gem of a talk called, Closing Exhortation: Being is First; Doing is Second.
Here's an excerpt:
"….Drop into the center of your reactivity. That's where you're supposed to be. You drop into — not your comfort zone — but right into the center of your reactivity. In there — that's authentic, isn't it. Because this is the thing you have to deal with. The reactivity.
"Don't worry about it. Don't start complaining about how reactive you are, or feeling hopeless, just go right to the center of your being, aware of your reactivity.
"I suggest that you can do this in ten seconds. Doesn't mean you've got an answer, doesn't mean you're not reactive — it just means you can drop into that… You don't need a lot of training, really, to just go to awareness of the compulsiveness, the reactivity.
"The real deep training is the staying just a little bit longer in that awareness. Live just a little bit longer against all the pressure. Could be just another 5 seconds, even. Could be a little bit longer. Can you bear with that? Can you breathe out into that?
"And then start with what I call 'guesswork.' The doing. Which is just opening, widening….
"Be prepared to get it wrong. It doesn't matter. Doing is always guesswork. You get five out of ten right – that's good. Six out of ten, three out of ten… But at least what you're doing is you're referring to awakening intelligence, rather than indoctrinated 'education'. Rather than programming….
"So check into this reactivity, and be in the center of one's field of blame and all that, the lack of confidence, and the desire… Then awakening intelligence can start to operate: It's all right. That's OK. Just take your time. Just move out. Let's see how it goes. I'm with you all the time.
"Awakening intelligence – you're not going to lose that one. Once you've touched into it, it's going to be with you all the time.
"Just take the time to drop into it. Take the time to knock on its door. It's going to come out. It's natural. If you don't ask for it, you're not going to get it. If you don't tap on the door, it can't answer. If you're too busy doing something else, doing busy stuff, driving yourself nuts – it's not going to answer the door, because you haven't asked it.
"And the asking is in the center of the reactivity…the fearfulness and the doubt. Be aware of that and then: what's important now?Just take a breath….
"See what is good. Follow the beautiful. Follow the good. Kalyana — the Beautiful, the Truthful, the Good. Follow that. See where it goes. What else can you do?
"Being is first; doing is second.
"I can't get it simpler than that, really. It has to be simple. There's so much that you know, so much you can learn, so much other stuff that you can pick up, goodies in meditation, Dhamma…  I don't need to run through all that again. You can get all that. So, you know, my little bit is to try to perhaps touch things in strange ways and maybe make things in some ways more direct:
"Being is the first thing; doing is second. It doesn't take that long to do that. And then following it is a curious path and strangeness.
"We are the unnamable, moving through the unimaginable. There is no finality. You crave it, but there isn't one.
"The unnamable moving through the unimaginable. What did you expect? [laughter] Crystal clear explanations? [more laughter]"
"So take time to check in with that.
"These are sort of daily life things. You have the 'occasionals', where you really check in with your refuges and so forth, your assets, and then you have the, what I call the 'on-going.'
"So this is something that I am suggesting throughout the day. You can take ten seconds. Ten second pauses. Ten second moments. After breakfast. When you park the car. Before you jump to the next thing, make these little break points: Pause…Where's it rolling now?…Where is it going now?…
"If you can build those in during the day…ten times a day…it's going to check some of these momentum wheels of our conditioning.
"So this is how I practice.
"I've been really winging it for the last fifty years or so. [laughter]…. Yeah….. And, uh, when I've let myself get distracted, you know, and start believing in fixed things and finalities and systems and structures…get distracted by all of that… Then there is something to feel, which is definitely…. We all can do this. Awakening intelligence is there, possible for us. What else is going to get you through?
[long pause]
"You know, sometime when I pause, people think it's that I'm thinking of something brilliant to say…it's not. I've just stopped. [laughter] It happens quite a bit. [more laughter]
"So I'll leave you with that, for now….with my blessings."
***
This is only about half the talk, and it's been edited and condensed. I highly recommend listening to the whole thing. (It's only 27 minutes!!!) Click here.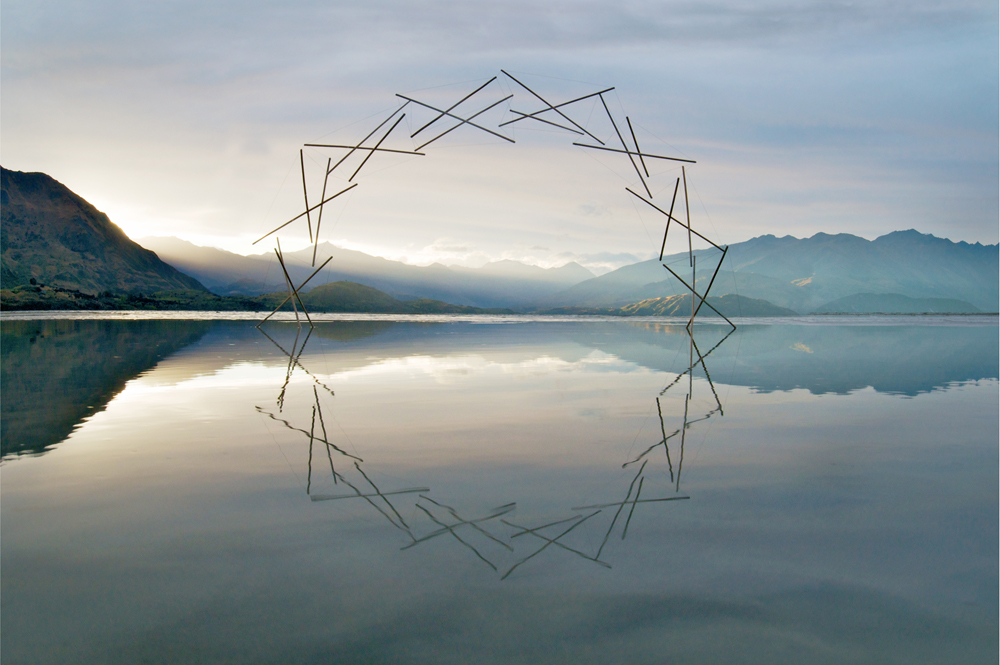 Ajahn Sucitto recently led a retreat (in Madison, Wisconsin!) so I've been listening to a lot of his new talks.
Here's an excerpt from one (which I didn't really like all that much at first) but which I now really love and can't stop "listening to" in my head — especially the very last part (of which there is considerably more than I have transcribe below). I strongly recommend listening to that part, instead of just reading it — but do it in a quiet place, where you can really take it in.
***
"We can get an image of ourselves as being regarded by others or being regarded by our own attitudes, as not coming up to what we should be or could be. And we do the same thing toward other people.
"We pick on some particular feature that is not agreeable and we make that the total story of what they are. In this way we create objects — perceptions — that are steeped in (for example) ill-will. Or we create objects that are molded by agitation. Or doubt…
"Then once we create the object, the object justifies the way in which we regard it: He did this and he did that, therefore he is an unpleasant person. I dislike him. How could you possibly not dislike him. He does this and he does that….
"Or we do that towards ourself: Other people don't like me, I'm not good enough… 
"With wise reflection, one begins to recognize that this quality of ill-will is uncomfortable for myself. It's making my heart sour and bitter. This is of no gain for me. This is a great loss. Whereas I could, instead, feel a sense of warmth, of ease, which would be much better…
"Is it possible, just in that, to sense: Oh, this is painful. It's not worthy of me. It's not going anywhere useful. Is it possible to acknowledge that and then…Relax…Pause….Stop.
"Maybe it's not. Maybe this habit is just so ingrained that one's mind runs down it. Then perhaps one can begin to consider: Well, OK, but at least I'm not going to act on it in terms of speech and physical action.
"That will have an effect. It will begin to, you know, put up a bar against it. And by at least stemming that tide, it's beginning to weaken the power of that kamma.
"This is actually a merciful teaching. What we can't do in meditation alone, we can perhaps do in terms of curtailing actions of body and speech, and that helps. And in going against the grain of that, it's possible for insights to arise from moments of having resisted it, and having used resolution to withstand it — and the tide can drop….
"So, through this process of letting go, supportive properties come into awareness. And then as we linger in those, stay in those, feel those, sample those….we are being held constantly, steadily…against the flows, the out-flows, the currents of suffering and stress…then the turning of the tide can occur….
"And we begin to sense the flow…. we turn, time and time again…to the sign of release, or the sign of comfort, or the sign of ground, or the sign of… you know… whatever you want to call it… where the tides drop, where suffering abates, where the intensities release…
"That then becomes one's meditation object.
"Dwell in it. Breathe in it. Feel what your breathing is like when that occurs — the sense of the space around and through your body, the energy levels when that occurs, the qualities of materiality, the energy bodies… Feel what occurs when that occurs.
"In this way you deepen and add dimension to that. You build it up. You make an investment of that. Then that becomes a more solid refuge and a "bar" to the tide of suffering and stress.
This is called: Careful thinking, skillful thinking. It is to be cultivated. For wisdom. And release.
***
This excerpt has been pretty heavily edited. Click here to listen to the full talk.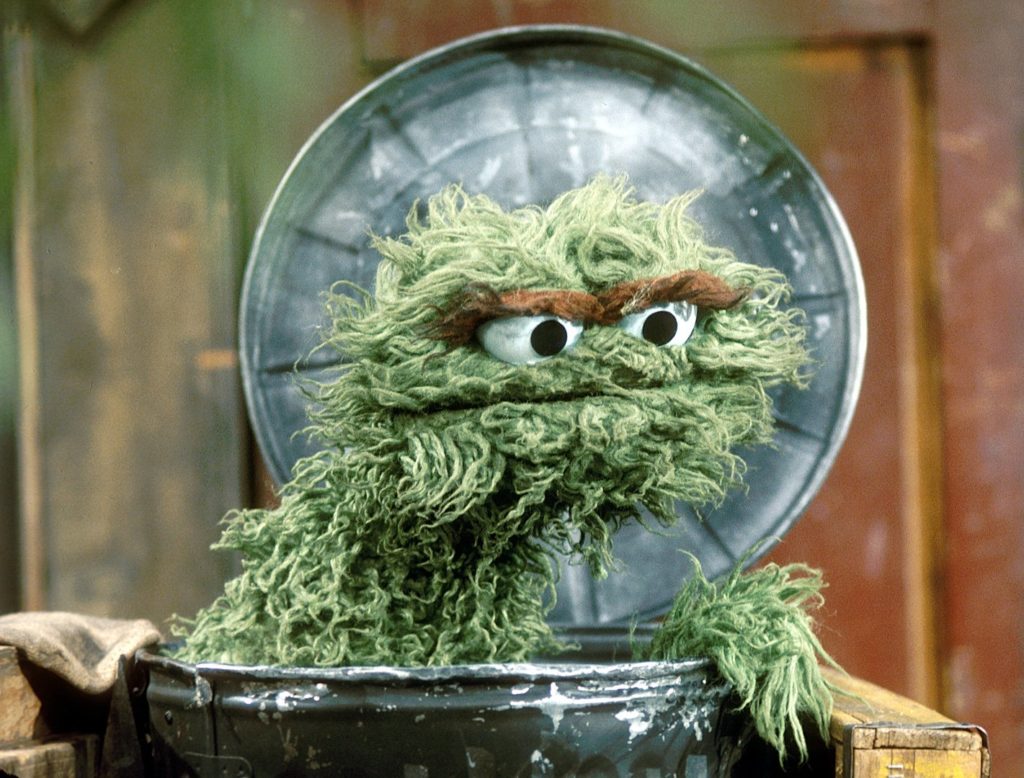 There's another really wonderful talk by Ajahn Sucitto — The Skill of Thinking: Allowing the Heart to Speak — which I listened to before going on retreat last month, and which has stayed with me so vividly that since then, whenever I find myself thinking something that I think I shouldn't think, I immediately hear Sucitto's voice in my head:
"Ah, yes, that's just the latent tendency for ill-will…..there it is….the sign of the irritable….the sign to turn sour….catch it now….catch it now and speak it (to yourself)…there's something sour, something bitter….speak it, punch it up, it's bitter, it's prickly….speak it, witness it, speak it…just to get the perception of it, the felt-ness, the cabby, the embittered….and then, ah yes that's it — beautifully done, yes, you've done that really well, congratulation — OK now, we can all go home…."
Sucitto explains:
"We're owning the pain and speaking it… Just the act of speaking it gives you that millimeter of space. Once you've got that millimeter of space, something in your heart is no longer welding onto that and pushing it along…..
"It's only when you can speak the truth that you can come to silence…."
"If you don't speak it, you become it…
"Spaciousness in relationship is not that you HAVE a lot of space, it's that you are BEING spacious…
"If you want space, that means you are actually wanting to disconnect. To be spacious is to be in the presence of. With a non-intrusive, non-aggressive, non-domineering attitude. It's open.
"This is really courageous and beautiful because it's so precarious. We just do not know what's going to happen, what we're going to do, what we're going to feel.
"But one thing you do know: if you don't do that — you are going to suffer."
***
I could go on. But really, you just have to hear Sucitto giving voice to those grumpy, crabby, prickly, I-can't-believe-I-have-to-be-with-all-these-stupid-people thoughts! Seriously. Listen to this talk.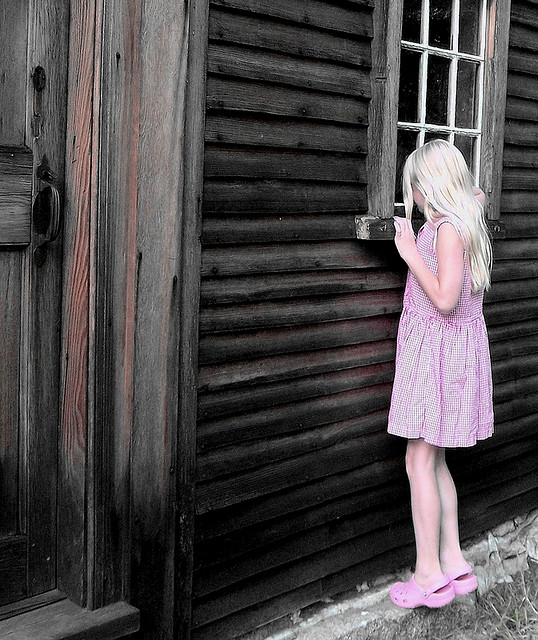 I'm back now from the Concentration retreat, which was VERY. VERY. INTERESTING.
I wish you could all have been there. At least I can give you a peek:
In one of my favorite talks from the retreat — the "Enjoyment" talk — Sally Armstrong references Ajahn Sucitto's lovely little book, Samadhi is Pure Enjoyment.
Here's a link to the talk: Developing a Skillful Relationship to Happiness.
And here's an excerpt from the book:
"…The idea of focusing is to settle, to focus in a way in which you feel settled and easy, not confused or sleepy. That's the only point where you'll experience a steady breath. This is really where your awareness can settle. Which means that it's a matter of attitude as well as a physical point.
"Then you'll find yourself settling in. You'll begin to experience some kind of sign — the quality of openness without attachment has a characteristic feel, such as brightness. Listen in to that (if it's something you experience through listening) as if you're listening to the listening. If it's tactile, feel it. If it has an emotional base, resonate with it.
"It is beautiful. Notice the beauty. What is this beauty? It's where the mind feels gently delighted and uplifted. This is rapture — the threshold of samadhi….
"We can't hold this beauty of rapture. A relationship to beauty is something akin to devotion. We don't hold it; we're aware of it in a way that's both gladdened and respectful. We have to give ourselves to it. Of course, this is something we're not used to; it's something that requires trust.
"Trust your body first of all. The body is something that can be trusted much more than the mind. As one learns to trust, one learns to receive the blessings of what is good and conducive to the heart's welfare. This brings joy….
"I think of 'enjoyment' as 'receiving joy'; and samadhi as the art of refined enjoyment. It is the careful collecting of oneself into the joy of the present moment.
"Joyfulness means there's no fear, no tension, no 'ought to'. There isn't anything we have to do about ti. So there is stillness. It's just this."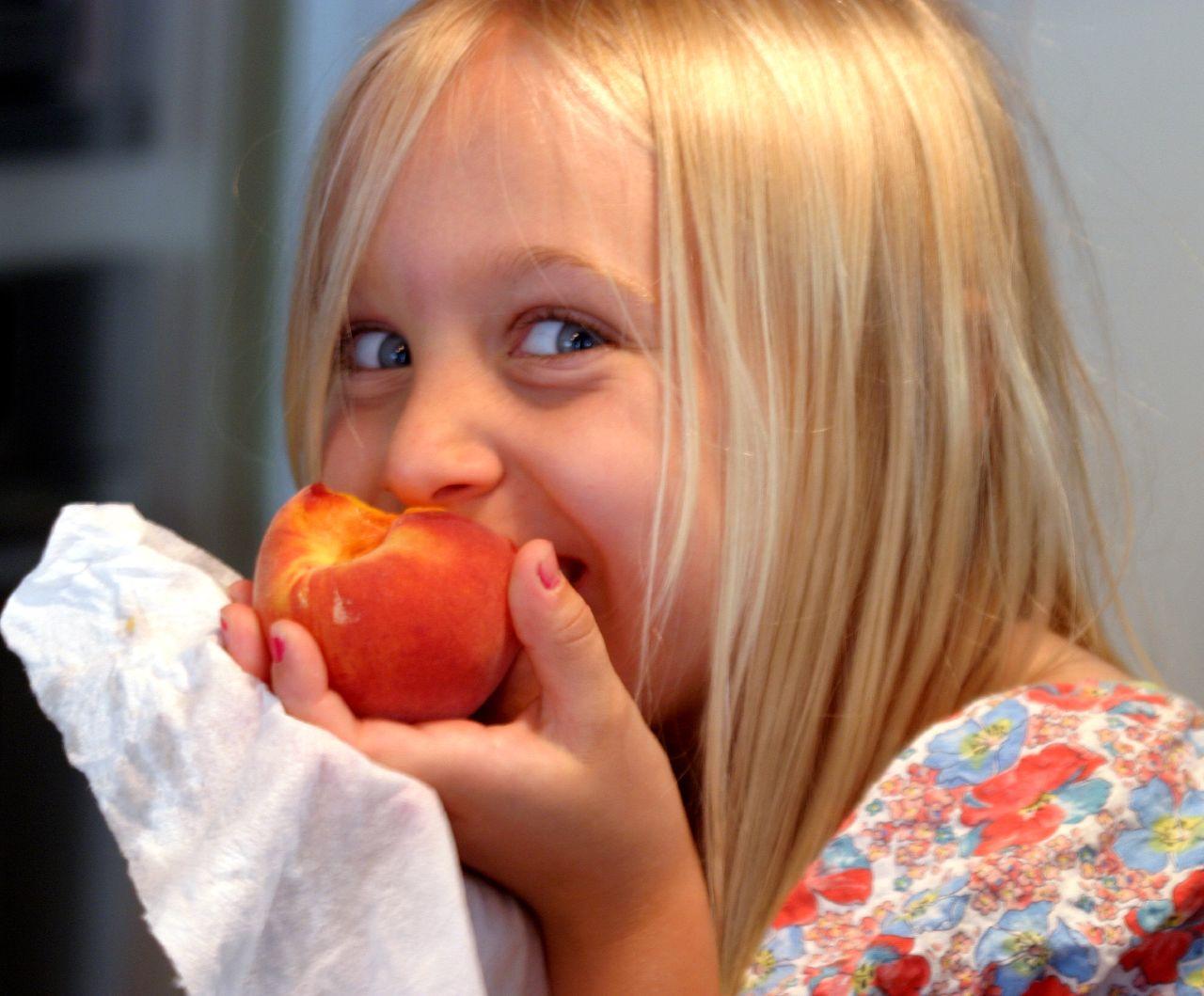 In the same Q&A session I wrote about yesterday, Ajahn Sucitto was also asked:
Do you think jhana training is necessary? [jhana: deep states of meditative absorption]
He says:
I think it's very helpful. Train towards that. The degree to which one has results is sometimes dependent on one's capability or one's limitations or on situations. But train towards that because jhana training encourages one to keep discarding what's not necessary.
It keeps us centering, centering, centering…and discarding that, discarding that…and protecting and enjoying the good (the qualities that develop as the mind purifies).
So it's that attitude of homing in. But also of enjoying, deeply absorbing, taking in…. Anything you do with that attitude — it's going to help in the process of training the mind not to keep skipping on and not to go off onto side tracks. And to stay on theme. And to enjoy the good.
This is absolutely necessary. To the degree to which your mind will stabilize into jhana — it takes time, you know, and certain capacities — but the attitude is one you must always bear in mind: Absorb into the good!
When it's good — take it in, feel the quality of good. Because this is going to enrich you. If you skip off onto the next thing, you didn't taste the fruit. You just picked it. But you didn't taste it! So then it doesn't have the deep effect.
***
Great! This is exactly what I'm going to be doing at the Concentration Retreat beginning August 19. Can't wait!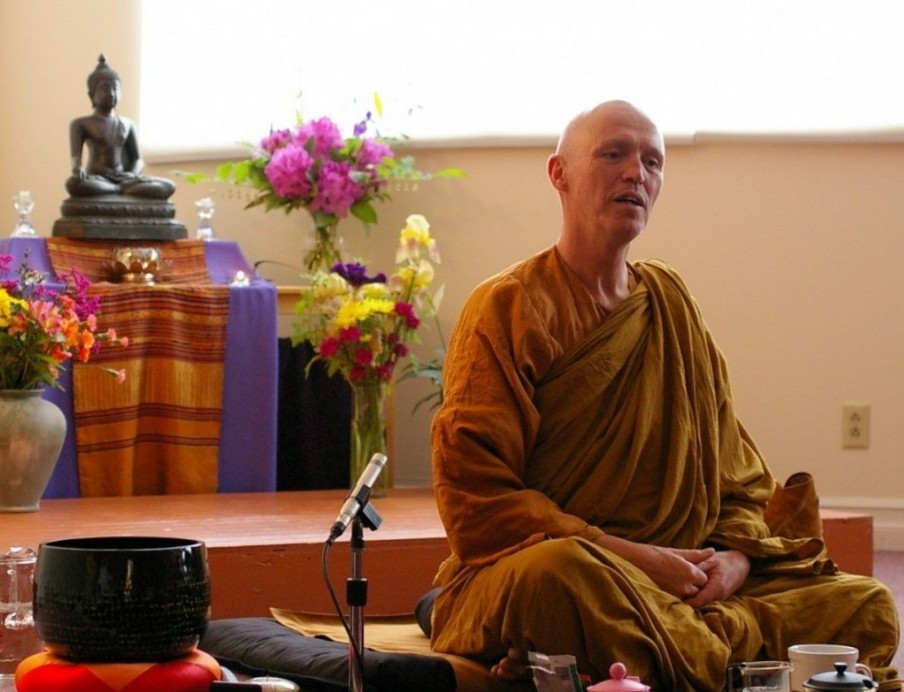 In a different Q&A session from the one I posted yesterday (but from the same retreat), Ajahn Sucitto was asked:
What advice can you give upcoming Dhamma teachers in the West?
His answer:
More practice is necessary. And, kalyana mitta. 
Practice a lot. And cultivate kalyana mitta — spiritual friendship. Those are for anybody…not just Dhamma teachers…but for upcoming human beings! [laughter]
Practice a lot and stay with what you know. And don't bluff. And seek kalyana mitta, who will help to tell you when you're bluffing….and will accept you — love you — all the same.
That's briefly speaking. I'm sure there's much advice in detail you can get from other Dhamma teachers, but that would be my little piece in it.
***
Sounds like enough to me!
(The exchange above was part of this Q&A session (beginning at the 33-minute mark). The tape (at the time of this post) is incorrectly identified as Guided Meditation: Everything Unfolds from the Center. But it is, in fact, the recording of Q&A: Negotiating Contact and Gladdening the Mind, a session that also includes questions on the meaning of spirit, spiritual powers, consciousness creating duality, transmuting sexual energy, sampajanna, and jhana training. Click here to listen.)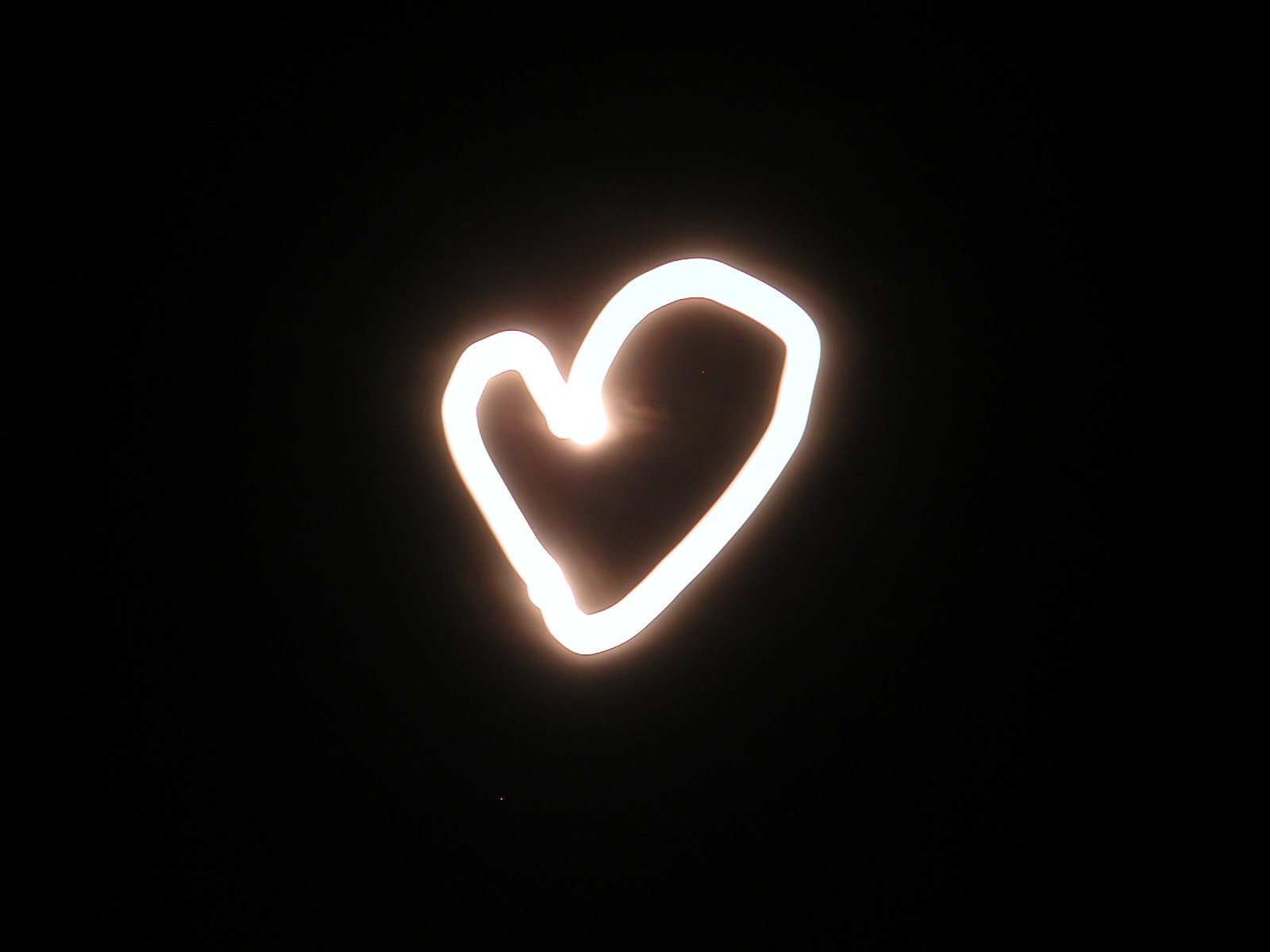 I've been listening to a lot of Ajahn Sucitto's new talks lately and, as always, have come across several teachings that have grabbed my attention so powerfully, that I had to stop and let my heart drink it in. Here's one from a recent Q&A session, in which he talks about the quality of adhitthana (usually translated as "resolve" or "determination").
"Pick one or two parami [wholesome qualities such as: generosity, patience, honesty, goodwill, etc] that you really want to focus in on, and then you can do things [to deepen your commitment to this quality], like make an image of it.
"This is what shrines and rituals are about. You pick up on something, or you feel something where there's a glow in your heart, a strength, a keenness… Yeah, a glow in your heart that says: This is meaningful; This is beautiful; This is strong; This is what I value — deeply. Or you look in your life and you think: What DO I value — deeply?
"If you've got one or two of those, you hold it and you contemplate it and you take it in — and it begins to shine, and fill you.
"Then you want to make some kind of image out of it. You can use a word for that — a verbal image — or a sound, or a chant or a prayer. Or you can make a physical image, like something you can fashion or paint, or just use flowers or sticks or something. And then you make a shrine. And you want to put that thing up there, and you want to look at it every day, and you want to offer things to it, and you want to bow at it — and then you're establishing a real participating field with that quality. This is how you generate fields.
"You generate a meaningful field not just by thought, but by really placing something, going to it, enacting it, chanting it, praying to it — you know?
"Why do people do this? It's not just because of some superstition. It's because when you put it there and you keep activating it, potentizing it by your presence and by your actions — it starts to pay off. It starts to hold you. Yeah. And the next time you're about to "lose it," you remember that. You remember that, and you come back. You've look to that and you've thought about that every day and the next time you're about to lose that quality — it brings you back.
"This adhitthana principle is something that I've used a lot. It's powerful. You say what you resolve — and then, you listen. If something inside you says: That's a good idea, then it's not enough. So you say it again: I resolve this. If something says: Yeah, that's interesting. Then no, that's not good enough. So you say it again, until something in your heart goes: Mmmmm. Then you've got it. And maybe you fold your arms or you bow or something. Then that's locked it.
"Then it's not just a good idea. It's not a thought that will later change its mind and say that's NOT a good idea. This goes beyond that. You've planted something in the field.
"You don't enter this field just by a little thought. You've got to plant it there. And then you've made that. And, at that depth, it holds you. It's very powerful…..
"These are things that…. if it means something, it really… It does work. It works — on a level that's difficult to explain rationally. Because the mind is not just rational. These are strong psychological potencies. When you make adhitthana, they go in there. This can be because you make a resolution with another person or because you know the "sign" of something that gives you faith and strength and then, if you get that sign, that's fantastic. Then make the most of it. Really. Get it established strongly. And don't think about it 'working' in terms of time…"
***
When I first hear this I had to get up right in the middle of it and go make a drawing. (A graphic symbol, actually.) Which is not quite in its finished form, but which I will put on my altar as soon as it is.
(The excerpt is edited for readability. It begins at about the 34-minute point on the tape, but really, you should listen to the whole thing. FYI: In this talk, he also gives a thorough and quite beautiful response to a question about female monastics. Click here.)