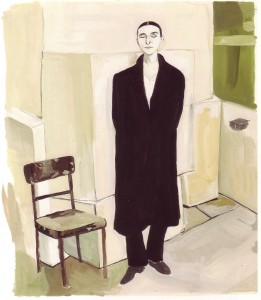 For wonderfully relaxing instructions on breathing in the body (while standing) and breathing in the face/head/throat (while sitting) listen to the last part of Ahjan Sucitto's Guided Meditation on Standing (given at the recent retreat at IMS in Barre, MA.)
You can listen or download the talk by clicking here. It's over an hour long, but don't worry. The first 10 minutes are chanting and the next 20 minutes are silent.
At about the 30 minute mark, Sucitto invites everyone to stand, then gives about 20 minutes of really lovely, soothing instructions for standing and breathing. Then at about the 49 minute mark, he invites everyone to sit down and gives about 15 minutes of exquisitely subtle instructions on breathing in the head/throat/face (while seated).
These end just after the 1 hour mark with instructions to come back into the lower part of the body, especially the spine, the belly and into the hands. (The rest of the tape is more chanting.) His voice is quite soft as he's guiding, so I suggest using headphones (or earbuds), if possible.
Enjoy!
***
(image: Pina Bausch, by Maira Kalman)