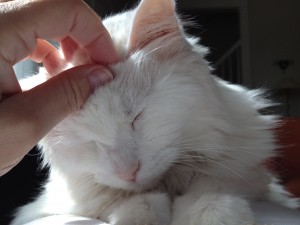 I've been spending a lot of time lately reading and listening to talks by Ajahn Sucitto. I especially like the meditation instructions he gives for metta (lovingkindness) meditation (from Kamma and the End of Kamma):
"We often begin a meditation period with recollections and checking in with our general state of being. What is needed is to develop a sense of befriending oneself, establishing an attitude which is non-judgemental and interested in bringing some immediate well-being into one's life. The most immediate way to bring this around is right here, on the spot where you are, through an applied attitude.
"Establish your presence in the place where you're sitting, putting other concerns to one side. Then ask yourself, 'How am I right now?' Repeat this slowly a few times and although the bodily sensations or mind-states may change, attend to the more continual overall feeling of what it's like to be yourself.
"Then consider: 'What would it be like if….I was in the presence of someone or something that was regarding me with warmth?' (You can even recollect your dog…or cat!) Introduce the thought 'What would that be like? How would I sense that?' and attend closely to any resonance in the heart.
"Recollect any time in your life when someone was glad to see you, did you a favor, gave you some kindly attention, or enjoyed your presence. 'How is that, now?' Then: 'Does my body know that?' Attend to any drop in tension, or lift in energy–particularly in the face, and in the heart region.
"Put aside more general reflections or memories of that person or that time, and return to the specific moment and how it felt for you. You may repeat this with a few people and several incidents.
"When you can establish that process, linger in the heart and bodily effect and lessen the thinking accordingly. Gradually simplify and consolidate that process until you arrive at a simple image (of warmth or light for example) or a bodily sense–of ease or joy. Sit with that, sweeping it through your body like a massage.
"As you settle into that, breathe it into your presence. Then expand it out through the skin into the space immediately around you. You may wish to express that benevolence to particular people, or to other beings in general.
"Then bring to mind someone whom you have no strong feelings for. Consider seeing them out of context in which you normally encounter them. Imagine them enjoying themselves, or worried, or in distress. Spend some time rounding out your impression of them in a sympathetic way. 'May he/she be well.' Expand your awareness of the feel of that wish; notice how it affects your overall disposition and body tone. Enjoy feeling more empathically attuned." 
(image: my cat, Elvis, and me)