More from Kamma and the End of Kamma, by Ajahn Sucitto: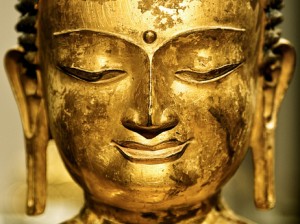 "Meditation is a deeply transformative activity. This may sound strange, as meditation doesn't look that active: it ofter centers on sitting still, and within that, in silence. And as for doing anything with the mind….all that apparently entails is a few seemingly inconsequential things like bringing attention onto the sensations associated with breathing; or, maybe witnessing thoughts as they pass through. Meditation doesn't seem to be a very significant process at all.
"Beginners ask: 'What am I supposed to do with my mind to make it better…what should I think about?' In fact, one point about meditation is that it's about moderating that 'doing' energy; and consequently being more receptive.
"The teaching is that the more we moderate our energy in this way, the more we're going to arrive at a resultant brightness, confidence and clarity. Then restlessness, worry, and impulses to distort ourselves don't arise.
"And because of this, meditation can generate far-reaching effects in our life: we get to enjoy and value stillness and simplicity, and that inclines us towards wanting less and letting go.
"Meditation centers around two functions. The first is a kind of healing, a tonic. It's called 'calming' (samatha); the settling and easing of the bodily and mental energies. The second function is 'insight' (vipassana), which is more a matter of looking into the body/mind that has become calm, taking in how things really are.
"The two functions work together: as you settle down, your attention gets clearer, and as you see things more clearly, there's less agitation, confusion or things to fix. And where the two processes conclude is in guiding the mind–or rather the moods, attitudes and memories that get us going–to a place of resolution.
"Meditation is about action that leads to the end of action."