Last night at the Hi-Pointe Sitting Group, someone asked if we could spend some of our time learning the Pali chants I use to start the sit. So we did!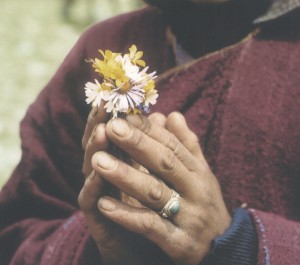 Here's the Homage part of the chant in Pali (which we repeat 3 times):
Namo tassa bhagavato arahato samma-sambuddhassa
Here it is in English:
Homage to the Blessed, Noble and Pefectly Enlightened One
Here's the Refuges part in Pali (normally done 3 times, but we just do it once):
Buddham saranam gacchami
Dhammam saranam gacchami
Sangham saranam gacchami 
Here it is in English:
To the Buddha I go for refuge
To the Dhamma I go for refuge
To the Sangha I go for refuge
For me, this means that I turn to Wakefulness (the Buddha), Wisdom (the Dhamma) and Community (the Sangha) for my place of safety and rest.
Of course chants are to be heard, not read. Click here for a terrific talk by Greg Scharf, where you can listen to these chants, and hear a beautiful reflection on what it means to pay Homage and Take Refuge.
(image from Offerings by Danielle and Olivier Follmi)
1 Comment