Pascal Auclair gave a great talk at the retreat on Renunciation, a word which always sounds punishing to me. But Pascal talked about it in terms of "profound release" and "a joyful letting go." Which sounds a heck of a lot better.
Almost as an aside, he mentioned that he's heard Phillip Moffitt talk about 3 renunciations that he (Phillip) has taken on. I'm considering taking them on, too.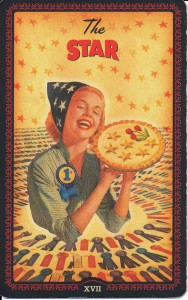 (1) Not being the star of my own movie.
(2) Not measuring my success by the number of desires that are met.
(3) Not being attached to being right.
The caveat here, from Pascal's talk, is that "renunciation can not be led by ill will or repression, but when it's aligned with wisdom…..then comes joy."
(image from The Housewives Tarot)