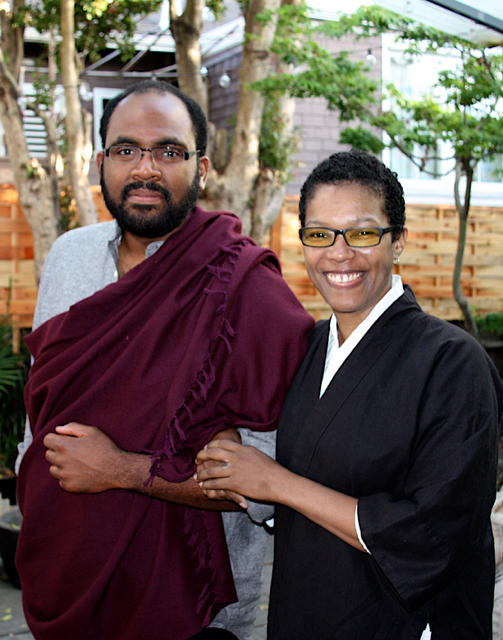 The sangha I sit with is overwhelmingly white, even though the population of metro St. Louis is 18% African-American.
So I feel compelled to share this excerpt from Radical Dharma: Talking Race, Love, and Liberation, an important book that I had resisted reading — I'm sorry to say — because the cover kind of scared me.
The following is part of a public dialogue between Lama Rod Owens and Rev. angel Kyodo williams. (pictured here)
Rev. angel:
What I get to hear is largely about white folks who are trying to figure out how to fix the people of color problem. That's what people ask me all the time: "How do we invite people of color?" What I don't hear in that is: "I'm suffering. I'm experiencing trauma. What is it that I can do to help myself?"
Lama Rod: I think it says a lot about sanghas when the line is: "Well, we need to be more diverse. How do we get brown bodies into these seats?" I don't care about brown bodies populating the sangha because that's a distraction for me. I am interested in the healing piece. I'm interested in looking at how we're suffering, how we're creating these relationships that actually exclude people. I don't use the word "diversity." I really rarely use the word "racism." I think we have this programmed response to these words, and we have to disrupt that by transforming the language a little bit or by using more precise language. The suffering of whiteness. The trauma of whiteness. Let's look at our suffering. How do we practice in such a way that we're restoring our humanity? How can we instigate that kind of transformation? Because healing is also transformation….
Rev. angel: For me, too, there's been too little conversation allowing space for the unearthed suffering of white folks. Almost because of the power dynamics involved and almost because we have been so racialized into saying, "If I'm white, I'm supposed to feel bad for folks of color." But there's zero space for white folks to really claim suffering around living in a racialized society. There's no space, it seems to me, for white people to actually get down to the conversation… I just don't see how we can ever expect that this dynamic is going to change if we can't allow people to fully claim their own suffering.
That's what the dharma is actually about. It's about allowing people the space and the opportunity for discomfort so that they can touch their own suffering….
So we can all be on good behavior, and I feel that that's what we've had in the dharma for the last forty years. Good behavior dharma. It's largely progressive–not 100 percent–and we have this progressive liberal way of talking about race, either "I'm color-blind" or "I'm OK with colored folks" in theory. But the reality is that people of color are not feeling welcome.
***
This has to change. I don't know how to do it. But I am committed to doing it anyway. Starting with myself — by allowing myself to feel this discomfort — and by not keeping quiet about it.