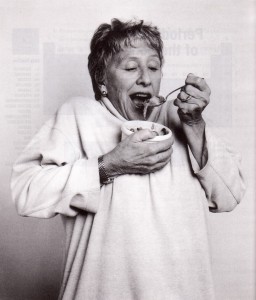 It's Soup Season here in St. Louis, so I thought I'd offer this secret teaching from the kitchen of Flowering Lotus Retreat Center. (Dolores brings in a chef from New Orleans to cook for her yogis!)
We had Lentil Soup on the first night of the retreat (the one I went to back in November), which is pretty much standard fare for first-night dinner at retreat centers. But right away I knew…this was no ordinary lentil soup! So I asked the chef (Katie) what her secret was. She took me aside and whispered just two words: Roast Garlic.
Yes!
So as soon as the weather turned wintery, I started searching around in my favorite cookbooks, and found this excellent recipe for Roast Garlic Lentil Soup (from The Daily Soup Cookbook by Leslie Kaul, Bob Spiegel, Carla Ruben and Peter Siegel):
1 whole head garlic
2 Tablespoons olive oil
1 large Spanish onion, chopped
2 celery stalks, chopped
2 carrots, peeled and chopped
2 teaspoons dried rosemary
2 bay leaves
1 teaspoon kosher salt
1/2 teaspoon ground black pepper
1 pound French lentils, rinsed and picked over to remove debris
8 cups vegetable stock (or mineral water)
1 (28-oz) can whole tomatoes, drained and diced
3 Tablespoons tomato paste
1 Tablespoon balsamic vinegar
1 teaspoon minced fresh garlic
1/4 cup chopped fresh Italian parsley
1. Preheat the oven to 450 degrees.
2. Wrap the whole head of garlic in foil and roast in the oven for 15 minutes, until tender. When cool enough to handle, remove the cloves from the skin and puree in a food processor or blender; set aside until ready to use.
3. Heat the oil in a large stockpot over medium heat. Add the onion, celery, and carrots and sweat for 4 minutes, until tender.
4. Add the rosemary, bay leaves, salt and pepper and stir to coat the vegetables.
5. Add the lentils, stock, tomatoes, and tomato paste. Bring to a boil, reduce heat, partially cover, and simmer for 1 hour, until lentils are tender.
6. Stir in the pureed roasted garlic, vinegar, and fresh garlic. Simmer for 2 minutes to heat through.
7. To serve, remove the bay leaves, ladle the soup into bowls, and top with chopped parsley.
Makes 12 cups.
Enjoy!