I'm getting very excited about the new Hi-Pointe Sitting Group I'll be leading, beginning next Wednesday, July 25 from 7:00 to 8:30 pm at Blue Lotus Dharma Center, located directly behind the Hi-Pointe Theatre. Scott Newell, Cindy Brinkop and I picked up the keys last night and I took a few pictures of the space we'll be sitting in. Check it out: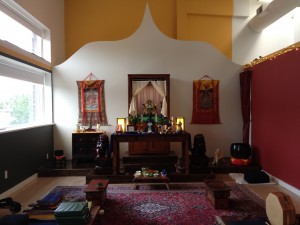 This is the sanctuary where we'll be sitting from 7:00 to 8:00 pm. There is also a bright, airy tea room where we will move to from 8:00 to 8:30 pm for a little social time and casual conversation. (I forgot to take photos of the tea room. Sorry. But come on Wednesday and see it for yourself!)
There are regular chairs available for sitting, as well as a variety of cushions in various sizes and shapes. And of course, you are welcome to bring your own, if you'd like.
I can't believe how lucky I am to have been offered this site. Not only is it a lovely, sacred and beautifully cared-for space, but it's just blocks from my house!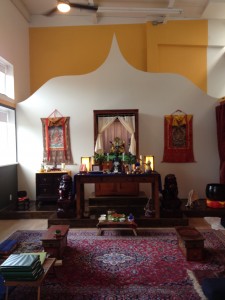 Please note: the center is on the second floor of the building and there are no elevators, so for those who have difficulty with stairs, it might not be an ideal location. Also, incense is regularly used in the space, so it might not be a good place for those who are sensitive to fragrances.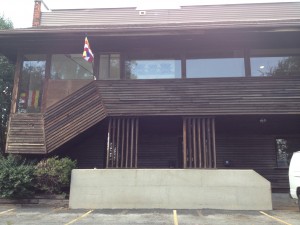 Here is what the building looks like from the outside. Directions to the center can be found here. For those familiar with the neighborhood, turn onto Ethel from McCausland, go around behind the "dead Del Taco," then about half a block up the street and the parking lot will be on your right.
The door to the center is under the cedar overhang. There will be a DharmaTown Hi-Pointe Sitting Group sign on the door, which will be unlocked from about 6:40 pm. Just go on in and head up the stairs. There will be a place to take off your shoes upstairs. (There is also a restroom.)
For more information, contact Jan Rosamond. Hope to see you there!