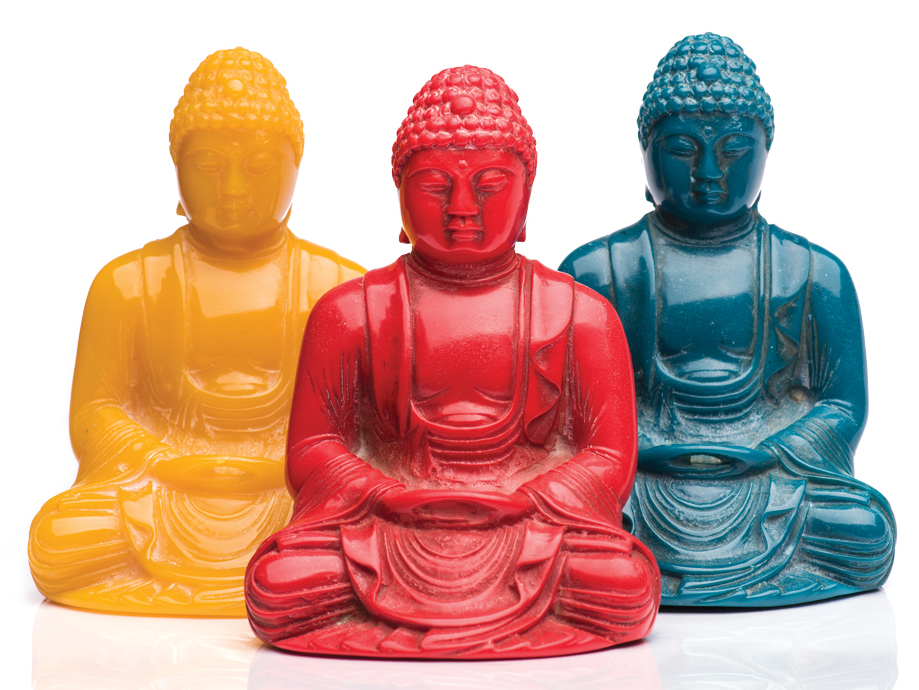 One of my oldest habit patterns is believing that MY way is the RIGHT way. This can be very painful. For everyone!
Of course, sometimes my way IS the right way…or at lease ONE of the right ways…but it would be a whole lot better if I could avoid getting caught in this kind of thinking.
Mindfulness, of course, is the way to break free of old habits, so I've been working with that. But then last night, I happened to listen to a talk in which Phillip Moffitt describes how he developed a specific practice — for himself — to address this very habit!
He calls it Relaxing into Surrender:
"I started this practice when I was working with a particular area of my life… I was repeatedly getting caught in something that was not personal in nature, but nonetheless, it was something that I very much wanted to go my way.
"The feeling was one of tightness, closed heart, closed mind, and it was an unwholesome feeling. So I started relaxing. And then as I was doing it more I realized: Ah, there's a bigger teaching here. For me! I started this practice not to teach it to you, but for my own practice. 
"What I have done now for these past 23 months is: periodically, every day, I will take just a brief 30 seconds or 3 minutes or 5 minutes or whatever it is…and I will relax. I will relax the body; I will relax the breath; I will relax the mind state. As best I am able. 
"So: driving a car, sitting in a meeting, I'll just relax. Now maybe it'll be in the middle of something that I actually have a point of view about, but other people are talking and I will sit there and I will just consciously relax: body, breath, and mind. Driving down the highway I will do it. Talking on the phone I will do it. Being by myself. Walking out in nature. Over and over again… I make a mindfulness practice out of relaxing. 
"What I discovered is that, although I already had a great deal of equanimity, mindfully relaxing day after day throughout the day in this way opened me up to a new level of relaxing, of letting loose of tension in attention, of tension in the body, tension in the mind state and it brought up this possibility repeatedly of surrendering.
"Because once I'd done all that relaxing…then I realized: OK so now here I am really wanting to affect the outcome in the decision we're making in this particular meeting, but, who knows…maybe what I think would be best isn't the best. But even if it IS best, maybe it's going to happen and maybe it's not. So: just let it go.
"But not giving up the point of view or failing to articulate that point of view!
"From a classical Buddhist teaching, this is letting go of sakkays-ditthi (personality view)…. which is the view of seeing everything from a dualistic perspective, from a personality — I like this and I don't like that; I don't want this to happen and I do want that to happen — and being attracted to all of that, to taking it in such a way that there is tension, there is clinging, there is holding onto it.
"But not letting go of your values! Of course you want your community to be a safe community. You want your country to be a country of dignity and of kindness. And honesty. Of course you want that. Of course!!! But the getting tense around it is separate from the wanting of that, of having that as a value… 
"What we surrender is the getting defined by it. So relax throughout the day and see: Oh, I can relax in this moment. Over and over again. Then this idea of surrender will come up in its own form, in its own time….
"The breath and the relationship of the breath to the emotions is a multi-dimensional experience. If you never experiment, you aren't giving yourself a chance. This very simple exercise that I'm inviting you to do of relaxing the breath with the body and the mind, in the way I've said up to this point — that is enough.
"I can give you very fancy kinds of breath work, of controlling the breath, of controlling the inhale and the exhale, where to place the breath, where to follow the breath… I've done lots of very esoteric practices. But you do not need those practices for what we're pointing to tonight. You really don't.
"For most of us, we have to have some sort of practice. Otherwise our minds just take over and there's some part of us that's just on autopilot…
"So we relax, but we don't abandon practice. Surrender doesn't mean quitting. It's a specific use of the word 'surrender.' You're surrendering attachment to outcome. You're not quitting. You're not being asked to give up the juice of your life. You're being asked to practice letting go of your attachment, your clinging, your demand that those areas of your life be a certain way." 
***
I really see how this could have a big impact…over time, of course. Phillip says to try it for at least 3 months.
OK, Phillip. At least for the next 3 months, I'm taking this one as a specific practice. Anybody else out there care to join me?
(The excerpt above is from Phillip Moffitt's talk called Relaxing into Surrender, beginning at about the 40 minute mark. It is lightly edited for readability. Click here for the full talk.)