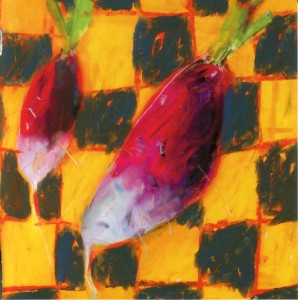 I love the good, fresh, simple-but-flavorful food they serve at Spirit Rock and at IMS (Insight Meditation Society), but my all-time favorite retreat food comes from the Garrison Institute kitchen. Here's a sample from their cookbook:
Mixed Radish and Raw-Corn Salad (serves 4-6)
4 ears fresh sweet corn
2 bunches small radishes, cleaned and cut into bite-sized pieces
3 Tbsp. good olive oil
2 Tbsp. lemon or lime juice
Salt & black pepper
1 tsp. fresh thyme leaves
To remove the kernels from the cobs, use a sharp knife and hold the cob inside a mixing bowl as you shave.
Combine the radishes with the corn kernels and season to taste with oil, citrus juice, salt, pepper, and thyme.
Enjoy!