Library: Travel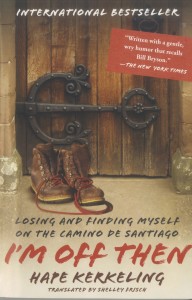 I'm Off Then: Losing and Finding Myself on the Camino de Santiago
by Hape Kerkeling (translated by Shelley Frisch)
I debated on whether to list this book here or in the "Inspiration" section, because reading it has inspired me to want to walk the centuries-old pilgrim trail across Spain, from the French boarder at Saint-Jean-Pied-de-Port all the way to the western coast, ending at Santiago de Compostela….which means St. James of the Field of Stars. The book did inspire me….but I didn't actually do the walk. It's almost 500 miles, after all, and I'm basically a couch potato. But I want to walk it. And who knows, maybe someday I will.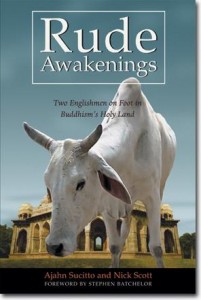 Rude Awakenings
by Ajanh Sucitto and Nick Scott
I read this book several years ago and still think of it whenever I have the urge to do something totally outside my comfort zone…like go on a walking pilgrimage across a foreign country…or some other scheme designed to get me outside of my own little personal world. Such an urge comes upon me surprisingly often, but–so far–I haven't quite had enough courage…or perhaps, enough imagination…to do more than read about these kinds of adventures.
Here's a blurb from the back of the book:
"Half raucous adventure and half inspirational memoir, Rude Awakenings documents an unusual pilgrimage. Two very different men–life-loving naturalist Nick Scott and austere Buddhist monk Ajahn Sucitto–together spend six months retracing the Buddha's footsteps through India. Told alternately by Sucitto and Scott in their distinctive voices, this story blends self-effacing humor, philosophical explorations, drama, travel observations, and the occasional giant fruit bat. Rude Awakenings is a heady record of survival and spirituality set against the dramatic backdrop of one of India's most lawless regions." 
Available FREE here as a 335-page pdf.