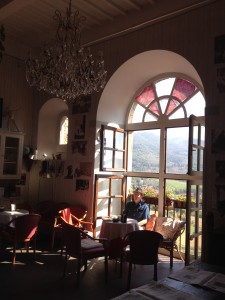 Here is a photo of my favorite spot, in my favorite cafe, in my now-favorite town in Tuscany (Castiglion Fiorentino). And here's what I wrote, in this favorite place, in response to the prompt: "I am from….."
I am from here. That's not exactly, literally true, but it feels true. I feel I belong here. Isn't that what we mean when we say where we're from? But I'm also from "home." By which I mean that I am from my past. But where is my past? How far is it from here? And where did it come from?
We are stardust, they say. We are carbon and arsenic and gold. We are earth.
And air.
And water.
And fire.
These, I am from. And to these I will return.
But who is this "I"?
A word, written on paper.
A thought, born in the mind?
Yes.
And no.
Because surely I am more.
What is a word? What is a thought?
Are these, too, made of stardust?
What about dreams? Where do they come from?
If the stars could dream, would they dream about us?
Does the moon dream of water?
Does the sun dream of air?
What is gravity, after all, but the longing of dust for stones?
And what about poetry?
Isn't it poetry that sings the songs of our dreams?
What wakes us up?
Not the pull of the earth.
Or the call of the stars.
It's the questions we ask.
And the light that this brings.