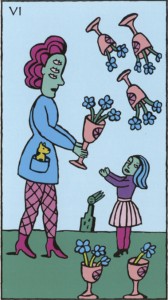 The second Ego-Renunciation Practice in Dancing with Life is committing to no longer measuring the success of your life by how many of your wants are met.
Phillip Moffitt writes, "This renunciation allows you to still have desires, but they're not at the center of your life. You fulfill those wants that can be fulfilled while living from your deepest values, and you slowly abandon the rest.
"This means that your sexual desires are constrained by non-harming, material gains are limited by ethical and generous behavior, and your ego need for achievement and attention is less of a priority than living according to your core values. Of course you still have to fulfill your basic needs and live up to your responsibilities as best you can, but you renounce measuring success by what you have and what you have achieved.
"You many be surprised to discover how much you have been judging your life by this standard. It is so common that it is almost entirely unconscious, and it is devastating to inner growth because the ego can always distract you with another want."
(image: Kitty Kahane Tarot)