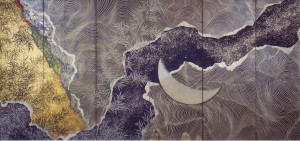 My brother and nephew are visiting from out of town, and I am happy about that. My house didn't get hit by a tornado last night, and I am happy about that, too. This kind of happiness is based on happy circumstances. Which is lovely…but precarious. There's another kind of happiness that is not based on happy things happening. It's an inner, unconditioned happiness, that's always available (but often obscured), which meditation can help reveal.
Here's a hint of it:
So Much Happiness
by Naomi Shihab Nye
It is difficult to know what to do with so much happiness.
With sadness there is something to rub against,
A wound to tend with lotion and cloth.
When the world falls in around you, you have pieces to pick up,
Something to hold in your hands, like ticket stubs or change.
But happiness floats.
It doesn't need you to hold it down.
It doesn't need anything.
Happiness lands on the roof of the next house, singing,
And disappears when it wants to.
You are happy either way.
Even the fact that you once lived in a peaceful tree house
And now live over a quarry of noise and dust
Cannot make you unhappy.
Everything has a life of its own,
It too could wake up filled with possibilities
Of coffee cake and ripe peaches,
And love even the floor which needs to be swept,
The soiled linens and scratched records….
Since there is no place large enough
To contain so much happiness,
You shrug, you raise your hands, and it flows out of you
Into everything you touch. You are not responsible.
You take no credit, as the night sky takes no credit
For the moon, but continues to hold it, and to share it,
And in that way, be known. 
***
(image by: Tanabata, by Kayama Matazo; ink, color, gold and silver on silk; St. Louis Art Museum;
click on image to see detail)