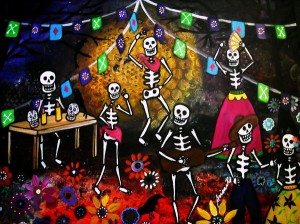 In our KM discussion Monday night, we talked about ways to practice "contemplating the body externally" (which is part of the instructions in the Satipatthana Sutta). The phrase is usually understood to mean: reflecting on the nature of bodies other than one's own.
Thomas said he has tried imaging everyone he sees as just their skeleton…which sounded kind of crazy, but also really interesting. So I've been trying it. And it's quite powerful!
For example: the distinctions that seem so important just disappear. Everyone's bones are bone-color, so immediately the perception of race disappears. And both fat and skinny people have "skinny" skeletons, so that distinction disappears too. Old, young, male, female….when you see everyone as a skeleton (which, of course, everybody has….we're all pretty much the same. Animals, too! Cats and dogs, moms and dads, cops and kids….we're all a bunch of bones!