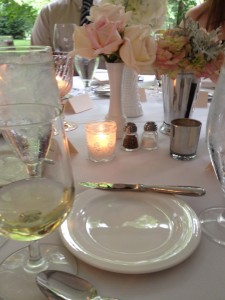 My niece got married this weekend and everything about it was wonderful. The beautiful couple was happy and the families were delighted. The music was joyous. The flowers were lovely. And the food was delicious.
At least I think it was. But I can't say for sure, because once again, my First Bite Meditation practice somehow slipped my mind.
Not entirely. About half-way through the meal I noticed a sweet-tart, "sting" of balsamic vinegar as I bit into the portobello mushroom. And I woke up!
But then right away I noticed some resistance to really focusing on the flavors. I noticed that I didn't want to slow down. I didn't want to "waste" time tasting what was in my mouth….I wanted to hurry up and get to that next bite!
And then I realized that there was something about the wanting that I wanted. I actually wanted to feel the wanting. There was something about it that was familiar. That felt right. It was as if I was certain that if the wanting wasn't there, then somehow I wasn't having a good time.
This is delusion, I'm sure. Because the sensation of wanting was a kind of force, a pressure, that needed the next thing. And I wanted to feel it. Even though it was a kind of dissatisfaction. Which is the opposite of enjoyment.
But just knowing that didn't make it go away. It did make me think about it, though. So I'm giving myself credit for that.