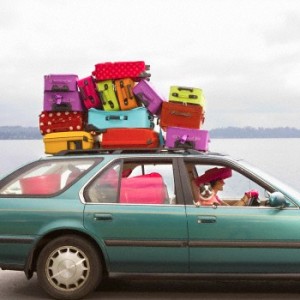 I leave Chapel Hill tomorrow morning for a 2-day drive back to St. Louis. If all goes well, I'll be home late Wednesday night, but I probably won't be ready to post right away. So check back again sometime after Friday, Sept 5.
In the mean time, I leave you with this list of "sayings, wise saws, and small stones from the Valley," found in one of the new-to-me books I discovered at the Chapel Hill library: Aways Coming Home, by Ursula LeGuin. (published in 1985)
* Judgement is poverty. 
* When I'm afraid, I listen to the silence of the field mouse. When I'm fearless, I listen to the silence of the mousing cat.
* If you don't teach machines and horses to do what you want in their way, they'll teach you to do what they want in your way.
* To go again where you have gone: Increase. To go backwards: Danger. Better to come round.
* Owning is owning, having is hoarding.
* The great hunter: one arrow in his quiver, one thought in his head.
* "Like" and "different" are quickening words, brooding and hatching. "Better" and "worse" are eggsucking words, they leave only the shell.
* Cats may be green somewhere else, but the cats here don't care.
* Nothing can make water better.