Browsing Category "Food"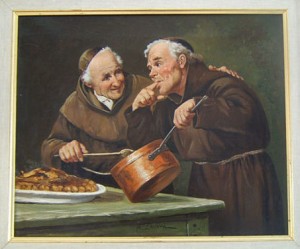 Another recipe today from the kitchens of the Garrison Institute — which used to be a Capuchin monastery, but is now primarily a Buddhist retreat center. (Things change.)
Spaghetti with Spinach, Pine Nuts, Garlic, Broth and Olive Oil
(serves 4)
6 cloves garlic, sliced
1/4 cup cold water
2 Tbsp. olive oil, divided
1 lb. to 2 lb. raw spinach, thoroughly cleaned
salt & black pepper
1 lb. good-quality spaghetti
3 Tbsp. pine nuts, lightly toasted
1 cup grated Parmesan cheese
1 tsp. crushed red pepper (optional)
Combine the garlic in a saucepan with water and 1 tablespoon of the olive oil. Simmer over low heat until the garlic is soft but not brown. Add a little extra water as needed so that it doesn't completely evaporate. There should be a few tablespoons of water left in the pan.
Add the garlic, oil, and water to a shallow serving bowl with the raw spinach, the remaining olive oil, and a pinch of salt and pepper.
Cook the spaghetti in salted boiling water until it reaches desired doneness. Drain lightly, leaving some water with the pasta, and add to the serving bowl with the spinach. Toss well with tongs. The spinach will release a little more water and begin to wilt. There should be a little broth at the bottom of the bowl. Toss the pine nuts on top and serve the cheese and red pepper (if using) on the side.
***
Recipe from Fresh Cooking: A Year of Recipes from the Garrison Institute Kitchen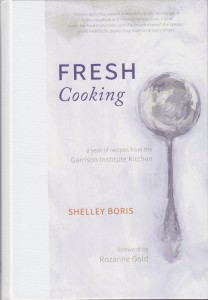 As you probably know, I love the food they serve at Spirit Rock. I like the food at IMS (Insight Meditation Society) too, but it's not quite as spicy as it should be (in my opinion). But really, the very best food I've ever had on retreat was at the Garrison Institute (a gorgeous old former-Capuchin monastery, now a retreat center, on the banks of the Hudson River about an hour north of New York City.)
So I was delighted to discovered that their chef of 10 years, Shelley Boris, has just come out with a cookbook! It's called Fresh Cooking: A Year of Recipes from the Garrison Institute Kitchen and it's organized by month, with 3 (mostly vegetarian) menus each month, including desert.
Sample Menu for June
Fusilli with Peas, Squash Blossoms, Fresh Cheese, and Fennel
Carrot Slaw with Dill
Dandelion, Baby Leeks, and White Beans
Oregano Vinaigrette
Strawberries
Carrot Slaw with Dill (serves 6-8)
6 large carrots, peeled and grated
3 Tbsp. rice vinegar
2 Tbsp. minced, fresh dill
1 Tbsp. grape seed or olive oil (optional)
Salt & black pepper
In a large bowl, combine the carrots, vinegar, dill, oil (if using), and a pinch of salt and pepper. Mix and serve.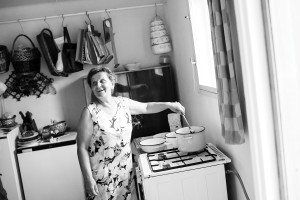 Another offering from the Spirit Rock Cookbook, this one adapted from Insalata's Mediterranean Table by Heidi Insalata Krahling:
Turkish "Wisdom" Yogurt
for fresh veggie dipping or drizzling over roast root veggies (especially acorn squash) 
1/4 cup olive oil
1 tsp curry powder
1/2 tsp ground turmeric
1/4 tsp ground cinnamon
1 cup greek yogurt
salt to taste
1/4 tsp freshly cracked black pepper
1 clove garlic, minced
2 tsp chopped cilantro
In a small sauce pan, warm the oil, curry powder, turmeric, garlic and cinnamon over low heat, until the spices and garlic are fragrant. Do no allow to boil. Set aside to cool.
In a medium bowl, whisk the yogurt until smooth. Drizzle in the spice-infused oil, whisking until combined. Add the salt, paper and cilantro. Taste and adjust the seasonings. If the sauce seems too thick, whisk in 1 or 2 tablespoons of water until the consistency is to your liking. Store in an airtight container, refrigerated, for up to 1 week.
Enjoy!
Spirit Rock Meditation Center has recently started sharing some of its yogi-liscious recipes with regular contributors. In keeping with this spirit of generosity, I am passing along this latest offering, developed by long-time Spirit Rock chef, Max Swanger.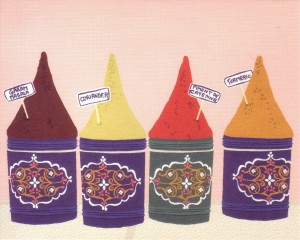 "Right View" Masala Greens with Paneer
(4 servings)
1 lb. paneer fresh cheese, cubed (firm tofu may be substituted)
1/4 cup ghee (clarified butter)
1 bunch mixed greens: chard, collards, and/or kale
1 bunch mustard greens
1/8 bunch cilantro, chopped
1 onion, chopped fine
2 cloves garlic, chopped
2 Tbsp. ginger, grated
2 tsp. curry powder (garam masala)
2 tsp. lemon juice
2 tsp. salt (or to taste)
Directions
1. Cube (about 1/2 inch) fresh paneer. Or substitute firm tofu in 1/2 inch cubes.
2. Toss paneer cubes with a little melted ghee to coat and sprinkle with salt.
3. Place on sheet pans. Use parchment paper, if you have it.
4. Bake in oven at 350 degrees until speckled brown.
5. Wash and chop all greens.
6. Add the rest of the ghee to a pan and cook the onions until soft.
7. Add curry, ginger and garlic to the onions and fry for a minute.
8. On high heat, add in the mixed greens, mustard and cilantro.
9. Cook until tender.
10. Finish greens with salt and lemon juice.
11. Stir in baked paneer.
Enjoy!
***
(image by Kate Pocrass)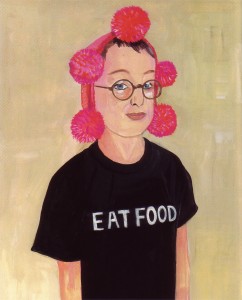 I've said this before but I'll say it again: I love the food at Spirit Rock and IMS (Insight Meditation Society in Barre, MA.). And I do what I can to eat food like that, as much as possible, wherever I am, especially at home. Which means lots of fresh foods, mostly from plants, cooked simply, but with lots of color, texture and taste!
In honor of which I offer this recipe from the Tassajara Cookbook by Karla Oliveira (from which I'm pretty sure Spirit Rock and IMS take at least some of their inspiration.)
Green Rice Salad
1 cup cooked long-grain brown rice
1 cup cooked long-grain white rice
1/2 cup finely chopped green onions
1 to 1 1/2 cups fresh herbs, minced (parsley, cilantro, oregano, tarragon, or thyme)
1/2 cup grated white cheddar or asiago cheese
1 cup frozen peas, thawed
1/3 cup pine nutes
Balsamic Vinaigrette
1/4 cup olive oil
1 Tablespoon balsamic vinegar
2 teaspoons fresh lemon juice
1 1/2 Tablespoons minced parsley
2 to 3 garlic cloves, minced
1/4 teaspoon sugar
salt and pepper, to taste
Combine all the vinaigrette ingredients together. Toss with the warm rice and then let cool. Toss with onions, herbs, cheese, peas, and nuts. (Makes 1 1/2 quarts)
Enjoy!
***
(image by Miara Kalman from Food Rules, by Michael Pollan)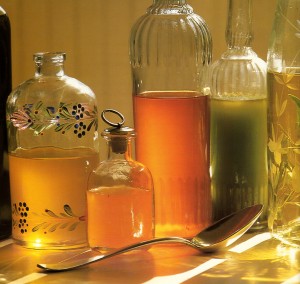 I really love the food at Spirit Rock and IMS, and even though I'm back from retreat, I'm still trying to eat like I'm there. At IMS, for example, I make a salad every day — with whatever greens are available plus lots of chickpeas, shredded carrots, raisins, walnuts, sunflower and pumpkin seeds — and when available, the IMS made-from-scratch honey-mustard salad dressing. I don't have their recipe, so I came up with my own:
Sweet-and-Sassy Honey-Mustard Dressing
5 Tablespoons honey
4 Tablespoons extra virgin olive oil
3 Tablespoons Dijon mustard
3 Tablespoons white balsamic vinegar
Pinch of Kosher salt
Combine all the ingredients in a jar and shake, shake, SHAKE!
Another installment from DharmaTown Kitchen: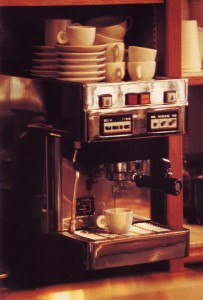 Toasted Espresso Nuts
1 cup almonds or mixed raw nuts
1 Tbsp vegetable oil
1 tsp finely ground espresso
1 tsp garlic powder
1 tsp salt
1 tsp ground nutmeg
Pinch of cayenne pepper
Preheat oven to 350 degrees (F). In a small bowl, toss nuts in oil, then place on a baking sheet. Roast in oven for 8 to 10 minutes, or until lightly toasted. In a medium bowl, combine all the remaining ingredients, then add nuts and toss until lightly coated. Return nuts to baking sheet and toast for 2 more minutes. Serve warm or at room temperature.
(image and recipe from Espresso: Culture & Cuisine by Karl Petzke and Sara Slavin)
The same friend who recommended I read A Tale for the Time Being also sent me an article from Experience Life magazine, which features an amazing array of things to cook using one of my all-time favorite foods: Dark Chocolate. So in the spirit of appreciation for this generosity, I pass this particularly delicious-sounding recipe along to you. May all beings be well, happy and fully fed.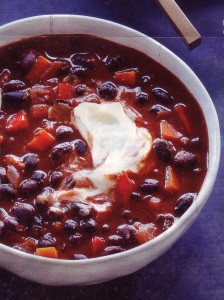 Black Bean Chili with Chipotle and Dark Chocolate
1 Tbs. extra-virgin olive oil
1 cup diced yellow onion
1 cup diced carrots
1 cup diced red bell pepper
1/2 tsp. ground cinnamon
1Tbs. ground coriander
1 can (14.5 oz.) fire-roasted crushed tomatoes
3 cups vegetable broth
4 cups cooked black beans (or two 15-0z. cans, drained and rinsed)
1 to 2 chipotle peppers in adobo sauce, diced
2 oz. dark chocolate (80 to 85 percent cacao content), coarsely chopped
Heat the olive oil in a large saucepan over medium heat, and sauté the onions, carrots, and bell peppers until softened. Add the spices, and continue to cook until the vegetables are caramelized. Add the tomatoes with their juice to deglaze the pan. Then add the broth, beans, and chipotle peppers and bring the chili to a simmer for 10 to 15 minutes. Stir in the chocolate until melted. Serve with a drizzle of Mexican crema, sour cream, or Greek yogurt. Makes 6-8 servings.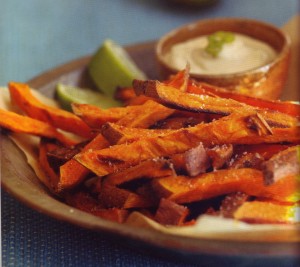 I don't spend all my time listening to Dharma talks. Yesterday I whipped up little Spiced Salt. Just the thing to kick up Christmas Sweet Potato Fries:
1 tsp Kosher salt
1/2 tsp sugar
1/4 tsp ground cinnamon
1/4 tsp ground cumin
1/4 tsp ground coriander
1/4 tsp paprika
(from Fast, Fresh & Green, by Susie Middleton)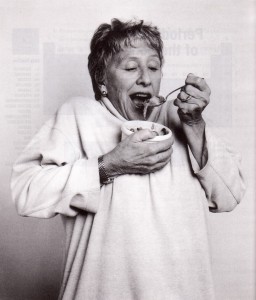 It's Soup Season here in St. Louis, so I thought I'd offer this secret teaching from the kitchen of Flowering Lotus Retreat Center. (Dolores brings in a chef from New Orleans to cook for her yogis!)
We had Lentil Soup on the first night of the retreat (the one I went to back in November), which is pretty much standard fare for first-night dinner at retreat centers. But right away I knew…this was no ordinary lentil soup! So I asked the chef (Katie) what her secret was. She took me aside and whispered just two words: Roast Garlic.
Yes!
So as soon as the weather turned wintery, I started searching around in my favorite cookbooks, and found this excellent recipe for Roast Garlic Lentil Soup (from The Daily Soup Cookbook by Leslie Kaul, Bob Spiegel, Carla Ruben and Peter Siegel):
1 whole head garlic
2 Tablespoons olive oil
1 large Spanish onion, chopped
2 celery stalks, chopped
2 carrots, peeled and chopped
2 teaspoons dried rosemary
2 bay leaves
1 teaspoon kosher salt
1/2 teaspoon ground black pepper
1 pound French lentils, rinsed and picked over to remove debris
8 cups vegetable stock (or mineral water)
1 (28-oz) can whole tomatoes, drained and diced
3 Tablespoons tomato paste
1 Tablespoon balsamic vinegar
1 teaspoon minced fresh garlic
1/4 cup chopped fresh Italian parsley
1. Preheat the oven to 450 degrees.
2. Wrap the whole head of garlic in foil and roast in the oven for 15 minutes, until tender. When cool enough to handle, remove the cloves from the skin and puree in a food processor or blender; set aside until ready to use.
3. Heat the oil in a large stockpot over medium heat. Add the onion, celery, and carrots and sweat for 4 minutes, until tender.
4. Add the rosemary, bay leaves, salt and pepper and stir to coat the vegetables.
5. Add the lentils, stock, tomatoes, and tomato paste. Bring to a boil, reduce heat, partially cover, and simmer for 1 hour, until lentils are tender.
6. Stir in the pureed roasted garlic, vinegar, and fresh garlic. Simmer for 2 minutes to heat through.
7. To serve, remove the bay leaves, ladle the soup into bowls, and top with chopped parsley.
Makes 12 cups.
Enjoy!