Browsing Category "Food"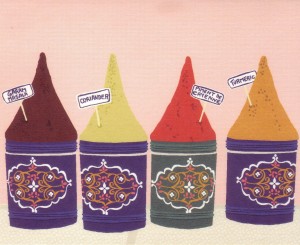 For Christmas this year, I'm giving the foodies in my family hand-mixed batches of Jan's Magical Mystery Spice Mix (a.k.a. Peggy's Spice Rub, from The New Vegetarian Cooking for Everyone by Deborah Madison). It's fabulous on winter squash, roast carrots, sweet potato fries, grilled eggplant and even avocados. Also just the thing to add a "mystery finish" to soups that seem to need a little something extra. (Also excellent, I'm told, as a dry rub for pork…if you're into that sort of thing.)
1 tsp. black peppercorns
2 tsp. sea salt
3 Tbs. coriander seeds
5 whole star anise
1 Tbs. fennel seeds
1 Tbs. ground ginger
1/2 tsp. cayenne
1 tsp. red pepper flakes
1 tsp. ground cinnamon
1 Tbs. five-spice powder
3 Tbs. organic brown or coconut sugar
Crush the peppercorns in a motar and pestle, add the salt and whole spices, then grind until everything is broken up and well blended. (A little texture is good.) Add the remaining ingredients and mix.
Yum!
***
(illustration by Kate Pocrass, from En Route Notecards, published by Chronicle Books)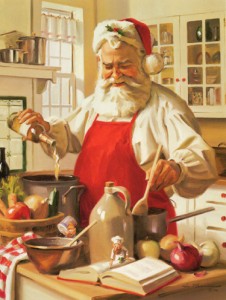 Here's an easy "holiday" recipe from one of the December menus in the Garrison Institute Kitchen Cookbook:
Roasted Beets with Pink Grapefruit and Watercress
(serves 6-8) 
3 beets, roasted, sliced or cut into bite-size chunks
2 pink grapefruits, peeled and cut into sections
1 bunch watercress
2 tsp. olive oil
2 tsp. your favorite vinegar
1 tsp. freshly ground coriander seeds
salt & pepper
Toss and serve!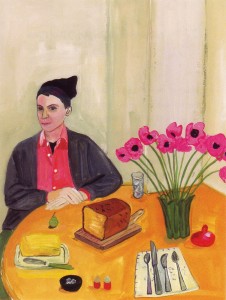 And now a bit of dharma wisdom from that great sage, Michael Pollan:
Place a Bouquet of Flowers on the Table and Everything Will Taste Twice as Good.
(illustration by Maira Kalman, from Food Rules: An Eater's Manual by Michael Pollan)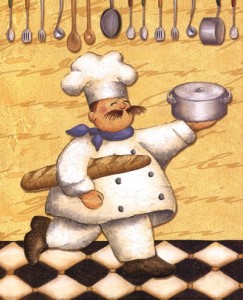 This just in from the IMS (Insight Meditation Society) Kitchen Website. I ate this cornbread last year when I sat the 6-week retreat. They served it with veggie chili and it was GREAT!!!!
Maple-Bottomed Rosemary Skillet Cornbread  (serves 6)
3/4 cup cornmeal
3/4 cup whole wheat pastry flour
1/2 teaspoon salt
1/4 teaspoon baking soda
1/2 Tablespoon baking powder
1 teaspoon fresh rosemary — crushed or ground
1 Tablespoon sugar
1 egg (beaten)
2 Tablespoons butter — melted
1 cup milk
For the bottom of the pan:
2 Tablespoons maple syrup
2 Tablespoons butter — melted
***
1. Preheat conventional oven to 375 degrees F
2. Mix dry ingredients except for sugar and rosemary and set aside.
3. Warm the milk slightly and then add to it the sugar, rosemary and the first amount of melted butter. Take off burner and when just warm (not hot) add the beaten egg.
4. Put maple syrup and second amount of butter into a large cast iron skillet or Pyrex baking dish and heat gently on burner (if using skillet) or in oven (if using Pyrex) till butter is melted. Then put aside.
5. Add milk mixture to dry ingredients and stir just until smooth. Do not over-mix. Pour the batter into the pan, over the maple syrup and butter.
6. Place pan in oven and bake until done (about 30 minutes). Top should be golden and spring back to the touch. A toothpick inserted in the middle should come out clean.
Enjoy!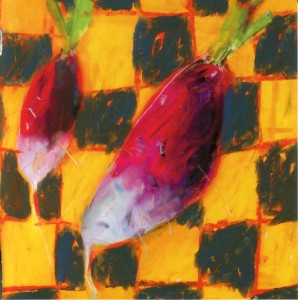 I love the good, fresh, simple-but-flavorful food they serve at Spirit Rock and at IMS (Insight Meditation Society), but my all-time favorite retreat food comes from the Garrison Institute kitchen. Here's a sample from their cookbook:
Mixed Radish and Raw-Corn Salad (serves 4-6)
4 ears fresh sweet corn
2 bunches small radishes, cleaned and cut into bite-sized pieces
3 Tbsp. good olive oil
2 Tbsp. lemon or lime juice
Salt & black pepper
1 tsp. fresh thyme leaves
To remove the kernels from the cobs, use a sharp knife and hold the cob inside a mixing bowl as you shave.
Combine the radishes with the corn kernels and season to taste with oil, citrus juice, salt, pepper, and thyme.
Enjoy!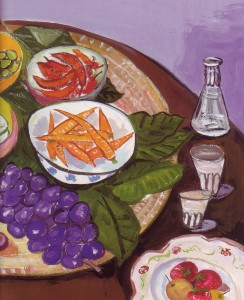 It's great to be back…but there's no food in the house! No problem. I'll just whip up a little something from the Garrison Institute Kitchen cookbook.
Pickled Carrots
These may be served as a condiment or side dish. They're a bright complement to the rich, spicy Thai curry served at the Garrison Institute.
4 large carrots, peeled and thinly sliced
1/3 cup water
1/3 cup rice vinegar
1 Tbsp. salt
1 Tbsp. raw sugar
The carrots can be sliced using a mandolin or shredded using a box grater or food processor. In a small pot over medium heat combine the water, vinegar, salt and sugar. Cook until the sugar is dissolved. Pour the liquid over the carrots and let them sit in the refrigerator for at least 10 minutes. (You can make these a day or two ahead and store them in the frig.)
***
Illustration by Maira Kalman, from "Food Rules, An Eaters Manuel," by Michael Pollan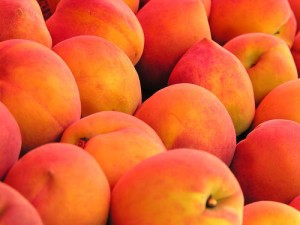 Check out this August menus from the Garrison Institute Kitchen:
Corn Chowder
Tomato Salad with Marjoram
Sautéed Chard with Mozzarella and Tarragon dressed with Sorrel Vinaigrette
Oven-Poached Peaches with Rose' Wine and Spices
(You can see why I love to go there!)
Here's the recipe for the Oven-Poached Peaches:
2 cups water
1 cup raw sugar or maple syrup
Optional flavorings: lemon zest, vanilla bean, cinnamon stick, bay leaf, black peppercorns, cardamon pods, mace
4 ripe peaches
2 cups rose' wine
Preheat oven to 350F. In a small saucepan over medium heat, melt the sugar in the water until dissolved. Add any of the optional flavorings. Turn off the heat and set aside to steep.
Peel the peaches and cut in half. Place the halves in a baking dish cut-side down and pour the sugar-water and wine over the top. Be sure any spices are scattered around the pan. Bake 5 minutes, baste, and bake another 12 to 15 minutes, until the peaches are quite soft and brown on top.
Serve the peaches, with the resulting syrup, as they are. Or reduce the syrup in a small saucepan until thickened. Peaches are good either warm or cold.
Serves 6-8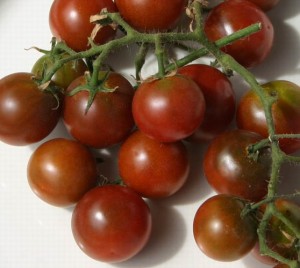 One of the July menus in the Year of Recipes from the Garrison Institute Kitchen calls for brown cherry tomatoes, which at first I thought was a typo and what they really meant was: browned cherry tomatoes. But I was wrong. It seems there's a "new" heirloom variety of tomatoes, which they grow at the Garrison Institute gardens.
So of course I thought I would never encounter them. But I was wrong again. Whole Foods had a whole table of them! (These were grown in a greenhouse  and shipped from Canada, so they probably don't taste like the ones picked from the gardens at the Garrison Institute, but I figured I'd give them a try anyway.) I tasted one right out of the package with a little sea salt and it was pretty good. Quite tart. Meaty. With a firm skin.
Here's the recipe, which I plan to make tonight:
Pasta with Brown Cherry Tomatoes, Eggplant, Salt-Cured Capers, Mozzarella, Mint, Basil, and Garlic
1/2 lb. high-quality penne pasta, cooked according to package
1 cup brown cherry tomatoes (or your favorite variety)
1/2 lb. fresh mozzarella, cut into 1-inch cubes (room temperature)
1/2 cup olive oil, divided
1/4 cup coarsely chopped mint
1/4 coarsely chopped basil
1 1/2 tsp. chopped garlic
1 1/2 tsp. salt-cured capers, soaked for a few minutes in water  (I'm going to have to use water-packed capers. Outside of Italy, or a real Italian grocery store…like on the Hill in St. Louis…I've never been able to find capers packed in salt.)
Salt & black pepper
1 1/2 cups eggplant, cut into 1-inch cubes, skin on or off
1.Preheat oven to 400 F. Cut the cherry tomatoes in half, or quarter them, depending on the size, and place in a serving bowl.
2. Add the fresh mozzarella to the tomatoes in the bowl along with 1/4 cup olive oil, mint, basil, garlic, drained capers, and a pinch of salt and pepper. Let the mixture stand to allow the flavors to blend while roasting the eggplant.
3. In another mixing bowl, toss the eggplant with the remaining 1/4 cup olive oil and pinch of salt. Roast on a baking sheet until golden brown and completely tender, about 10 to 12 minutes. (Underdone eggplant is spongy and bland, yet bitter, while well-cooked eggplant is silky in texture with a more developed, sweeter taste.) Keep in a warm spot on the stovetop.
4. Add the just-cooked, al dente pasta and hot eggplant to the bowl with the tomato mixture. Toss together. Taste and adjust the salt and pepper. Serve warm.
The original recipe serves 4 to 6. I'm by myself, so I've halved the ingredients. I figure this should make enough for 2 dinners.
It's the 4th of July, in celebration of which I offer this recipe from Fresh Cooking: A Year of Recipes from the Garrison Institute Kitchen.
Radicchio and Blueberries with Sherry Vinegar and Walnut Oil
2 to 4 heads radicchio
1 pint blueberries
3 to 4 Tbsp. toasted walnut oil (or substitute olive or hazelnut oil)
2 to 3 Tbsp. sherry vinegar (or use your favorite!)
1 Tbsp. Dijon mustard (optional)
1 clove garlic, crushed (optional)
Salt and black pepper
Tear or shred the radicchio, toss with the blueberries, oil, vinegar, mustard, garlic, salt and pepper, and serve!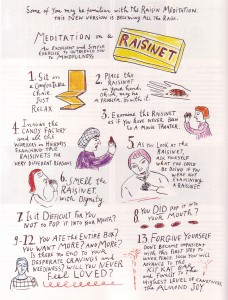 Some of you are probably familiar with the exercise on Mindful Eating that's often taught on retreat, where little boxes of raisins are passed out at the start of the guided meditation. (They used to pass around a big bowl of loose raisins and everyone just took a handful…but that was back in the old hippy days, before things got corporate.)
Anyway, for today I offer Maira Kalman's variation on that classic meditation, published last year in Mindful magazine. (click to enlarge)