Browsing Category "Earth"
The following excerpt is from Handy Tips on How to Behave at the Death of the World, by Anne Herbert, originally published in Whole Earth Review (1995) and currently reprinted in The Sun magazine:
"Sometimes it comes in a dream, and sometimes in one more newspaper headline. And then you know. With your cells and past and future you know. It's over. We are killing it all and soon it will all be dead. We are here at the death of the world — killers, witnesses, and those who will die. How then shall we live?
"Probably good to tell truth as much as possible. Truth generally appreciated by terminal patients and we all are.
"Good to avoid shoddy activities. You are doing some of the last things done by beings on this planet. Generosity and beauty and basicness might be good ways to go. Avoid that which is self-serving in a small way. Keep in mind standing in for ancestors including people who lived ten thousand years ago and also fishes. Might be best to do activities that would make some ancestors feel honored to be part of bringing you here.
"… Be in radical alignment with particular forms of aliveness being smashed. Particular species, human creatures, styles of living are being obliterated brutally now. In as much as we all are going to die fairly soon, the stylish thing to do is to align with one of the lifeforms and help it be itself as long and strong as possible.
"Eschew blandness. Eschew causing others pain. We are all the targets so wear bright colors and dance with those you love. Falling in love has always been a bit too much to apply to one person. Falling is love is appropriate for now, to love all those things which are about to leave. The rocks are watching, and the squirrels and the stars and the tired people on the street. If you love them, let them know, with grace and non-invasive extravagance. Care about the beings you care about in gorgeous and surprising ways. Color outside the lines. Practice random kindness and senseless acts of beauty. This is your last chance."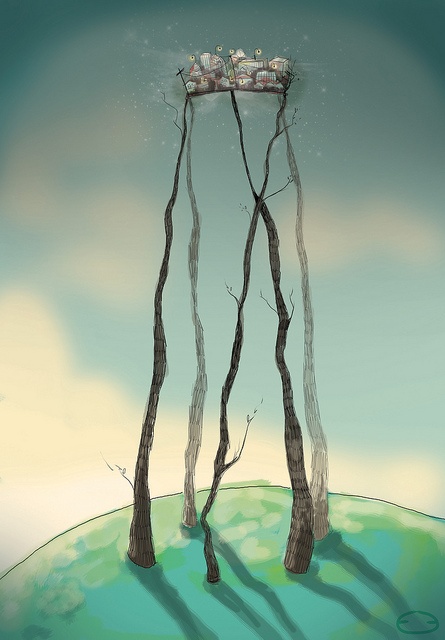 In honor of Earth Day (tomorrow) and in support of the March for Science scheduled to celebrate the occasion on the National Mall, I offer this selection from Invisible Cities, by Italo Calvino, (which I always consult before leaving home, as I am about to do, to complete the final segment of the Community Dharma Leader training program):
Cities & Eyes  3
After a seven days' march  through woodland, the traveler directed toward Baucis cannot see the city and yet they have arrived. The slender stilts that rise from the ground at a great distance from one another and are lost above the clouds support the city. You climb them with ladders. On the ground the inhabitants rarely show themselves: having already everything they need up there, they prefer not to come down. Nothing of the city touches the earth except those long flamingo legs on which it rests and, when the days are sunny, a pierced, angular shadow that falls on the foliage.
There are three hypotheses about the inhabitants of Baucis: that they hate the earth; that they respect is so much they avoid all contact; that they love it as it was before they existed and with spyglasses and telescopes aimed downward they never tire of examining it, leaf by leaf, stone by stone, ant by ant, contemplating with fascination their own absence. 
***
Note: In a spirit of inclusivity (heightened by my participation in the CDL program), I have changed the gender pronoun of Calvino's traveler above from "he" to "they".
Also note: I'll be back in Dharma Town, ready to post again on Monday, May 1. (May Day!) Check back then.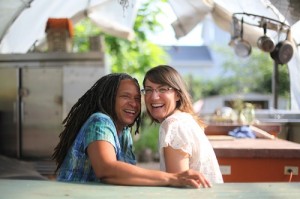 A plug today for my Fair Shares CCSA (Combined Community Supported Agriculture) and for their new partnership with Urban Buds: City Cut Flowers, which is owned and operated by Miranda Duschack (on the right) and Karen "Mimo" Davis. Together they grow specially cut flowers and keep honey bees on their one-acre urban farm in the Dutchtown neighborhood of St. Louis!
The flowers are grown without harmful chemicals and with the use of Integrated Pest Management techniques, cover crops, compost, minimal tillage, and drip irrigation. They are grown in the field, in a high tunnel, and in a heated glass greenhouse.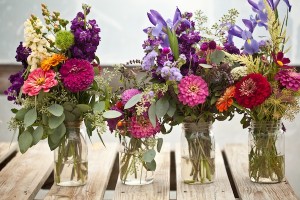 And….they're beautiful!
Tell Mother Earth you love her. Support local agriculture. And get yourself a bouquet!