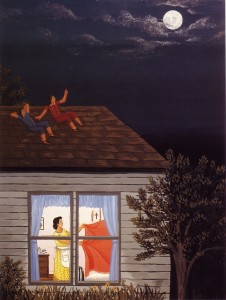 Last night the moon was full, so I joined with millions of people around the world in renewing my commitment to non-harming and by staying up late to practice.
First I sat with the Maplewood Metta group — Wishing: In gladness and in safety, may all beings be at ease.
Then I came home and sat, and had some tea, and sat again, and then listened to a wonderful dharma talk by Pascal Auclair called Two Ways to Free the Mind, in which he quite delightfully riffs on the teaching that there are two causes for the arising of wisdom: (1) hearing the voice of another and (2) paying wise attention — which means looking carefully at whatever it is that one is paying attention to… and seeing whether it leads to confusion and complications (suffering), or to ease and peace (non-suffering).
I went to bed some time after midnight feeling very glad to have listened to the wise voice of Pascal…and to have paid attention.
(image: Camas Para Suenos by Camen Lomas Garza)