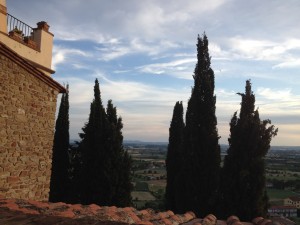 Here is a photo taken at Le Santucce, the former convent in Castiglion Fiorentino, where the writing workshops were held. And here is a sample of the writing I did on the balcony there, in response to this prompt: "Be where you are and write what you notice."
The ringing of bells.
The swoosh and roar, pause, then buzz of unseen traffic.
Birds.
A crescendo, now, of tires-on-pavement.
Insects.
More bells.
Motorcycle.
And now a racket of birds.
Insects: whine, snap, whiz, crackle.
Then more of the swoosh and swipe of cars on the road. And behind it all: birds.
The sputter of another motor.
More birds again: coo-ing and who-ing.
A cat appears. Soundless.
Then the sizzle of cicadas.
And now the buzz of my own blood as it sings behind my ears.
All these sounds, rising and falling, pausing, overlapping, punctuated one with another. And then a wash of sounds, points of sound — a dog barks, someone shouts somewhere in the hills — then the droning continues, rises again, some kind of machinery starts up, then desists, a sputter, then bird song — a bee startles by — traffic noise takes the foreground, then shifts — sotto voce.
There is a high whine in the distance.
Metal-on-metal, then wood-striking-metal.
More birds.
Staccato of woodpecker.
Finches — soprano — insistent, triumphant at first, then alarmed.
Wrens scolding one another.
Something metallic shifts. A percussive exchange.
Cookware.
Teacups and saucers.
A coda of train in the distance.
Then the chorus again: woodpecker and truck-rush, motorcycle, warble and tweeting, clicks, footsteps (canvas on stone), a car honks, that motor again (closer this time)…buzzing and humming, growling, then puttering, idling, then high and angry, then silent.
But the silence is never silent.
Or haven't you heard?