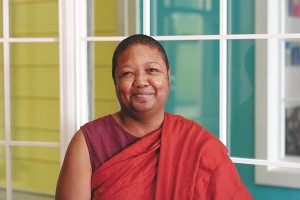 I'm leaving early tomorrow morning to attend a retreat led by Baptist-Preacher-turned-Buddhist-Nun, Venerable Pannavati at Flowering Lotus Retreat Center in Magnolia, Mississippi. I haven't sat a retreat with her before, but I've heard her speak, and honey…..she's a hoot!
But she's also a Ph.D, and an ordained nun in both the Theravada and Mahayana Buddhist traditions, as well as the co-founder and co-Abbot of Embracing Simplicity Hermitage in Hendersonville, NC. She's organized full ordination for female monastics in Cambodia and Thailand; runs a residential, non-profit, job-training gluten-free bakery for homeless youth in North Carolina; supports 10 "untouchable" villages in India; and more. So, basically, she's just pretty awesome. (Check out her website here.)
I'll get back from retreat on Oct 17, but it will take me a while to get back to "normal." So check back here on Monday, Oct 20 for my next post.