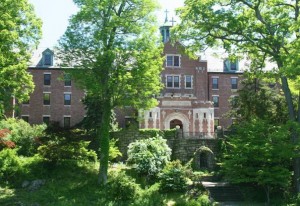 I'm leaving early tomorrow morning to fly to New York, to meet with my first meditation teacher, Mirabai Bush, and to attend the Contemplative Retreat for Educators she'll be leading.
I'm not an Educator, but Mirabai said it was OK. I attended two years ago and met lots of fascinating people, all doing very interesting work using contemplative practices to teach courses in a wide range of disciplines…this is where I learned the Now I See method I've been posting about….but really, I'm just going to be able to sit with Mirabai.
The retreat is held at the Garrison Institute. It's in a beautiful, former monastery in Garrison, New York, located on the bluffs overlooking the Hudson River, about an hour north of New York City. I'll take a train from Grand Central Station that goes right along the river all the way up to Garrison. (Which alone is almost worth the trip.) The retreat starts Thursday at dinner and goes through lunch on Sunday. (The food is awesome.) Then I'll be staying over for a day of practice.
I'll post about it all when I get back on Tuesday.
Stay tuned.