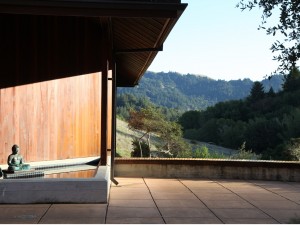 I'm on my way to Spirit Rock for the next Dedicated Practitioner Program (DPP) retreat and then to spend a few days with Dharma friends I've met through the program. The DPP teachings are awesome, but I'm finding that the real jewel of the program is the connection with fellow practitioners.
This will be the 4th of 5 retreats. We started in May of 2011, and will finish in May 0f 2013. I'll be sad to see it end. But, actually, this is just the beginning.
I'll be back in DharmaTown on Monday, Nov. 19. In the mean time, I leave you with this photo by staffer, Walt Opie, taken from the courtyard in front of the Spirit Rock meditation hall. I'll be standing at exactly this spot quite often over the next several days. Wishing, in gladness and in safety: May all beings be at ease.
This photo is available to download as wallpaper for your computer desktop by clicking here.