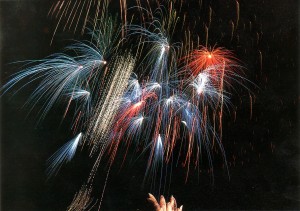 Oh….and at the end of the Hi-Pointe sitting on Wednesday night….there were fireworks!
OK. It had nothing to do with the sit. There was a free concert going on at Art Hill, and when it was over, they shot off fireworks….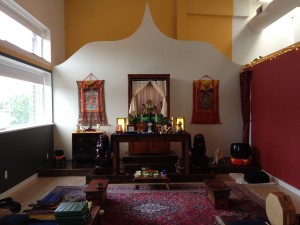 ….which we could see from the big, beautiful windows at the Blue Lotus Dharma Center…where we meet every Wednesday evening from 7:00 to 8:30 (shown here, in a photo taken during the day).
The Center is located at 1002 Hi-Pointe Place, which is just behind and to the west of the Hi-Pointe Theatre, so mostly what you see out the front window is the giant AMACO sign on Skinker. That, along with the Buddhas and the Thangkas and the little white Christmas lights (along the top of the maroon wall) make for quite an eclectic setting.
I love it.
Come see for yourself!
(I didn't take the photo of the fireworks above. It's just one I had in my archive of images. But you get the picture.)