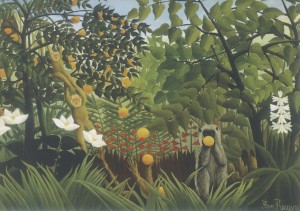 The Saturday morning Sitting in the Park meditation group will be….well, sitting in the park!….tomorrow morning (unless it's pouring down rain) near the Tower Grove Farmers' Market from 8:30 to 9:00 am. No chanting. No dharma talk. Just sitting.
We'll be there tomorrow, and the rest of the Saturdays in October. But our last sit of the year will be November 3 (when the Market closes). So join us while you can. All are welcome.
Including your monkey mind!