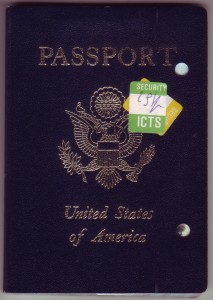 The saga of the Burmese visa application process continues. At first we were told that if we wanted to stay on at one of the monasteries after our tour with Tempel, we would need to get a Meditation visa. This would allow us to stay in the country for more than 28 days…which is the maximum stay for a Tourist visa. We were told that it would actually be quicker to get a Meditation visa, although we'd first have to get a letter from the monastery where we planned to stay. Which we did.
And since both types of visas are only good for 3 months after issue, we should wait to send the application in until late in October. So we did.
But it turns out that things have changed. After we sent in the applications, the embassy said that it takes 3 months to get a Meditation visa. Which is a problem since I sent in my application on Oct 30 and I depart on January 7.
Leahe and I have already planned to arrive and depart together…and to stay at U Tejaniya's monastery together after our time with Tempel…and we thought we'd have to re-apply for a Tourist visa, because apparently now Tourist visas only take about 10 days to get. But we had already made our plane reservations to arrive in Yangon on January 8 and depart on February 5, which we counted as 29 days. The embassy said absolutely, positively, NO EXTENSIONS.
Although Tempel thought maybe that's not the case.
But we didn't want to take any chances. So we were about to change our plane tickets, when we discovered that Jan 8 to Feb 5 counts as 28 days. At least according to the embassy.
So we were set. But then we realized that we can't stay at the monastery with just a Tourist visa.
Now what to do?
Leahe called the embassy this morning and they said that the Ministry of Religious Affairs will approve applications one month before departure. So it's still possible that our applications for Meditation visas will come through.
So we're waiting until after Dec 8….the embassy suggests Dec 16….to check to see whether or not they come through. If they do, we're good. If not, we have to quickly apply for a Tourist visa….and then figure out where we're going to stay from the time Tempel takes his leave of us on Jan 23 until we fly out of Yangon on Feb 5.
Hmmm.
Sounds like Advanced Practice.