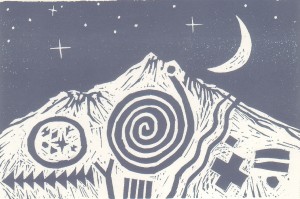 I just listened to a wonderful talk by Jack Kornfield. I mean that literally — it is a talk full of wonder — in which he offers an "Invitation to Mystery"…. to that which the Victorians translated as Enlightenment, but which he prefers to call Awakening, or better yet, Seeing the World with a Sense of Wonder. You can listen to the talk by clicking here. (There's a minute or so of silence near the beginning of the talk. Don't worry. Just keep listening.)
Jack tells lots of wonderful stories in this talk, including stories about his time with Ajahn Chah and about his own Awakening experiences — the "breaking of the spell of ordinariness," as he calls it. He also talks about his divorce and the new relationship he is in. And his past illness, which was quite serious, and not entirely gone. I couldn't begin to do these stories justice by summarizing them here. You'll just have to listen to the talk!
As further incentive I offer one of the poems he quotes (although he doesn't mention the title.) It's by Bridget Lowry:
In the strange, early evening half-light we sit.
In the cloudiness of our questioning, we sit.
In our madness and our clarity, we sit.
In the midst of too much to do, we sit.
In the warm arms of our shared sorrow, we sit.
In community and in loneliness, we sit.
In sweet exhaustion, we sit.
In the blazing energy of being alive, we sit.

Here with the singing coyotes and the crows,
With each electric bird song
And the rippling breeze and the dry grasses,
Here with the cobwebs and the moon
And the muddy and dusty road upon us…
Us in the sound,
And the sound in us.
Us in the world,
And the world in us.