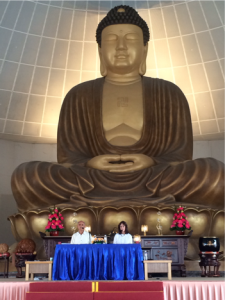 I just got an email from Jack Kornfield (not from him personally….from his website), in which he talks about leading Western-style meditation retreats in Singapore and China!
Look closely at the little table in front of the big Buddha in this photo. That's Jack with his partner-and-fellow-Dharma-teacher, Trudy Goodman, teaching in Singapore's largest temple. (Quite a backdrop!)
I'll let Jack tell you all about it. Click here to read his account.