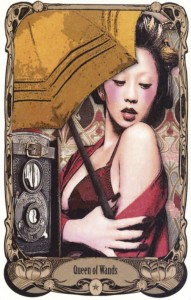 The third Ego-Renunciation Practice that the "Dancing with Life" KM group will be playing with over the next couple of weeks is: giving up being the star of your own movie.
In Dancing with Life, Phillip Moffitt writes, "The unfolding of events that make up your life is like a movie, is it not? And you interpret every scene or event from the vantage point of being the star of your movie–is it good or bad for you, do you like it or not, and so on.
"Once you renounce being the star of your own movie, you begin to see the unfolding of each scene and the movie as a whole from multiple perspectives. You don't forsake your role in the movie, but once you cease making it be all about you, the movie creates less anxiety and you are more able to live from your core values."
Give it a try!
(image: Steampunk Tarot by Curly Cue Design)