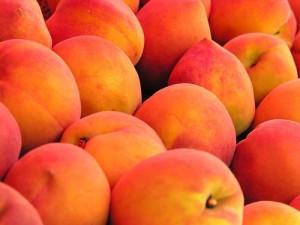 Check out this August menus from the Garrison Institute Kitchen:
Corn Chowder
Tomato Salad with Marjoram
Sautéed Chard with Mozzarella and Tarragon dressed with Sorrel Vinaigrette
Oven-Poached Peaches with Rose' Wine and Spices
(You can see why I love to go there!)
Here's the recipe for the Oven-Poached Peaches:
2 cups water
1 cup raw sugar or maple syrup
Optional flavorings: lemon zest, vanilla bean, cinnamon stick, bay leaf, black peppercorns, cardamon pods, mace
4 ripe peaches
2 cups rose' wine
Preheat oven to 350F. In a small saucepan over medium heat, melt the sugar in the water until dissolved. Add any of the optional flavorings. Turn off the heat and set aside to steep.
Peel the peaches and cut in half. Place the halves in a baking dish cut-side down and pour the sugar-water and wine over the top. Be sure any spices are scattered around the pan. Bake 5 minutes, baste, and bake another 12 to 15 minutes, until the peaches are quite soft and brown on top.
Serve the peaches, with the resulting syrup, as they are. Or reduce the syrup in a small saucepan until thickened. Peaches are good either warm or cold.
Serves 6-8