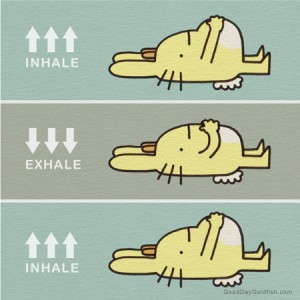 I've been interested in learning qigong ever since reading Ajahn Sucitto's blog post from March of this year, titled Standing Like a Tree, Breathing Like a Buddha, and then attending his retreat in April, where he guided us in deep, full, Whole Body Breathing and led us in extended Standing Meditation practice every morning at the end of the first sit.
But the qigong class I found while I was staying in Chapel Hill didn't place particular emphasis on breathing — or on standing — so I sort of forgot that that was really the fundamental instruction/practice I had been looking for.
But then I came back to St. Louis and started looking around, and what do you know — there's a Qigong Breathing (and Standing) class right here! It's at a place called Bamboo Studio, 3227 Magnolia, near Tower Grove Park.
So I went last night and it was just like what we practiced with Ajahn Sucitto….except that in addition to the Standing practice and Full Belly Breathing (which, in this case, we did on the floor), we also did some breath-and-movement exercises while sitting in a chair.
It was very interesting. Relaxing, but not at all passive. And quite satisfying.
I'll be back for more!