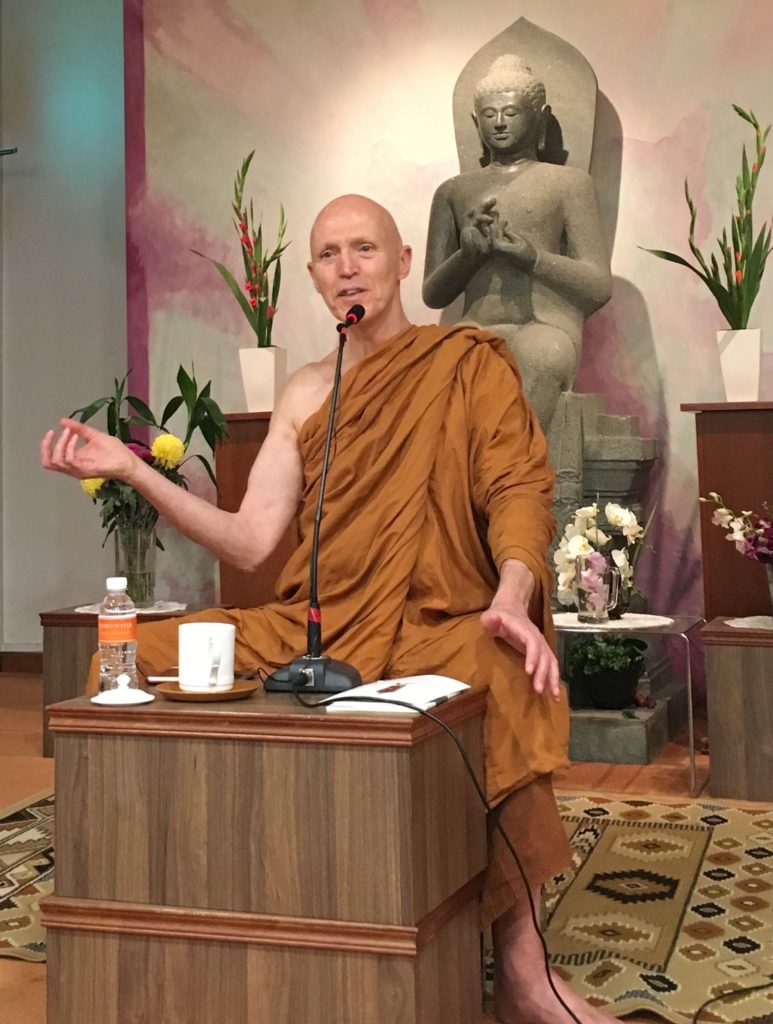 At the end of the retreat in Madison, Ajahn Sucitto gave this wonderful little gem of a talk called, Closing Exhortation: Being is First; Doing is Second.
Here's an excerpt:
"….Drop into the center of your reactivity. That's where you're supposed to be. You drop into — not your comfort zone — but right into the center of your reactivity. In there — that's authentic, isn't it. Because this is the thing you have to deal with. The reactivity.
"Don't worry about it. Don't start complaining about how reactive you are, or feeling hopeless, just go right to the center of your being, aware of your reactivity.
"I suggest that you can do this in ten seconds. Doesn't mean you've got an answer, doesn't mean you're not reactive — it just means you can drop into that… You don't need a lot of training, really, to just go to awareness of the compulsiveness, the reactivity.
"The real deep training is the staying just a little bit longer in that awareness. Live just a little bit longer against all the pressure. Could be just another 5 seconds, even. Could be a little bit longer. Can you bear with that? Can you breathe out into that?
"And then start with what I call 'guesswork.' The doing. Which is just opening, widening….
"Be prepared to get it wrong. It doesn't matter. Doing is always guesswork. You get five out of ten right – that's good. Six out of ten, three out of ten… But at least what you're doing is you're referring to awakening intelligence, rather than indoctrinated 'education'. Rather than programming….
"So check into this reactivity, and be in the center of one's field of blame and all that, the lack of confidence, and the desire… Then awakening intelligence can start to operate: It's all right. That's OK. Just take your time. Just move out. Let's see how it goes. I'm with you all the time.
"Awakening intelligence – you're not going to lose that one. Once you've touched into it, it's going to be with you all the time.
"Just take the time to drop into it. Take the time to knock on its door. It's going to come out. It's natural. If you don't ask for it, you're not going to get it. If you don't tap on the door, it can't answer. If you're too busy doing something else, doing busy stuff, driving yourself nuts – it's not going to answer the door, because you haven't asked it.
"And the asking is in the center of the reactivity…the fearfulness and the doubt. Be aware of that and then: what's important now?Just take a breath….
"See what is good. Follow the beautiful. Follow the good. Kalyana — the Beautiful, the Truthful, the Good. Follow that. See where it goes. What else can you do?
"Being is first; doing is second.
"I can't get it simpler than that, really. It has to be simple. There's so much that you know, so much you can learn, so much other stuff that you can pick up, goodies in meditation, Dhamma…  I don't need to run through all that again. You can get all that. So, you know, my little bit is to try to perhaps touch things in strange ways and maybe make things in some ways more direct:
"Being is the first thing; doing is second. It doesn't take that long to do that. And then following it is a curious path and strangeness.
"We are the unnamable, moving through the unimaginable. There is no finality. You crave it, but there isn't one.
"The unnamable moving through the unimaginable. What did you expect? [laughter] Crystal clear explanations? [more laughter]"
"So take time to check in with that.
"These are sort of daily life things. You have the 'occasionals', where you really check in with your refuges and so forth, your assets, and then you have the, what I call the 'on-going.'
"So this is something that I am suggesting throughout the day. You can take ten seconds. Ten second pauses. Ten second moments. After breakfast. When you park the car. Before you jump to the next thing, make these little break points: Pause…Where's it rolling now?…Where is it going now?…
"If you can build those in during the day…ten times a day…it's going to check some of these momentum wheels of our conditioning.
"So this is how I practice.
"I've been really winging it for the last fifty years or so. [laughter]…. Yeah….. And, uh, when I've let myself get distracted, you know, and start believing in fixed things and finalities and systems and structures…get distracted by all of that… Then there is something to feel, which is definitely…. We all can do this. Awakening intelligence is there, possible for us. What else is going to get you through?
[long pause]
"You know, sometime when I pause, people think it's that I'm thinking of something brilliant to say…it's not. I've just stopped. [laughter] It happens quite a bit. [more laughter]
"So I'll leave you with that, for now….with my blessings."
***
This is only about half the talk, and it's been edited and condensed. I highly recommend listening to the whole thing. (It's only 27 minutes!!!) Click here.