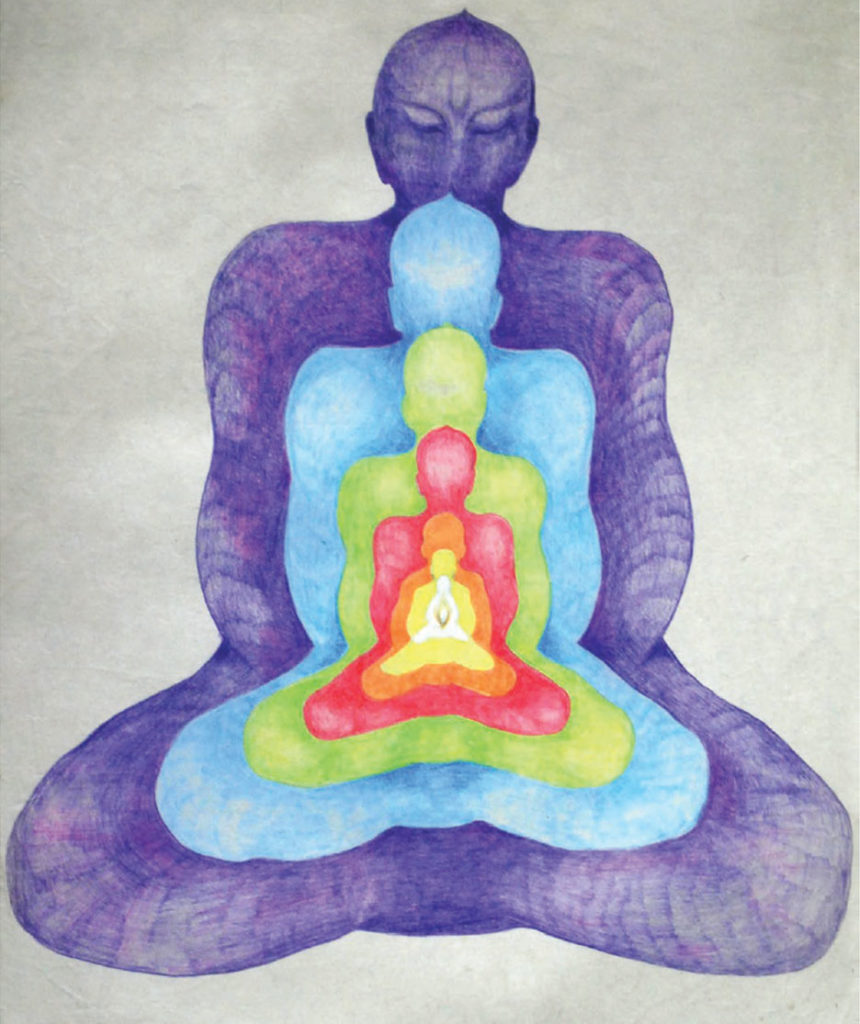 I've been doing the "Required Advanced Reading" for Phillip Moffitt's next retreat, titled: Meditating on the Nine Bodies: A Practical Map for Insight Practitioners (which I'll be attending at the end of this month.)
The requirement is to read the first six chapters of Phillip's new book, Awakening through the Nine Bodies: Explorations in Consciousness for Mindfulness Meditation and Yoga Practitioners.
It's pretty unusual for there to be a homework assignment(!) required to attend a retreat, but I think this is going to be a pretty unusual retreat.
(I already read the book when it first came out last fall. Let me just say: It's not a quick read. But if you're interested, it's worth it!)
The "Nine Bodies" refers to nine levels of consciousness that (according to these teachings) can be accessed/experienced through meditation. These levels are called: Physical Body, Vital Body, Emotional Body, Etheric Body, Astral Body, Intuitional Body, Spiritual Body, Divine Body, Cosmic Body.
The book includes meditation instructions for accessing each of these Bodies. Here's an excerpt from the first one:
"Begin with simply practicing mindfulness of the wind element manifesting as breath in the Physical Body. Be mindful of any physical sensations that tell you that you are breathing; breath is occurring. You may feel the wind element as pressure, tingling, or vibration, or as an in-and-out or rising-and-falling movement.
"When you are able to consciously feel these body sensations directly without commenting on them or trying to control them through your thoughts, you are directly accessing the Physical Body. Confirm whether this is true for you. You will see that indeed consciousness knows it knows physical sensations. Instructing you to do this confirmation may seem unimportant, but the 'knowing you know' aspect of consciousness builds strength and confidence of mind, which helps the mind develop its more subtle capacities for attention…
"One way to describe the felt sense of being in the Physical Body is as 'embodied consciousness.' Another is feeling 'grounded in the body.'…. From this embodied consciousness you can develop a felt sense for the nervous system based on the principle of being grounded.
"You will discover that your attention can be grounded in any conscious experience, not just the body, if you cultivate the intention to rest attention on that experience.
"Just as the nervous system has a parasympathetic relaxation response when it realizes it is safely resting on Earth, which in turn calms and clears the mind, this calming relaxation response is generated when accessing each of the Bodies….
"From the practical perspective, it is very helpful to be able to access the Physical Body in daily life when the mind is racing and emotions are strong. I recommend that you repeatedly return to establishing mindfulness of the body 'within the body' throughout your day. It provides a beneficial break for an overly active mind or a mind that is habitually tuning out."
***
Interested? You can find recordings of these and other instructions for accessing the Physical, Vital, Emotional, Etheric, and Intuitive Bodies by clicking here. Some are led by Phillip Moffitt, other by his co-teacher, Dana DePalma. Enjoy!