Spirit Rock Meditation Center has recently started sharing some of its yogi-liscious recipes with regular contributors. In keeping with this spirit of generosity, I am passing along this latest offering, developed by long-time Spirit Rock chef, Max Swanger.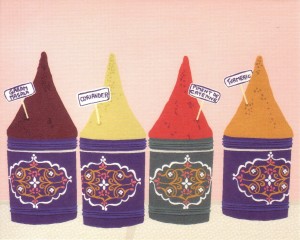 "Right View" Masala Greens with Paneer
(4 servings)
1 lb. paneer fresh cheese, cubed (firm tofu may be substituted)
1/4 cup ghee (clarified butter)
1 bunch mixed greens: chard, collards, and/or kale
1 bunch mustard greens
1/8 bunch cilantro, chopped
1 onion, chopped fine
2 cloves garlic, chopped
2 Tbsp. ginger, grated
2 tsp. curry powder (garam masala)
2 tsp. lemon juice
2 tsp. salt (or to taste)
Directions
1. Cube (about 1/2 inch) fresh paneer. Or substitute firm tofu in 1/2 inch cubes.
2. Toss paneer cubes with a little melted ghee to coat and sprinkle with salt.
3. Place on sheet pans. Use parchment paper, if you have it.
4. Bake in oven at 350 degrees until speckled brown.
5. Wash and chop all greens.
6. Add the rest of the ghee to a pan and cook the onions until soft.
7. Add curry, ginger and garlic to the onions and fry for a minute.
8. On high heat, add in the mixed greens, mustard and cilantro.
9. Cook until tender.
10. Finish greens with salt and lemon juice.
11. Stir in baked paneer.
Enjoy!
***
(image by Kate Pocrass)