Browsing Category "Travel"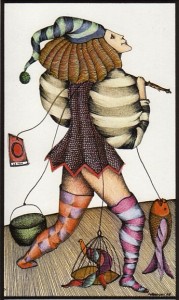 Since I don't want to have a deal with a lot of luggage while I'm traveling in Burma….and because I want to make sure whatever luggage I do have actually arrives at the same destination (and at the same time) that I do…I'm planning to take everything I'll need for the entire month-long pilgrimage in one carry-on shoulder bag and a small backpack. (The weather will be warm — 50 to 70 in the evening, 70 to 90 in the day — and we've been told to dress modestly, which means shoulders and knees should be covered, nothing sheer or see-thru, preferably plain white tops with loose, dark-colored pants/skirts.)
Here's what I'm taking:
Clothing (it helps that we'll be able to do laundry, and that I'll be wearing a lot of this, in layers, on the plane)
2 plain white cotton T-shirts
1 quick-dry, short-sleeve camp shirt
1 long-sleeve linen T-shirt
2 loose, light-weight pair of pants…one linen, one rayon blend
1 light-weight, ankle-lenght skirt, rayon blend
1 tropical-weight sweater, wool
1 fleece zippered jacket
1 sarong, rayon
3 scarf/shawls in various weights…one linen, one "pashmina", one very light cashmere
3 bras and 6 pair of quick-dry underwear
2 pair of socks…one cotton, one very light wool
1 pair of knee-high compression stockings (to wear on the plane)
1 set of long-sleeve/long-leg, light-weight pajamas
1 set of tank-top/short-leg (very light-weight) pajamas
1 pair of Keen flip-flop-type sandals
1 pair of Keen "strappy" walking shoes
1 crushable sunhat
Non-clothing
Noise-canceling headphones (makes all the difference on a long flight)
iPad (mostly for reading material on the plane)
iPhone (mostly for the camera)
journal and pens
sunglasses
small flashlight (for when the power goes out, which apparently it does quite often)
travel alarm
wrist watch
quick-dry travel towel (the monastery will provide sheets, but not towels)
a picture book of St. Louis landmarks to facilitate communication and connection with the Burmese (thanks, Lila, for this suggestion)
Snacks
raw whole almonds
dried apricots
dark-chocolate-covered almonds
1 good dark-chocolate bar
Jolly Ranchers
4 fruit/nut/protein bars
Toiletries/Meds
toothbrush and travel-size toothpaste (I can always buy more)
dental floss
travel-size shampoo
travel-size body wash
razor
tweezers
nail clippers
pre-moisten face/hand wipes
pocket-size packets of Kleenex
hand sanitizer gel
sunscreen and lip balm
skin cream
mosquito repellent
anti-malaria pills
prescription antibiotics (Cipro)
Immodium (anti-diarrhea)
Pepto-Bismol Chews
Dramamine (anti-nausea)
Charcoal tablets (for upset stomach)
Zyrtec (antihistamine)
Aleve (pain and fever med)
Mucinex (cough and cold med)
Anti-itch cream (for insect bites)
Anti-bacterial wipes
Band-aids
Oh yeah, and money, passport, tickets, itinerary, maps, directions to the hotel in Burmese, emergency contact info, etc.
Whew. That should do it!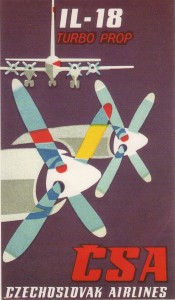 OK, well my plan was to fly from St. Louis to Chicago tomorrow at 8:20 am, to catch the 11:40 am flight to Seoul, where I was to meet my traveling buddy and then we were going to fly together to Yangon for a month of pilgrimage and practice in Burma. But a major snow storm came through yesterday and this morning I found out that my flight to Chicago has been CANCELLED.
Uh oh.
I had thought that my biggest problem was going to be shoveling a little path from my front door to the street and then keeping from freezing in the sub-zero weather while running out to the taxi without boots/parka/gloves/etc, which I will not need…as it will be 90 degrees where I'm going!
But now things have gotten a lot more complicated.
This reminds me of the story Sharon Salzberg tells about going to the airport to pick up a very famous Tibetan Lama, who was coming to teach a big, sold-out retreat in the US, and then finding that all the flights had been cancelled because a volcano somewhere had erupted and no planes were going to be able to fly anywhere — for several days! She said that she stared to freak out…but then thought that she might as well just relax because: Something will happen.
And so it did. The Lama never made it to the US, but somehow somebody managed to fix up a video feed…and he was able to lead the retreat from the airport!
***
Update: The airline says there's no way for me to make my connection to Seoul tomorrow, so my flights have all been rebooked…but the earliest I can leave is Thursday! So now instead of meeting up with my travel buddy in Seoul and arriving together in Yangon on Wednesday, I will be arriving in Yangon at 10:30 Friday night–by myself! But at least I was able to call her and let her know about the change of plans. And the group will be staying in Yangon until Sunday, so I'll still be able to catch up with them and go on from there. Whew.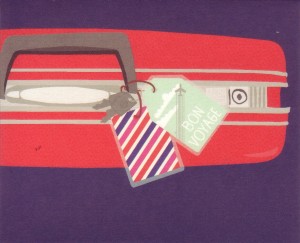 One of my Dharma Buddies sent me a great article, published in Tricycle, called The Long Road to Sitting Still: Why Should a Buddhist Travel? by Pico Iyer. (Thanks, Andrea!) Here's a quote:
Christians and Muslims observe great and classic pilgrimages, and so do people set on their own course, but the Buddha, perhaps, taking the Middle Way and always reminding us that even our destination is unfixed and perhaps illusory, is every walker's special friend. Those who journey with him know that they may not come to knowledge so much as a deepened sense of their own ignorance. Even after he arrived at the Bodhi tree, Siddhartha had to sit through night after night before finally waking up to the truth he'd been carrying with him every moment.
And then, of course, he took to the road again, for the next 45 years, across the plains and cities of the central Gangetic plain, if only to tell people to become lamps unto themselves. His very last words seem to suggest that the journey is perpetual: "All created things move one. Keep striving with diligence."
"In one sense we are always traveling," Thomas Merton wrote, "traveling as if we did not know where we are going. In another sense we have already arrived." The lives of each of us, the Buddha was saying on his path, are a journey towards recognizing where we've been all along.  
(image by Kate Pocrass, from En Route Notecards, published by Chronicle Books)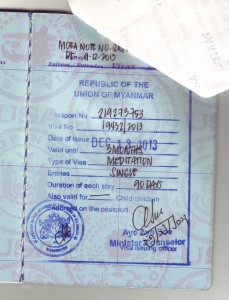 The Fed-Ex envelope with my passport AND MY MEDITATION VISA has just arrived! I had expected it yesterday (while secretly hoping that it would get here the day before) and when it didn't appear this morning, and then not by noon, I admit, I was starting to get worried. I figured I'd call the Embassy tomorrow morning, if nothing showed up by the end of the day.
And then I heard a little something while I was in the kitchen….which sounded a lot like a squirrel scampering across the front porch…but I thought, well maybe…so I opened the front door…and there it was!!!!
The envelope.
With my passport.
AND MY MEDITATION VISA!!!!!
(That big white triangle in the corner is a copy of my application form, also signed in an official-looking manner, which has been stapled to the page.)
I'm good to go!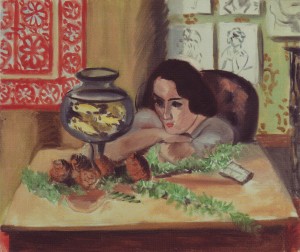 Leahe and I had just yesterday decided that we weren't going to wait any longer for our Meditation Visas to come through, that since Tempel said the monastery would find a way to make it possible for us to stay there with only a Tourist Visa….and since one of our Canadian travelers had recently learned that their Embassy was now taking a week longer than expected to get a Tourist Visa approved…we wouldn't wait until the 18th, as the Embassy had suggested, but we'd go ahead and cancel our application for Mediation Visas and make new applications for a Tourist Visa right away.
But before we ran off to the Fed-Ex office, we agreed that we'd wait until the following morning (this morning), and call the Embassy one more time just to make sure that the Meditation Visas hadn't somehow already, miraculously been approved.
And guess what? They HAD!!!
Apparently the Myanmar Ministry of Religious Affairs had just approved both our visa applications, and the Embassy was at that moment in the process of sending us back our passports — with our Meditation Visas in place! They should be in our hands early next week!
So we will, at last, have official approval to stay at the monastery.
Whew.
(image: Young Woman Before an Aquarium, by Henri Matisse)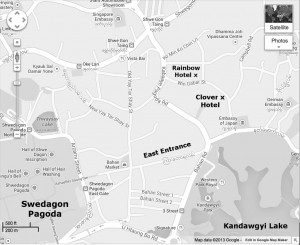 Last night Tempel hosted a conference call for our little band of Pilgrims to Burma and prior to the call, he sent a couple of maps — including this one — showing the part of Yangon that we'll be staying in.
Our hotel is the Rainbow Hotel (marked with an X). Tempel said it's a block off the main road (so it will be quieter than some of the other, more well-know hotels), yet near enough to the famous Shwedagon Pagoda that we will be able to walk.
He said that we'll all go to the Pagoda together at first, but that later we'll be able to go back in smaller groups of two or three — even on our own, if we feel like it — to see the sunrise over the gold dome, or be there at sunset, or do some walking mediation, or maybe get caught up in one of the many ceremonies or devotional rituals being performed there pretty much all the time.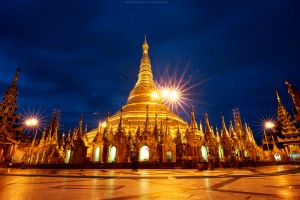 He talked about the how friendly and generous the people are. How delighted they will be to see Westerners paying respect to this holy site. How they will want to practice speaking English with us (but they won't beg or try to sell us anything). And how safe it will be, even for women out walking alone late at night.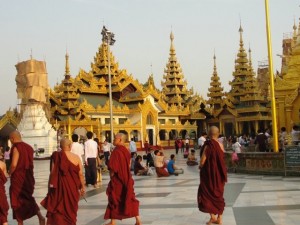 So now I'm feeling much more peaceful about this upcoming adventure.
Plus….Tempel has learned that the monastery will make it possible for us to stay on and practice — even if we only have a Tourist visa!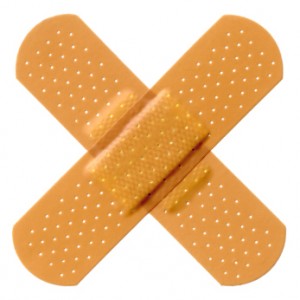 OK. So this morning I went to the County Health Clinic to get a Tetanus/Diphtheria/Pertussis shot and the Typhoid vaccine (in 4-capsule form, which needs to be kept in the refrigerator, and which I need to take every-other day, on an empty stomach, with a glass of water at room temperature…beginning today so the dosage will be finished 2 weeks before I start taking the anti-malaria pills…which need to be started 2 days before I depart, then every day while I'm gone, and then continuing on for another 7 days after I return.) I would have also needed to get the Hepatitis A vaccine, except that (thankfully) I've already gotten that 2-dose series in 2005 (and which, again thankfully, is good forever.) I would also have had to get the Hepatitis B vaccine, except that I don't plan to go anywhere near contaminated needles, razors, medical/dental/tattooing or body piercing devises, or to have unprotected sex while I'm gone. (Or while I'm here, for that matter!) Oh yes, and while I was at it, they recommended that I get a flu shot.
Then later in the week I'll go to my regular doctor for some serious antibiotic meds (Cipro, most likely) and then off to Target to get the suggested BASIC first aid kit, which includes: Motrin, Benedryl, Imodium, Pepto-Bismol, insect repellent with 30% DEET, sunscreen, antibacterial wipes, calamine lotion, anti-fungal cream, hydrocortisone cream, cough drops, lip balm, moleskin….and bandaids.
(Better safe than sorry.)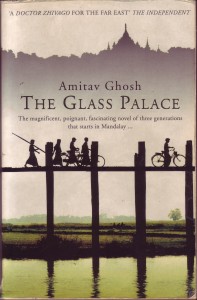 In preparation for this upcoming trip to Burma, my teacher Lila Wheeler (herself a writer, who spent time as a nun in Burma) gave me a reading list of some of her favorite "reference" books. I won't have time to read them all before I go, but I'm already deeply engrossed in one of them: The Glass Palace, by Amitav Ghosh, which has been hailed as "Doctor Zhivago for the Far East." If the others are as good as this one, I'll definitely read them all!
Here's her list:
Non-fiction
Buddhism and Society: A Great Tradition and its Burmese Vicissitudes, by Melford Spiro
From the Land of Green Ghosts, by Pascal Khoo Thew
Finding George Orwell, by Emma Larkin
The Trouser People, by Andrew Marshall
Letters from Burma, by Aung San Suu Kyi
Burmese Family, by  Mi Mi Khaing
Native Tourist, by Ma Thanegi
Novels
The Glass Palace, by Amitav Ghosh
Burmese Days, by George Orwell
The Jewel Trader of Pegu, by Jeffrey Hantover
Graphic Novel
Burma Chronicle, by Guy Delisle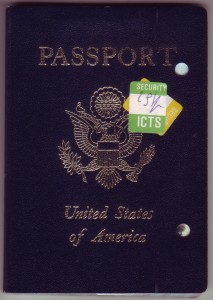 The saga of the Burmese visa application process continues. At first we were told that if we wanted to stay on at one of the monasteries after our tour with Tempel, we would need to get a Meditation visa. This would allow us to stay in the country for more than 28 days…which is the maximum stay for a Tourist visa. We were told that it would actually be quicker to get a Meditation visa, although we'd first have to get a letter from the monastery where we planned to stay. Which we did.
And since both types of visas are only good for 3 months after issue, we should wait to send the application in until late in October. So we did.
But it turns out that things have changed. After we sent in the applications, the embassy said that it takes 3 months to get a Meditation visa. Which is a problem since I sent in my application on Oct 30 and I depart on January 7.
Leahe and I have already planned to arrive and depart together…and to stay at U Tejaniya's monastery together after our time with Tempel…and we thought we'd have to re-apply for a Tourist visa, because apparently now Tourist visas only take about 10 days to get. But we had already made our plane reservations to arrive in Yangon on January 8 and depart on February 5, which we counted as 29 days. The embassy said absolutely, positively, NO EXTENSIONS.
Although Tempel thought maybe that's not the case.
But we didn't want to take any chances. So we were about to change our plane tickets, when we discovered that Jan 8 to Feb 5 counts as 28 days. At least according to the embassy.
So we were set. But then we realized that we can't stay at the monastery with just a Tourist visa.
Now what to do?
Leahe called the embassy this morning and they said that the Ministry of Religious Affairs will approve applications one month before departure. So it's still possible that our applications for Meditation visas will come through.
So we're waiting until after Dec 8….the embassy suggests Dec 16….to check to see whether or not they come through. If they do, we're good. If not, we have to quickly apply for a Tourist visa….and then figure out where we're going to stay from the time Tempel takes his leave of us on Jan 23 until we fly out of Yangon on Feb 5.
Hmmm.
Sounds like Advanced Practice.
I don't leave for Burma until January 7, but the tickets are booked and planning is well underway. One of the things we'll be doing is taking a ferry to Mandalay: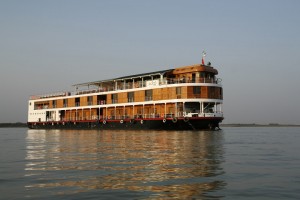 Once we're there, here's some of what we'll see: