Browsing Category "Travel"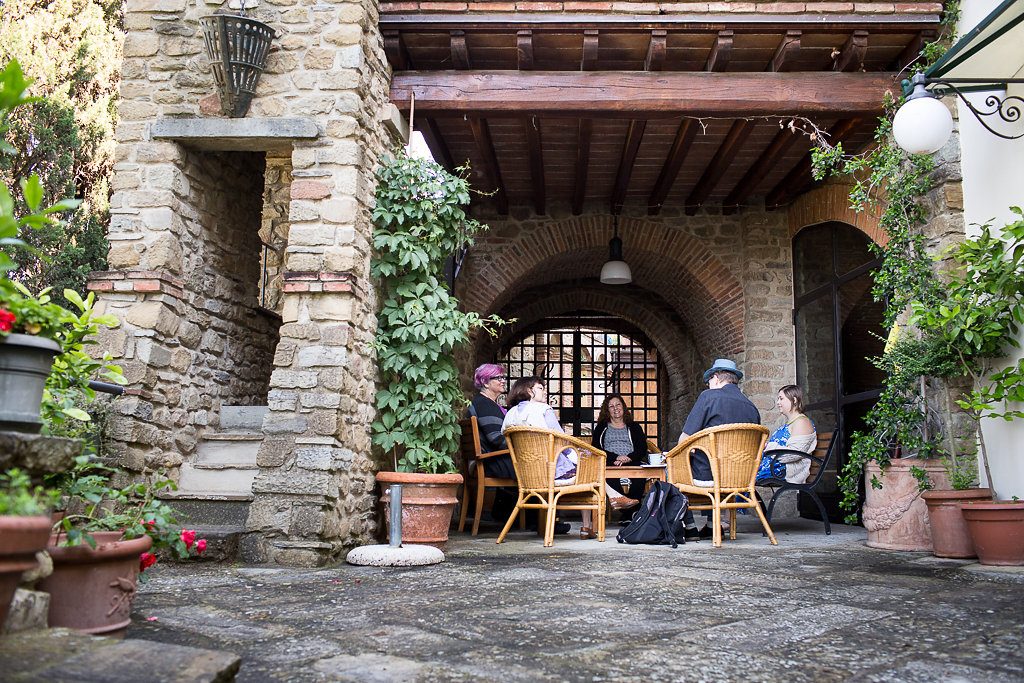 As most of you know, I've been at this little writing workshop in Italy, taught by a friend of mine — Cary Tennis — who now lives there. (The photo is of us at the workshop… Cary's the one with the blue hat and I'm the one with the purple hair.)
The workshop is really just a chance to practice writing, in a group, in a beautiful location. The way it works is the leader gives a "prompt" and then we all write whatever comes into our mind in response to that prompt…for about 20 minutes, usually…then we read what we're written aloud to the group (or not). Then there's another prompt and we do it all over again.
The first prompt was: Begin with "I come from…."
Here's what I wrote:
I come from happiness. Where else could I come from and still be alive? But why did I leave? Maybe I left happiness thinking — foolishly — that happiness was too simple, too tranquil, too uninteresting to give flavor and excitement to a life.
Maybe I went looking for conflict, to try to prove myself worthy of this happiness that had been given to me, this aliveness, this thing that I had not asked for, had not worked for, had not suffered for….and so thought it was not precious enough to honor by simply receiving, simply accepting, simply enjoying!
Maybe I went looking for happiness, not recognizing that happiness was the very air I was breathing, thinking instead that I needed something denser, more substantial, something I could hold in my hand or bite down on, something I could drink or swallow, or maybe drown in.
Maybe I couldn't taste this happiness, this birthright, because its sweetness was too subtle. Maybe sourness called out to me. Maybe bitterness, saltiness, while the sweetness waited patiently, knowingly — lovingly — for the hunger to subside.
For some, I know, there is always the hunger.
That is what sadness is. That hunger. That thirsting. That longing for a taste of something…but never knowing what that something is.
Happiness is knowing. It is breathing. It is tasting whatever there is to taste. Letting the flavor arise. Then letting it pass. As it will. As it must. And then breathing again. Living. And knowing. And breathing again.
***
(photo by Kyoko Ide)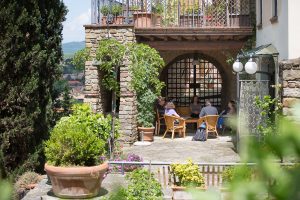 I'm back from Italy, but not quite ready to write a proper post. (It took me longer than expected to get home — one of my flights was cancelled, so I ended up spending the night in Amsterdam, and then another flight got sent back to the gate, and then there were storms, and mechanical issues, etc, etc. etc.)
Anyway, I'm home now and almost ready to post. Check back on Monday. In the mean time, I leave you with this photo of the little writing workshop I was attending at Le Santucce in Castiglion Fiorention. (It was sweet!)
***
(photo by Kyoko Ide)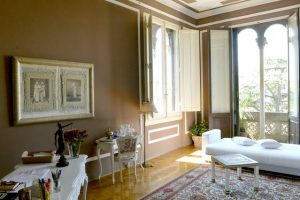 I leave tomorrow for a few weeks in Italy. I'll be staying awhile in Florence (this photo is of the room I'll be staying in!) and then I'll go on to a little town about an hour away, Castiglion Fiorentino, where I'll visit with friends, take a writing workshop, and practice speaking Italian!
I won't post again until I return, so check back sometime after June 14.
As always, before I embark on any significant journey, I consult my favorite "travel guide," Invisible Cities, by Italo Calvino:
Cities & Names 3
For a long time Pyrrha to me was a fortified city on the slopes of a bay, with high windows and towers, enclosed like a goblet, with a central square deep as a well, with a well in its center. I had never seen it. It was one of the many cities where I had never arrived, that I conjured up, through its name: Euphrasia, Odile, Margara, Getullia. Pyrrha had its place among them, different from each of them, and like each of them, unmistakable to the mind's eye.
The day came when my travels took me to Pyrrha. As soon as I set foot there, everything I had imagined was forgotten; Pyrrha had become what is Pyrrha; and I thought I had always known that the sea is invisible from the city, hidden behind a dune of the low, rolling coast; that the streets are long and straight; that the houses are clumped at intervals, not high, and they are separated by open lots with stacks of lumber and with sawmills; that the wind stirs the vanes of the water pumps. From that moment on the name Pyrrha has brought to my mind this view, this light, this buzzing, this air in which a yellowish dust flies: obviously the name means this and could mean nothing but this.
My mind goes on containing a great number of cities I have never seen and will never see, names that bear with them a figure or a fragment or glimmer of an imagined figure: Getullia, Odile, Euphrasia, Margara. The city high above the bay is also there still, with the square enclosing the well, but I can no longer call it by a name, nor remember how I could ever have given it a name that means something entirely different.
***
Arrivederci. Ci vediamo presto!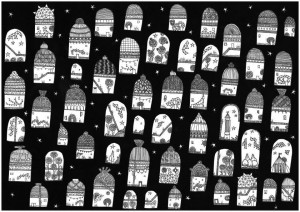 My brother and his wife are coming to St. Louis tomorrow to stay with me for a few days, and then I'm going out of town again…this time to attend another Community Dharma Leader (CDL) training retreat. I get back on April 28, but won't be posting until May 2. Check back then. 
In the mean time, I leave you with this selection from Invisible Cities, by Italo Calvino. It's my favorite "travel guide," which I always consult whenever I leave–or return–home.
Cities & Eyes: 4
When you have arrived at Phyllis, you rejoice in observing all the bridges over the canals, each different from the others: cambered, covered, on pillars, on barges, suspended, with tracery balustrades. And what a variety of windows looks down on the streets: mullioned, Moorish, lancet, pointed, surmounted by lunettes or stained-glass roses; how many kinds of pavement cover the ground: cobbles, slabs, gravel, blue and white tiles. At every point the city offers surprises to your view: a caper bush jutting from the fortress' walls, the statues of three queens on corbels, an onion dome with three smaller onions threaded on the spire.
"Happy the one who has Phyllis before their eyes each day and who never ceases seeing the things it contains," you cry, with regret at having to leave the city when you can barely graze it with your glance.
But it so happens that, instead, you must stay in Phyllis and spend the rest of your days there. Soon the city fades before your eyes, the rose windows are expunged, the statues on the corbels, the domes. Like all of Phyllis's inhabitants, you follow zigzag lines from one street to another, you distinguish the patches of sunlight from the patches of shade, a door here, a stairway there, a bench where you can put down your basket, a hole where your foot stumbles if you are not careful. All the rest of the city is invisible. Phyllis is a space in which routes are drawn between points suspended in the void: the shortest way to reach that certain merchant's tent, avoiding that certain creditor's window. Your footsteps follow not what is outside the eyes, but what is within, buried, erased. If, of two arcades, one continues to seem more joyous, it is because thirty years ago a girl went by there, with broad, embroidered sleeves, or else it is only because that arcade catches the light at a certain hour like that other arcade, you cannot recall where.
Millions of eyes look up at windows, bridges, capers, and they might be scanning a blank page. Many are the cities like Phyllis, which elude the gaze of all, except the one who catches them by surprise.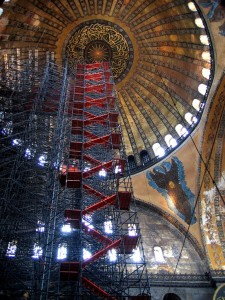 I leave tomorrow morning for a month-long retreat at Spirit Rock. I get back in the wee hours of Easter morning, then one of my brothers and his family will arrive for a short visit, so I don't expect to post again until April 4. In the mean time, I leave you with this selection from Invisible Cities by Italo Calvino, the "travel guide" I always consult before embarking on a journey:
Cities & The Sky: 3
Those who arrive at Thekla can see little of the city, beyond the plank fences, the sackcloth screens, the scaffoldings, the metal armatures, the wooden catwalks hanging from ropes or supported by sawhorses, the ladders, the trestles. If you ask, "Why is Thekla's construction taking such a long time?" the inhabitants continue hoisting sacks, lowering leaded strings, moving long brushes up and down, as they answer, "So that its destruction cannot begin." And if asked whether they fear that, once the scaffoldings are removed, the city may begin to crumble and fall to pieces, they add hastily, in a whisper, "Not only the city."
If, dissatisfied with the answers, someone puts his eye to a crack in the fence, he sees cranes pulling up other cranes, scaffoldings that embrace other scaffoldings, beams that prop up other beams. "What meaning does your construction have?" he asks. "What is the aim of a city under construction unless it is a city? Where is the plan you are following, the blueprint?"
"We will show it to you as soon as the working day is over; we cannot interrupt our work now," they answer.
Work stops at sunset. Darkness falls over the building site. The sky is filled with stars. "There is the blueprint," they say.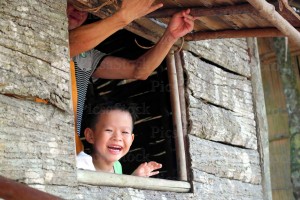 Once again my days are filling up. I leave for retreat on Wednesday, Dec 9 and won't be back until the wee hours of the morning on Thursday, Dec 18. There is much to be done between now and Wed, so today will be my last post until after I get back…so check back again on Monday, Dec 21.
In the mean time, I leave you with this selection from my always-to-be-consulted-before-traveling guide book: Invisible Cities, by Italo Calvino.
Hidden Cities 2
In Raissa, life is not happy. People wring their hands as they walk in the streets, curse the crying children, lean on the railings over the river and press their fists to their temples. In the morning you wake from one bad dream and another begins. At the workbenches where, every moment, you hit your finger with a hammer or prick it with a needle, or over the columns of figures all awry in the ledgers of merchants and bankers, or at the rows of empty glasses on the zinc counters of the wineshops, the bent heads at least conceal the general grim gaze. Inside the houses it is worse, and you do not have to enter to learn this: in the summer the windows resound with quarrels and broken dishes.
And yet, in Raissa, at every moment there is a child in a window who laughs seeing a dog that has jumped on a shed to bite into a piece of polenta dropped by a stonemason who has shouted from the top of the scaffolding, "Darling, let me dip into it," to a young serving-maid who holds up a dish of ragout under the pergola, happy to serve it to the umbrella-maker who is celebrating a successful transaction, a white lace parasol bought to display at the races by a great lady in love with an officer who has smiled at her taking the last jump, happy man, and still happier his horse, flying over the obstacles, seeing a francolin flying in the sky, happy bird freed from its cage by a painter happy at having painted it feather by feather, speckled with red and yellow in the illumination of that page in the volume where the philosopher says: "Also in Raissa, city of sadness, there runs an invisible thread that binds one living being to another for a moment, then unravels, then is stretched again between moving points as it draws new and rapid patterns so that at every second the unhappy city contains a happy city unaware of its own existence."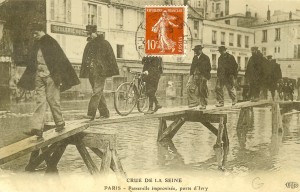 I'm leaving early tomorrow morning for a pre-Thanksgiving visit with two of my brothers and their families who live in Chapel Hill. I won't return until late on Monday, Nov 23 and won't be posting while I'm gone, so check back later…maybe on Wednesday, Nov 25.
In the mean time, I leave you with another selection from the "travel" book I always consult before departing: Invisible Cities, by Italo Calvino.
Cities & Memory 5
In Maurilia, the traveler is invited to visit the city and, at the same time, to examine some old post cards that show it as it used to be: the same identical square with a hen in the place of the bus station, a bandstand in the place of the overpass, two ladies with white parasols in the place of the munitions factory. If the traveler does not wish to disappoint the inhabitants, he must praise the postcard city and prefer it to the present one, though he must be careful to contain his regret at the changes within definite limits: admitting that the magnificence and prosperity of the metropolis Maurilia, when compared to the old, provincial Maurilia, cannot compensate for a certain lost grace, which, however, can be appreciated only now in the old post cards, whereas before, when that provincial Maurilia was before one's eyes, one saw absolutely nothing graceful and would see it even less today, if Maurilia had remained unchanged; and in any case the metropolis has the added attraction that, through what it has become, one can look back with nostalgia at what it was.
Beware of saying to them that sometimes different cities follow one another on the same site and under the same name, born and dying without knowing one another, without communication among themselves. At times even the names of the inhabitants remain the same, and their voices' accent, and also the features of the faces; but the gods who live beneath names and above places have gone off without a word and outsiders have settled in their place. It is pointless to ask whether the new ones are better or worse than the old, since there is no connection between them, just as the old post cards do not depict Maurilia as it was, but a different city which, by chance, was called Maurilia, like this one.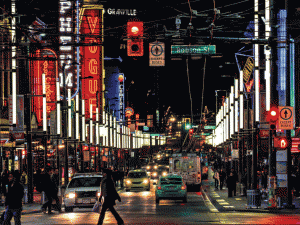 As I mentioned yesterday, I leave early Saturday morning for the next Community Dharma Leader (CDL) training retreat in Garrison, NY. Tomorrow will be hectic, so I probably won't post again until I return. Check back again sometime after September 28.
For today I'm doing all my regular getting-ready-to-go rituals, which in addition to doing laundry and making lists, includes taking a moment to read a bit from my favorite mind-travel guidebook: Invisible Cities, by Italo Calvino.
Cities & Signs 2
Travelers return from the city of Zirma with distinct memories: a blind black man shouting in the crowd, a lunatic teetering on a skyscraper's cornice, a girl walking with a puma on a leash. Actually many of the blind men who tap their canes on Zirma's cobblestones are black; in every skyscraper there is someone going mad; all lunatics spend hours on cornices; there is no puma that some girl does not raise, as a whim. The city is redundant: it repeats itself so that something will stick in the mind.
I too am returning from Zirma: my memory includes dirigibles flying in all directions, at window level; streets of shops where tattoos are drawn on sailors' skin; underground trains crammed with obese women suffering from the humidity. My traveling companions, on the other hand, swear they saw only one dirigible hovering among the city's spires, only one tattoo artist arranging needles and inks and pierced patterns on his bench, only one fat woman fanning herself on a train's platform. Memory is redundant: it repeats signs so that the city can begin to exist.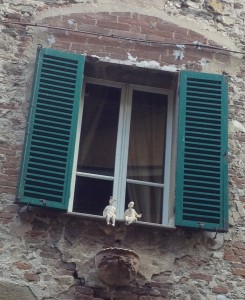 One more photo from Italy. This one I would have missed if not for a fellow traveler, who stopped and pointed, and so I looked up.
What other delights, I wonder, have I missed?
The Awakened
How joyful to look upon the awakened
And to keep company with the wise.
Follow then the shining ones,
The wise, the awakened, the loving,
For they know how to work and forbear.
But if you cannot find
Friend or master to go with you,
Travel on alone–
Like a king who has given away his kingdom,
Like an elephant in the forest.
If the traveler can find
A virtuous and wise companion
Let her go with them joyfully
And overcome the dangers of the way.
Follow them
As the moon follows the path of the stars. 
— from the Dhammapada, translated by Thomas Byron (pronoun edits by me)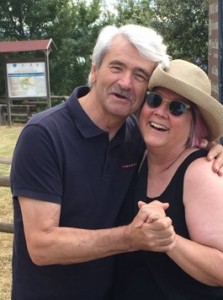 One more poem from Mary Oliver…this one titled: Wild, Wild.
And one more photo from Italy…this one of me and Alfeo, the owner of Le Santucce, who spoke to me always in Italian, and always with kindness, humor, and joyful affection.
Wild, Wild
This is what love is:
the dry rose bush the gardener, in his pruning, missed
suddenly bursts into bloom.
A madness of delight; and obsession.
A holy gift, certainly.
But often, alas, improbable.
Why couldn't Romeo have settled for someone else?
Why couldn't Tristan and Isolde have refuse
the shining cup
which would have left peaceful the whole kingdom?
Wild sings the bird of the heart in the forests
of our lives.
Over and over Faust, standing in the garden, doesn't know
anything that's going to happen, he only sees
the face of Marguerite, which is irresistible.
And wild, wild sings the bird. 
***
I love Alfeo! (Love is always wild. Even when it's not romantic.)