Browsing Category "Teachers"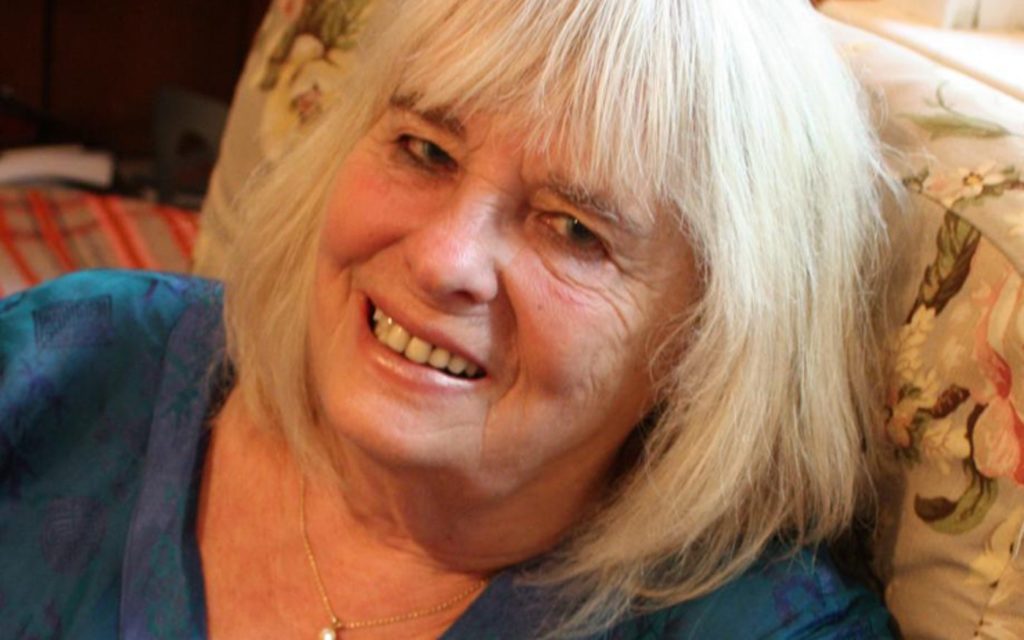 The November issue of Lion's Roar magazine (not the on-line version, but the print version that's available right now at Whole Foods) has a great feature article on Mirabai Bush  — who was my first meditation teacher and is now my encourager, listener, inspirer, and loving friend…. in other words, if Buddhists had godmothers, she'd be mine!
The article begins:
"In 1972, Mirabai Bush traveled overland to India, planning to stay for two weeks. Then one day on a street in New Delhi, she happened to meet a young woman named Sharon Salzberg, who told her about an upcoming meditation course with the Vipassana teacher S.N. Goenka. It was going to be his very first retreat for Westerners.
""I had never even sat cross-legged before,' Bush remembers. 'But it was like having wine and cheese in Paris, something you're supposed to do. 'We're in India, so let's try meditation!'
"Though Bush signed up for the Goenka retreat on a whim, it had an enormous impact on her. Indeed, it impacted the whole burgeoning spiritual movement in the West. Many of the students in attendance went on to become influential spiritual voices in America, including Buddhist teachers Sharon Salzberg and Joseph Goldstein, psychologist and best-selling author Daniel Goldman, and spiritual icon Ram Dass.
"Today, Mirabai Bush may not be as famous as some of the other meditators at the seminal retreat. But in the forty-five years since then, she has been at the forefront of the spiritual revolution in the Western world, helping to shape and lead it.
"Over the course of her long career, Bush has framed the meditation practices she first learned in India so they are applicable and accessible to people in the modern world. As cofounder of The Center for Contemplative Mind in Society, she has helped introduce mindfulness into diverse fields–social engagement, the tech industry, higher education, and more.
"She was a key contributor to Search Inside Yourself, a groundbreaking employee program at Google, and a founding member of the Seva Foundation, which has given the gift of sight to four million people in Asia.
"She has co-authored books relating contemplative practice to education, neuroscience, and organizations. Her new book, Walking Each Other Home: Conversations on Loving and Dying, is a dialogue with her close friend Ram Dass.
"As Bush explains it, love has been the guiding force in her life work. Many years ago, Neem Karoli Baba, her Hindu teacher, taught her to love everyone. 'That has been a central practice for me–trying to do it, failing, trying again, seeing where my resistances are.
"'What does it mean,' she asks, 'to discover this central place of love in others and create environments where we can all be loving?'"
***
Check it out!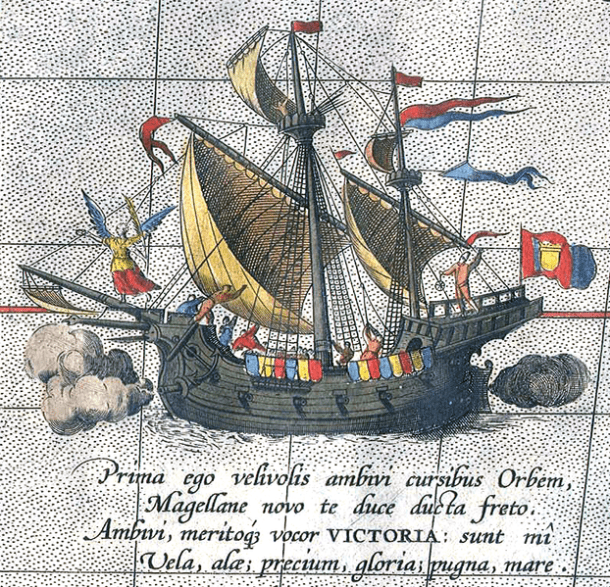 "In your investigation of the world, never allow the mind to leave the body.
"Examine the body's nature. See the elements that comprise it. See the impermanence, the suffering, the selflessness of the body while sitting, walking, standing, or lying down.
"When its true nature is seen fully and lucidly by the heart, the wonders of the world will become clear."
— Ajahn Mun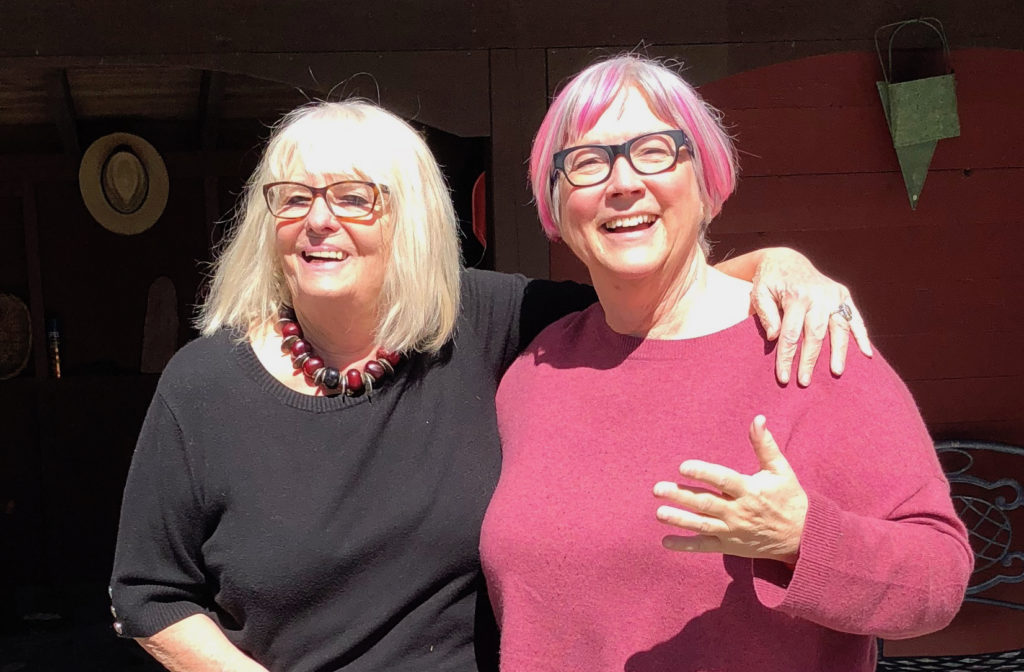 I'm back. Sort of. My body is sitting here at my desk, in my house, and my fingers are here too, typing away at the keyboard. I can feel my feet on the floor and my seat on the chair. And my breath, too — I can feel it's right here. But my heart….oh my happy heart…. it just keeps running off. So no proper post for today. Just this. A little peek at where I've been (maybe always).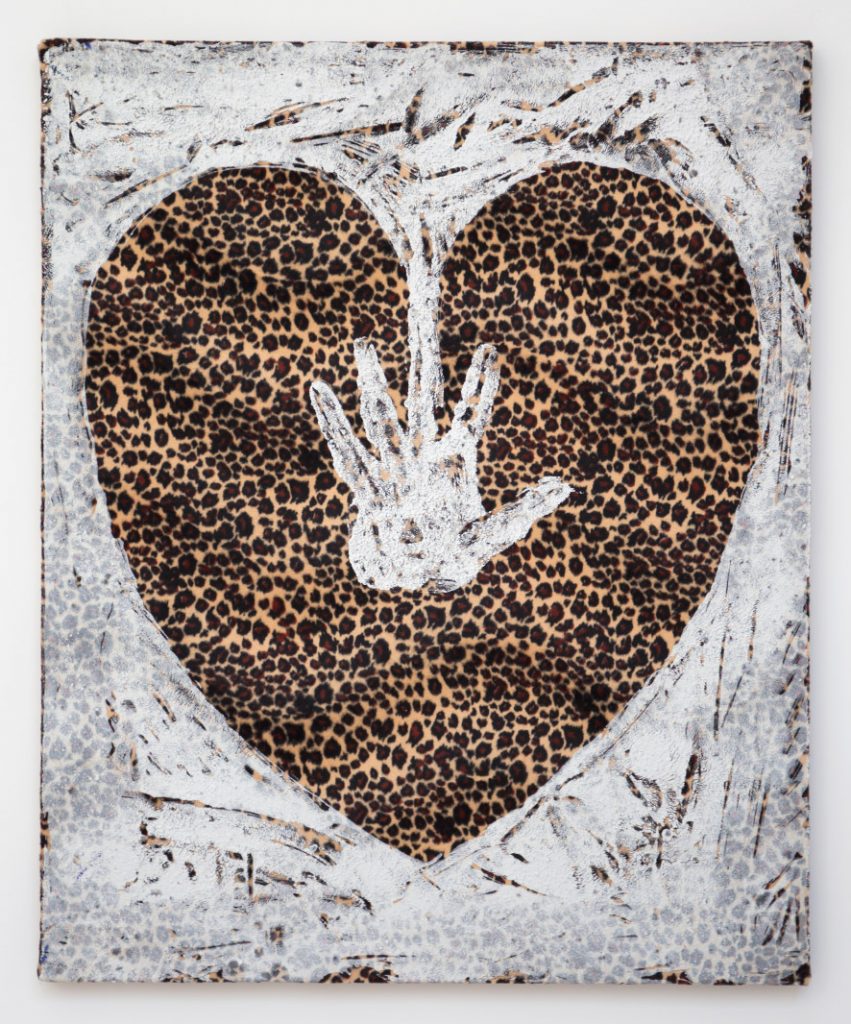 The Spirit Rock News magazine just came out and it features an interview with Phillip Moffitt as he begins to transition out of his role as Co-Guiding Teacher. I am a big fan of Phillip, so of course I was interested in what he had to say, but he was talking about his role as a leader of the Spirit Rock organization, so I wasn't really expecting him to say anything of particularly relevance to me.
I was wrong.
Phillip is asked: "You came into this leadership role with decades of experience as an educational and business leader; how have the special qualities of this particular role affected your own experience of leadership?"
Phillip answers: "The more one lets go of what one wants, the more effective one is as a leader in this community."
[Given my new role as a Community Dharma Leader, this got my attention.]
Phillip continues: "…As an entrepreneur, I was the leader of a small team who made fast, decisive decisions; this did not involve a slow consensus process. I had to let loose of my style of decision-making and surrender to the consensus process that we go through here. Being willing to spend my time in such a process required a new orientation to leadership, and new priorities.
"Friends would ask; why are you willing to spend the time? To be fully revealing, for the first few years it was a struggle. At Spirit Rock, a leader does not so much "make their mark," as they have to continually hold the values and possibilities for how the organization can function and how its people skillfully relate to one another and develop as practitioners.
"Over time, I realized this required more of a nurturing heart quality than the dynamic quality of my previous style of naming what was needed and implementing it. To my surprise, this shift in perspective turned out to be the "why" — the very act of leading in this manner and the change required was the reward.
"I would describe it as a two-decade practice of "letting go" of being the strong, decisive leader with clear views, and instead leading by building a common view through kind attention.
"Such a practice was not my goal. I was not initially suited for such a role. I had no idea how much wisdom comes from kindness, patience, and just letting go.
"And yet that's how it ended up–a kind of renunciation of the way I related to the world that had previously allowed me to survive a challenging childhood and to thrive on a large worldly stage."
***
Wise advice, Phillip. I recognize myself in your story. May I learn from your experience. May I take these words to heart.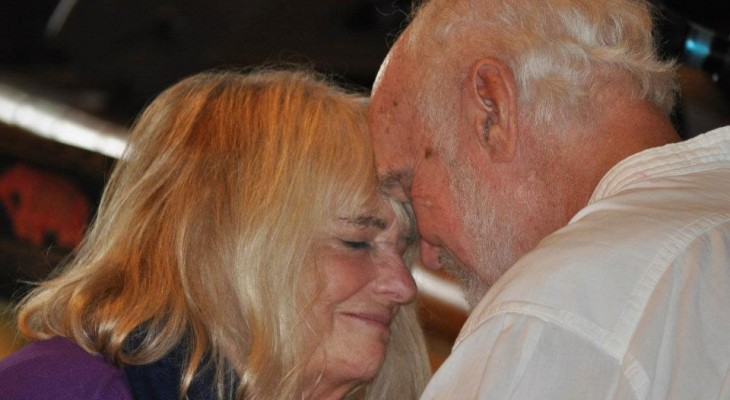 This has been an extraordinary week. Not only did I get to meet with my primary dharma teacher, Phillip Moffitt, on Monday, but I also got to spend some very sweet videophone time yesterday with my very first dharma teacher, Mirabai Bush. (That's her, in the photo above, with Ram Dass.) So for today I offer these words from Mirabai's (and Ram Dass's) first–and primary–dharma teacher, Neem Karoli Baba:
Love everyone, serve everyone, feed everyone.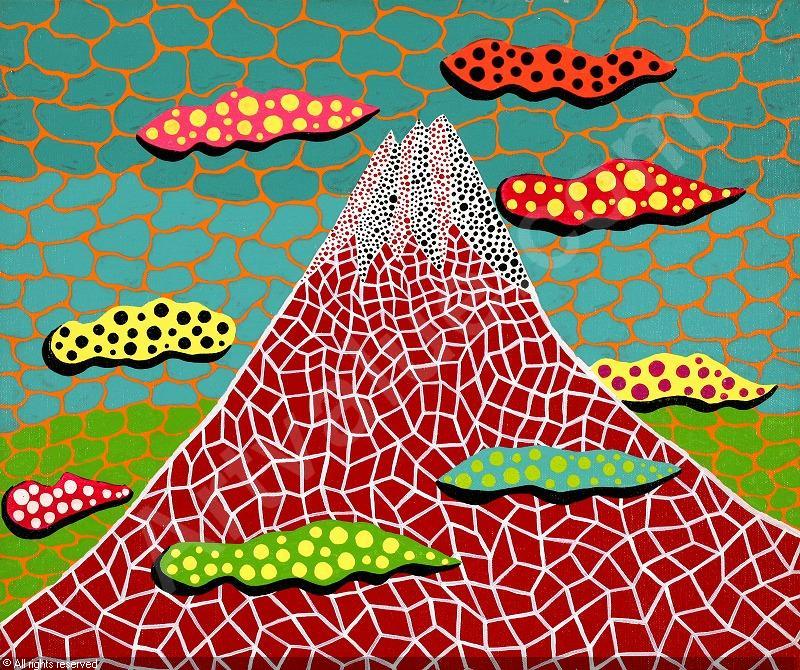 OK. I can see how it might seem a little extreme to fly all the way to California for a chance to meet with Phillip Moffitt, but:
It. Was. Worth. It.
Thank you, Phillip. That's about all I want to say, except to post this passage from Phillip's new book, Awakening Through the Nine Bodies: Explorations in Consciousness.
"Sometimes you may have experiences during meditation that are confusing, alarming, intoxicating, or captivating. When such experiences occur, you may become stuck or fixated on the experience as you try to understand it, or make it happen again, or make it go away, or prevent it from happening again.
"Many of these seemingly mysterious and exceptional experiences can be examined and understood utilizing the Nine Bodies map. Additionally, the perspective of the Nine Bodies creates a container for your intense meditation experiences that normalizes them and breaks your fascination or your fear of them.
"Once you have some means for normalizing an exceptional experience, you can move forward in your insight practice. Likewise, in doing jhana (concentration) practice or even concentration metta (loving-kindness) practice in the Theravada tradition, very powerful experiences can occur, which these teachings can help put in perspective."
"If I'm going to die, the best way to prepare is to quiet my mind & open my heart. If I'm going to live, the best way is to quiet my mind & open my heart." 
News from Mirabai Bush, my beloved dharma teacher, mentor, and deep dear friend:
She and Ram Dass have just finished writing their second book together, this one on love and dying, to be published by Sounds True. (Their first book was Compassion in Action: Setting Out on the Path of Service, written in 1991.) No release date announced just yet. Stay tuned!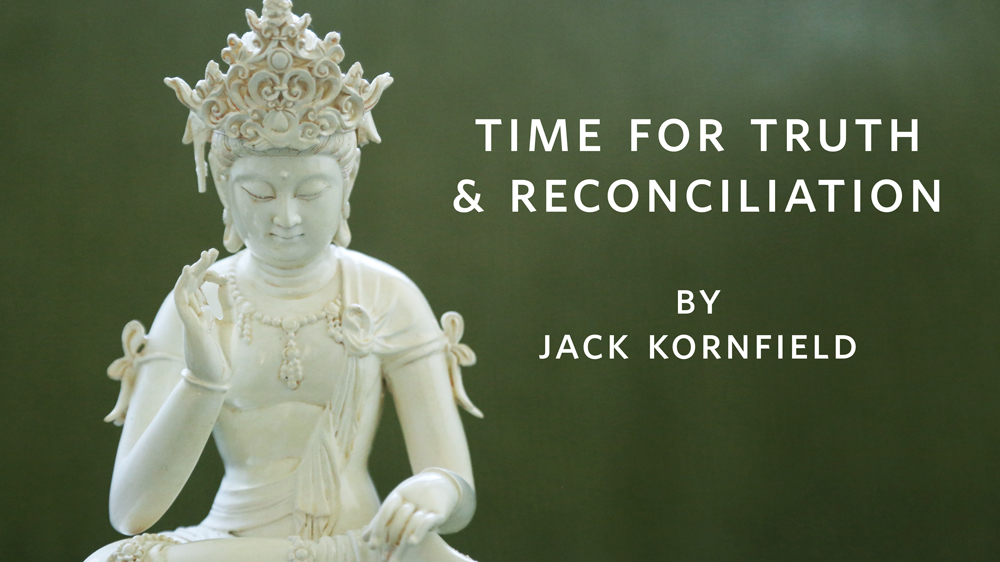 "Like many, I am heartbroken with sadness over the events in Charlottesville Virginia and the rising wave of hate and violence in our culture," writes Jack Kornfield in an article posted today on the Spirit Rock website.
Jack continues, "While this is part of a long painful history, I want to understand the current tide of white nationalism and racism so the fear and anger it promotes does not take over my own heart...
"Unfortunately as a nation, we have not genuinely come to terms with our past. And it haunts us. It haunts us through our fears and our guilt and our insecurity. It haunts us whenever there are times of national challenges and uncertainty. Our fears are activated and the most primitive forces among us are empowered and unleashed. Our denial of the pain and exploitation in our history feeds the distorted and toxic myths of exceptionalism and white supremacy.
"There is another way.
"It is based on the movement of Restorative Justice…."
"Truth and reconciliation first begins in ourselves…. Quieting your mind, opening your heart with loving awareness, these are the critical steps to begin. For without doing so, you will only add to the chaos and fear. You must bear witness to your own measure of fears and pain, and honorably see and feel your place in our shared, troubled history. With a wise and caring heart you can understand the systems of privilege and oppression and your own place in them.
"And then, like the bodhisattva who hears the cries of the world, you can rise up from your seat of mindfulness and compassion and extend your good hands to touch and mend the sorrows around you. Trust your good hearts. You know how to do this. You have been training for times like this over many years.
"For some your response may be reaching out to connect with those threatened, across lines of religion, race, class, sexual orientation. For some it may mean reaching out to the individuals and groups who are promoting hate and prejudice. For some it may mean educating others. For some it may mean political organizing, or activism, or standing up in peaceful ways in the midst of heated demonstrations. And for some among us it may mean working to support a Truth and Reconciliation process in our communities and across the country.
"This has been explored in over 30 countries, and in small ways has already begun in the US. There is a Truth and Reconciliation process in Greensborough NC. And an article by Fania Davis written last year is a call for such a commission in Ferguson Missouri.
"Since ancient times, Buddhist councils of elders have incorporated elements of a Truth and Reconciliation process in their communities.
"We can do this in many places.
"Now is the time for us to do so in our own troubled land.
"Perhaps this article will spark your imagination. Or inspire you to start a Truth and Reconciliation group in your community. Or simply remind you that we humans have lived through troubled times before, and that there are ways to steady our hearts and move courageously and compassionately through them.
"In spite of the surfacing of so much conflict and pain, I am still hopeful.
"There is a magnificence to the human spirit as well as a dangerous and destructive side. Difficult times can ennoble us, and call forth new levels of dedication and care for our lives, our families, our communities, and this precious globe.
"May it be so.
"And for those creating suffering at every level, I send metta which includes you as well…
"May you be free from hate.
May you be free from fear.
May you be free from ignorance.
May al beings be safe and protected.
"With blessings,
Jack Kornfield
Spirit Rock Center"
***
(click here to read the complete article)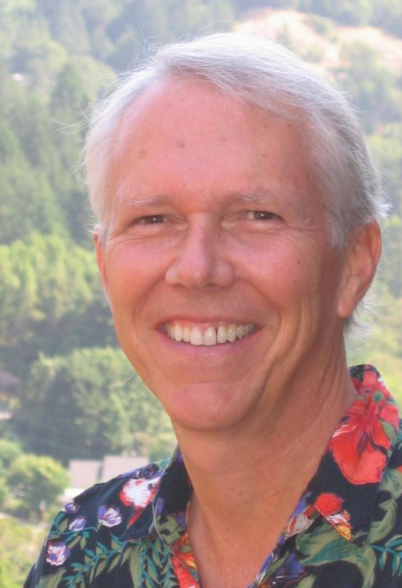 Guy Armstrong is one of my favorites. He was one of the teachers I met with one-on-one every week during my first long retreat (6-weeks at IMS in 2013) and also during the first half of the 2-month retreat I sat this year at Spirit Rock. He's a member of the Spirit Rock Teachers Council and a guiding teacher at the Insight Meditation Society. (He's also one of my "go-to" guys when I want a dharma talk I can listen to over and over again — along with Ajahn Sucitto, Phillip Moffitt, Akincano, and maybe one or two others.)
So I am delighted to announce that he'll be teaching an 8-week online course — Emptiness: A Practical Course for Meditators — which will include live video chats with him. The course is based on his new book, Emptiness: A Practical Guide for Meditators, and will "explore the teachings on emptiness and their application in our ives in a way that makes them practical and accessible."
It's a production of Wisdom publications in partnership the Barre Center for Buddhist Studies. The course begins Sept 11. If you register before Aug 5, the cost is $149. ($199 after Aug 5) Click here for more info.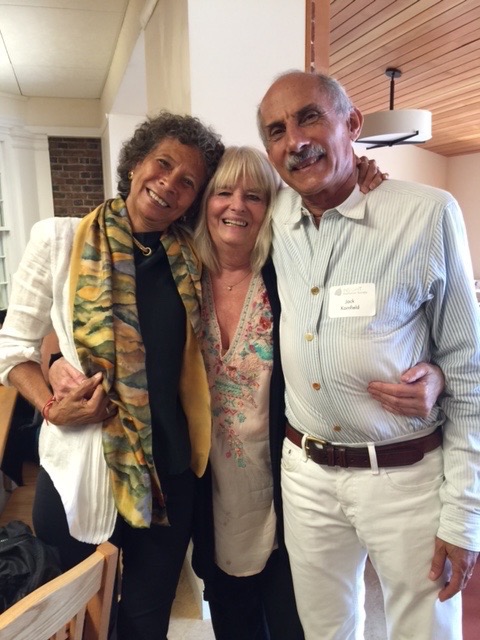 Every day, since coming home from the 2-month retreat, I've chanted the traditional "verses of sharing and aspiration" at the end of my morning mediation because this is what we did at the end of every day of the retreat and even though the wording is archaic — and kind of weird in some places — I was quite inspired by the practice.
And, because they are specifically called out, chanting these words makes me feel very deeply connected to "my spiritual teachers and guides of great virtue."
So I want to share with you this picture of three of these teachers: Gina Sharpe (who, as one of the lead teachers of the Community Dharma Leader program, inspired me to trust that "when the student is ready, the teacher will emerge"), Mirabai Bush (my first Dharma teacher, whose egoless presence and natural radiance completely changed the course of my life), and Jack Kornfield (who, as one of the teachers of the Community Dharma Leader program, stood and listened to the pain that some of his words had caused, and so gave me the courage to fail…and to succeed.)
As the chant says: May they all "receive the blessings of my life."
***
Here's the full chant:
Through the goodness that arises from my practice,
May my spiritual teachers and guides of great virtue,
My mother, my father, and my relatives,
The Sun and the Moon, and all virtuous leaders of the world,
May the highest gods and evil forces,
Celestial beings, guardian spirits of the Earth, and the Lord of Death,
May those who are friendly, indifferent, or hostile,
May all beings receive the blessings of my life.
May they soon attain the threefold bliss and realize the Deathless.
Through the goodness that arises from my practice,
And through this act of sharing,
May all desires and attachments quickly cease
And all harmful states of mind.
Until I realize Nibanna,
In every kind of birth, may I have an upright mind,
With mindfulness and wisdom, austerity and vigor.
May the forces of delusion not take hold nor weaken my resolve.
The Buddha is my excellent refuge,
Unsurpassed is the protection of the Dhamma,
The Solitary Buddha is my noble Guide,
The Sangha is my supreme support.
Through the supreme power of all these,
May darkness and delusion be dispelled.