Browsing Category "Practice"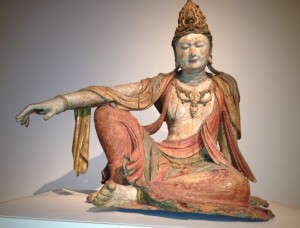 Last year I did a contemplative exercise developed by Jody Ziegler, for the Art History class she taught at Holy Cross College. She would send her students to the local art museum, asking them to choose one piece of art, which they would then look at — every week — for the entire semester (13 weeks). Their assignment was then to write a short paper, every week, after looking at that same piece of art. Each paper was to begin with the phrase: "Now I see…"
I fell in love with the idea after reading about it in a book she co-authored with Christopher Dustin, titled Practicing Mortality: Art, Philosophy and Contemplative Seeing.
So I tried it. I found a painting that caught my attention and spent at least half an hour, every week, for 13 weeks, looking at it and then writing about it in my journal, beginning with the phrase: "Now I see…."  The paining was Woman (in Strong Light), by Emil Nolde. The experience was, to say the least, eye-opening.
So now I've decided to do it again. This time, I've decided to do it with the 11th century Guan Yin sculpture, pictured in the photo above. (Thank you, Scott.) My first visit to Guan Yin will be this Friday night.
Stay tuned.
One of the DPP homework assignments for this week's sitting practice was: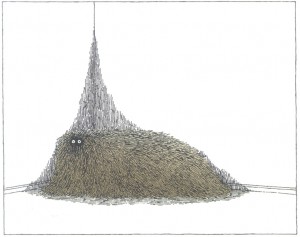 "Notice when thoughts arise connected to spending money or finances. What are the feelings associated with these thoughts? What is the response in the body? What happens when you imagine buying, then imagine not buying, that item? "
For me, "that item" was an Iced Latte Grande With One Raw Sugar.
The "buying" was kind of neutral. OK, there was some grasping. But when it came to "not buying"…..that's when the beast-that-I-didn't-want-to-see made itself known.
Rebellion was there. Defiance. Entitlement. Then Justification. Rationalization. Defensiveness. Then Anger…at the unfairness of it all. Humor, thankfully, kicked in. Then Relaxation. Followed by Sadness. A feeling of Unworthiness. Depravation. Abandonment made an appearance. Impoverishment. Not Having Enough. Not Feeling Safe. Being All Alone.
Wow.
All of that, disguised as a latte.
(image from "The Utter Zoo," illustration by Edward Gorey)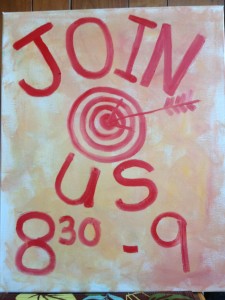 Hey, check out these cool signs Cindy made for the Sitting in the Park! practice sessions held every Saturday morning near the Farmer's Market in Tower Grove Park. We meet from 8:30 to 9:00 am  — weather permitting — from now through October. Look for the Tibetan prayer flags…and these signs!
There's no dharma talk. Just sitting.
It's very cool. (Even when it's hot.)
Join us!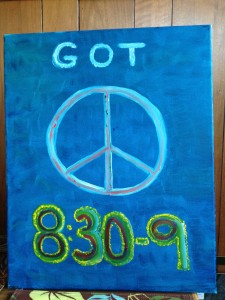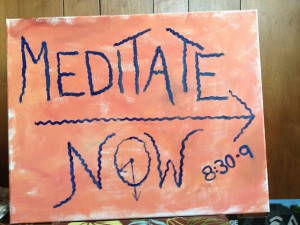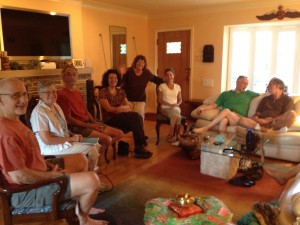 The new Dharma Seed KM group met last night for the first time, and as you can see, we're off to a great start. We sat for 20 minutes (after all the photo-taking was done!), then listened to Tara Brach's talk on "The Awakened Heart" and had a nice little discussion.
The group had originally planned to meet next at the end of July, but the response has been so positive that we don't want to wait that long!
So, the next meeting will be on Monday, July 16, 7:00 to 9:00 pm.
The talk next time will be "Poetry & Beauty," by Jack Kornfield. For more info, contact Jan. Hope to see you there!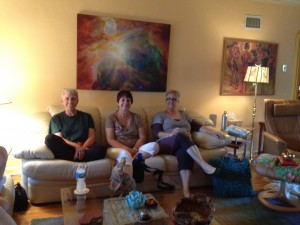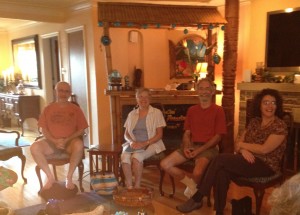 A friend asked me over the weekend about resources for beginning meditators and without hesitation I recommended Mindfulness in Plain English, by Bhante Gunarantana. It's been my go-to book for a clear, easy-to-understand overview — with instructions — on how and why we practice Mindfulness Meditation. And Metta, too, because the newest edition includes a section on "The Power of Loving Friendliness."
I did a serious purge of books about a year ago, but I kept this one. So I took it off my shelf — with the intention of sharing it with my friend — and then I noticed how there was something highlighted on just about every page, and I started reading it again. It's even better than I remember!
I especially love the chapter on "What Meditation Isn't." Here's a list: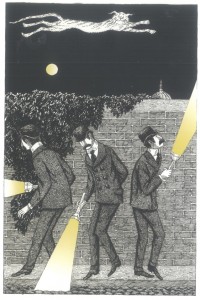 Misconception 1: Meditation is just a relaxation technique.
Misconception 2: Meditation means going into a trance.
Misconception 3: Meditation is a mysterious practice that cannot be understood.
Misconception 4: The purpose of meditation is to become psychic.
Misconception 5: Meditation is dangerous, and a prudent person should avoid it.
Misconception 6: Meditation is for saints and sadhus, not for regular people.
Misconception 7: Meditation is running away from reality.
Misconception 8: Meditation is a great way to get high.
Misconception 9: Meditation is selfish.
Misconception 10: When you meditate, you sit around thinking lofty thoughts.
Misconception 11: A couple of weeks of meditation and all my problems will go away.
I can't say this strongly enough: If you're looking for a wonderfully clear and straightforward introduction on the technique of and the understanding behind mindfulness meditation, read this book!
(image: "Macavity: The Mystery Cat, from T.S. Eliot's Old Possum's Book of Practical Cats," illustration by Edward Gorey)
The theme for this month's Dedicated Practitioner Program is Right Livelihood, Money and Renunciation. The homework assignment includes readings, reflections, daily life and sitting practices.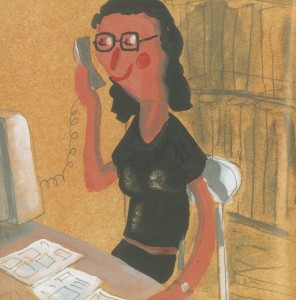 In one of the assignments, we are asked to: Reflect on your current livelihood, or how you spend the majority of your waking time. List at least three reasons for this choice, and whether or not it feels like it is a choice.
Hmmmm…
In another reflection, we are asked: What would your ideal work / life situation look like?
Hmmm…….!!!!
And most provocative of all: What would have to happen for you to be able to manifest your ideal work situation?
What, indeed.
(image from "A Whole World," by Katy Couprie and Antonin Louchard)
"All conditioned things are impermanent.
Their nature is to arise and pass away.
To be in harmony with this truth
Brings true happiness."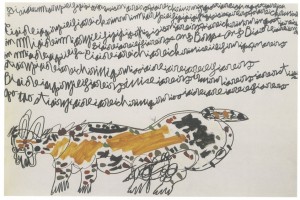 My cat Ruby is dying. She's about 15 years old and has been losing weight dramatically. She used to be…well…Rubenesque, but then all of a sudden (it seemed) she was looking rather svelte. But she kept losing weight and now she's way past the super model stage.
Yesterday, when I came home from work, I could see that Ruby had been sick all over the house. I found her hiding where she always goes when she wants to be invisible. I thought she was dead. But then she opened her eyes. And she came out. She walked around. She went to the water bowl and looked at it for a while. She didn't drink. But she didn't seem to be in any pain or distress.
It was Metta night, so I went to sit with the group. (Which is a wonderful thing to do in circumstances like these, by the way. Thank you to all who were there.)
I was afraid that I'd come home from the group to find her dead. She had hidden herself again, but she was alive. She came out then….even went all the way downstairs, jumped up on the couch, and sat in my lap!
So it's not over yet.
But it's close.
What is there to do, but to say metta phrases for Ruby: May you feel safe and protected. May you be peaceful. May you be comfortable. May you live..and die…with ease. And for myself as well: May I feel safe and protected. May I be peaceful. May I be strong. May I, too, live…and die…with ease.  
(image: "Outsider Art," Untitled, by Dwight Mackintosh)
I've been listening to recordings of Sayadaw U Tejaniya answering questions during a recent retreat at IMS and it's inspired me to re-think the First Bite Meditation practice I've been trying to do.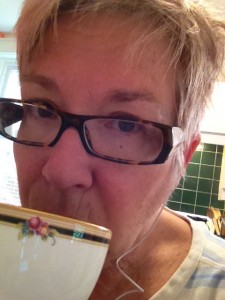 Instead of trying to remember to be mindful when I'm taking the first bite of each meal, I've decided to relax a bit and simply notice that….when I'm eating, I'm eating! Instead of trying to do something special with that first bite, I've shifted the focus to just trying to be aware of what I'm doing. If I notice I'm eating right from the first bite–great. If I notice I'm eating in the middle of the meal, or even at the end of the meal–also great.
And guess what! Now that I've let go of trying to "do" something, I'm finding that it's not all that hard to be aware, at some point, that I'm eating when I'm eating!
Actually, it's more like: it's not all that hard to keep waking up to the fact that I'm eating. I keep zoning out again, of course. But then, I get another chance to wake up!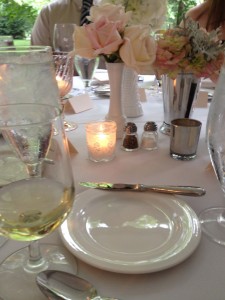 My niece got married this weekend and everything about it was wonderful. The beautiful couple was happy and the families were delighted. The music was joyous. The flowers were lovely. And the food was delicious.
At least I think it was. But I can't say for sure, because once again, my First Bite Meditation practice somehow slipped my mind.
Not entirely. About half-way through the meal I noticed a sweet-tart, "sting" of balsamic vinegar as I bit into the portobello mushroom. And I woke up!
But then right away I noticed some resistance to really focusing on the flavors. I noticed that I didn't want to slow down. I didn't want to "waste" time tasting what was in my mouth….I wanted to hurry up and get to that next bite!
And then I realized that there was something about the wanting that I wanted. I actually wanted to feel the wanting. There was something about it that was familiar. That felt right. It was as if I was certain that if the wanting wasn't there, then somehow I wasn't having a good time.
This is delusion, I'm sure. Because the sensation of wanting was a kind of force, a pressure, that needed the next thing. And I wanted to feel it. Even though it was a kind of dissatisfaction. Which is the opposite of enjoyment.
But just knowing that didn't make it go away. It did make me think about it, though. So I'm giving myself credit for that.
Pascal Auclair gave a great talk at the retreat on Renunciation, a word which always sounds punishing to me. But Pascal talked about it in terms of "profound release" and "a joyful letting go." Which sounds a heck of a lot better.
Almost as an aside, he mentioned that he's heard Phillip Moffitt talk about 3 renunciations that he (Phillip) has taken on. I'm considering taking them on, too.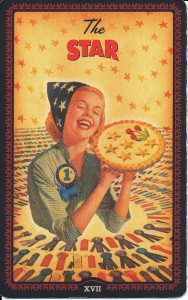 (1) Not being the star of my own movie.
(2) Not measuring my success by the number of desires that are met.
(3) Not being attached to being right.
The caveat here, from Pascal's talk, is that "renunciation can not be led by ill will or repression, but when it's aligned with wisdom…..then comes joy."
(image from The Housewives Tarot)