Browsing Category "Practice"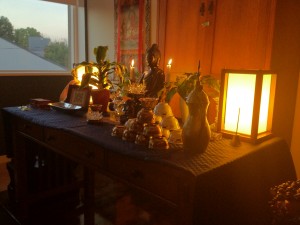 We had a full house last night at the Hi-Pointe Sitting Group, with several new people in attendance, as well as many familiar friends. It was a lovely group in a beautiful space….what could be sweeter!
Here is the reading I used to end the sitting. It's from Dhamma Everywhere, which is a collection of teachings by U Tejaniya.
"Naturally, if there are wholesome mental states, there will be peace. It is important that the meditating mind is a wholesome mind or working towards wholesomeness. 
"Sati (mindfulness), samadhi (collectedness), viriya (energy), saddha (confidence) and panna (wisdom) are all wholesome. Out of all the wholesome actions we can do (dana/generosity, sila/ethical living, samadhi/collectedness, and panna/wisdom), cultivating wholesome mental qualities through developing insight/wisdom (vipassana bhavana) is the highest one.
"Most people in the world like to enjoy the taste of good feelings or sensations. It is said that among all the tastes, the best taste is the taste of Dhamma.
"The taste of Dhamma is not just a feeling of peace–it is the supreme taste of knowing and understanding." 
Hi-Pointe Sitting Group will now be meeting every Wednesday from 7:00 to 8:30 pm at Blue Lotus Dharma Center (located just behind the Hi-Pointe Theatre). Join us!
(Thanks to Scott for the image of the alter above)
At the Hi-Pointe Sitting Group tonight, I plan to offer U Tejaniya's instructions for Insight Meditation, which is a lovely, relaxed, open-hearted style of practice. Here are the kinds of directions he gives: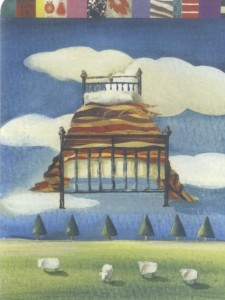 "Meditation is acknowledging and observing whatever happens — whether pleasant or unpleasant — in a relaxed way."
"When meditating, both the mind and the body should be comfortable."
"If the mind and body are getting tired, something is wrong with the way you are practicing, and it is time to check the way you are meditating."
"Don't focus too hard, don't control. Neither force nor restrict yourself."
"Don't try to create anything, and don't reject what is happening. Just be aware."
"Trying to create something is greed. Rejecting what is happening is aversion. Not knowing if something is happening or has stopped happening is delusion."
"You are not trying to make things turn out the way you want them to happen. You are trying to know what is happening as it is." 
Interested? Join us at Blue Lotus Dharma Center, 1002 Hi-Pointe Place, 63117. (Directly behind the Hi-Pointe Theatre.) We sit every Wednesday evening from 7:00 to 8:30 pm. For more information, contact Jan.
(I have no idea who to credit for this image. It's on a deck of cards I've had in my desk for ages.)
I thought today might be a good day to share one of my favorite passages from Mindfulness in Plain English, by Bhante Gunaratana. It's from Chapter 7, "What To Do With Your Mind."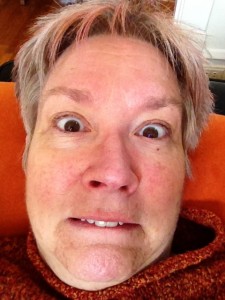 "Somewhere in this [meditation] process, you will come face to face with the sudden and shocking realization that you are completely crazy.
"Your mind is a shrieking, gibbering madhouse on wheels barreling pell-mell down the hill, utterly out of control and helpless.
"No problem.
"You are not crazier than you were yesterday. It has always been this way, and you just never noticed. You are also no crazier than everybody else around you.
"The only real difference is that you have confronted the situation; they have not. So they still feel relatively comfortable.
"Ignorance may be bliss, but it does not lead to liberation. So don't let this realization unsettle you. It is a milestone actually, a sign of real progress. The very fact that you have looked at the problem straight in the eye means that you are on your way up and out of it."
I keep going back to the book we got at the last DPP retreat–Dhamma Everywhere, by U Tejaniya. The first time I picked it up, I just sort of breezed through it. It seemed kind of basic, even simplistic.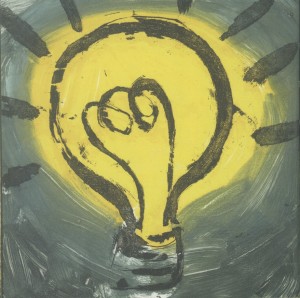 But a few lines got stuck in my mind. For example:
"Why is there so much focusing? It could be that you want a certain experience or you dislike what is happening…Is it meditation when we crave for what seems good or have an aversion to what seems bad?"
And: "Don't try to find fault with the thinking mind–you are not trying to stop thinking. Instead, you work to recognize thinking when there is thinking."
I guess you could say a little light came on in my mind, because now I really appreciate the simplicity–and wisdom–of his words.
Especially: "We practice because we want to understand. We wait, observe, and study what is happening in the mind and body so that we can understand their natures.
"We are not intentionally trying to make the mind calm or trying to have 'good sittings.' We meditate to see what is happening as it is and to have the right attitude regarding what is happening, [that] it is nature and nothing personal…
"As soon as there is a thought that this experience or object is good, there is craving for it. When we see what is right as what is right, what is there as what is there, then there is escape from craving…..
"We are meditating to be free of craving and clinging."  
(Dhamma Everywhere is published in Malaysia by Auspicious Affinity, for free distribution. You can download a pdf here.)
(image from "A Whole World," by Louchard and Couprie) 
The Dedicated Practitioner homework topic for this month is Daily Life Practice and Creativity, which as you might guess, I am totally loving. The homework always includes weekly readings, practices and reflections…and this month, it included this very cool tip: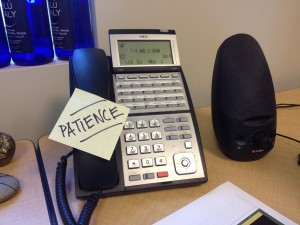 "We all have different circumstances in our lives, and we can bring creativity to the process of finding practices that support us. For example, in recognizing that it is hard to remember to be mindful, [one of the teachers] decided to put notes around the house to provide a reminder about qualities to cultivate: generosity on the door, wisdom on the refrigerator, equanimity on the computer."
What a great idea!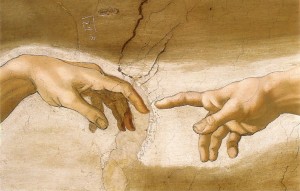 I've been listening to U Tejaniya answer questions from students on retreat at IMS (available on Dharma Seed here) and reading his most recent book, "Dhamma Everywhere" (available as a free pdf here), and I'm very intrigued by his teachings…which are light, relaxed and very naturalistic.
He says, "…Do you know that you have a mind? How do you know that you have a mind? You can see or observe the mind through its workings/functions, e.g. knowing, thinking, experiencing, feeling, wanting, focusing, etc.
"Now, put your hands together and look at your clasped hands. You know that your hands are touching, right? How do you know this touching sensation? What is the mind doing that you are able to know this? You know because the mind is aware and paying attention to it right now.
"Do you know that the mind is paying attention and aware? Would you know that your hands were touching if your mind was thinking about something else?
"No.
"So you can see that it is not merely because your hands are touching that you know but because the mind is paying attention and awareness is a quality that is part of this attention that you know they are touching.
"Can you shift your attention from your palms to your feet? You can, right? This shift in attention is actually the mind at work. It is the mind paying attention.
"If you know that you are paying attention, then you are aware of the mind." 
Maybe it's just where I am in my practice right now, but I find not only what he says — but how he says it — to be very, very helpful.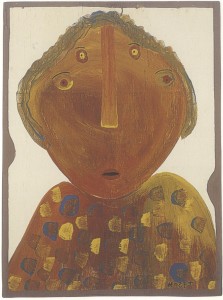 The Monday night Dancing with Life KM group meets again tonight. The group is reading the book, Dancing with Life, by Phillip Moffitt and the "assignment" for tonight is to read to the end of Chapter 5 and to come prepared with at least one sentence, phrase or paragraph to discuss with the group.
I chose a few from an early part of the book, where Phillip gives very clear instructions for the mindfulness meditation practice, AND very clear descriptions of the benefits.
From page 13: "Starting over is a key step in meditation." This is big for me because it's so reassuring. It's not a failure to have to keep starting over. It's a key part of the process!
From page 20: For the first few years of practice you are literally reprogramming your nervous system to free it from habitual reactivity. This alone will bring much ease and flexibility to your mind." I chose this sentence because he's talking about a benefit of meditation that's practical, tangle, not "woo-woo." It's a real, down-to-earth benefit that I have experienced.
And, he continues, "The most life-changing benefits of mindfulness meditation are the insights, which arise spontaneously the way a ripened apple falls from the tree of its own accord. Insight is what changes your life. Through insight you realize what brings well-being to yourself and others as well as what brings stress, discomfort, and dissatisfaction into your life." I chose this passage because of the phrase: Insight is what changes your life.
I chose it because Insight has changed mine.
(image by Mose Tolliver, from "Outsider Art" postcards)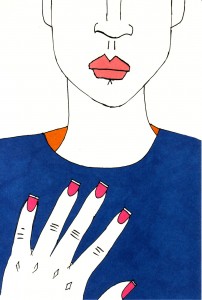 I opened the July e-newsletter from Spirit Rock and was delighted to read an interview with Shahara Godfrey, who is a fellow student in the Dedicated Practitioner Program. The topic of the interview is Wise Speech and I love her answer to the question:
"How do you practice Wise Speech?"
Shahara says, "Sylvia Boorstein has this phrase, an acronym, WAIT, for "Why Am I Talking?"  I always find it helpful because it is an example of taking the time to decide if I really need to talk right now."
She continues, "I know because I have a tendency to talk a lot. I will ask myself, 'Why am I talking or why do I need to say this?' It really helps me pause and recognize there are other people who may need to speak who have not had the opportunity. I can step back and just WAIT. And it really feels good that I have taken a moment to reflect. And other times upon reflection, I still need to speak, but I have taken the time to figure it out."
Thanks, Shahara…and Sylvia. I'm going to try it!
(image from "I Told You So," by Daisy de Villeneuve)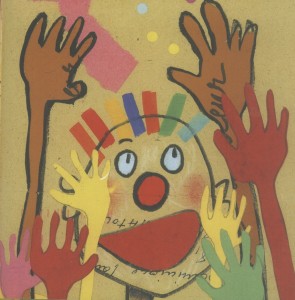 I've signed up to receive "e-Teaching" from Phillip Moffitt, which appear in my in-box every so often and are always inspiring. The one I got Friday relates to his latest book, Emotional Chaos to Clarity. The teaching was on "Clarifying Values, Intentions, and Goals" and it included a link to his Core Values and Essential Intentions Worksheet that was very….enlightening.
The worksheet lists a variety of values (from "Achievement/Accomplishment" to "Wisdom") and the first step is to rate how important each one is to you. The next step is to choose the five "Extremely Important" ones. These, Phillip says, are your core values.
I would have thought things like "honesty" and "kindness" would be at the top of my list. But it turns out "Creative Expression," "Independence" and "Love of Learning" are even higher!
The next part of the exercise is to develop essential intentions for each of these core values.  Phillip writes, "….if 'inner authority' is a core value for you, then one way you might articulate the essential intention is, 'I intend to value myself and remember that I always have a choice.'"
So now, one of my essential intentions is: I intend to honor creativity in myself and others and to look for ways that creativity can be expressed. 
Click here to download Phillips worksheet. Click here if you'd like to subscribe to his e-Teachings.
(image from "A Whole World," by Katy Couprie and Antonin Louchard)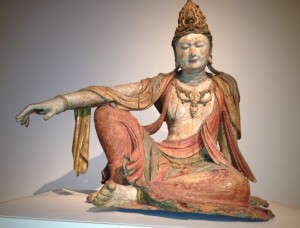 Last year I did a contemplative exercise developed by Jody Ziegler, for the Art History class she taught at Holy Cross College. She would send her students to the local art museum, asking them to choose one piece of art, which they would then look at — every week — for the entire semester (13 weeks). Their assignment was then to write a short paper, every week, after looking at that same piece of art. Each paper was to begin with the phrase: "Now I see…"
I fell in love with the idea after reading about it in a book she co-authored with Christopher Dustin, titled Practicing Mortality: Art, Philosophy and Contemplative Seeing.
So I tried it. I found a painting that caught my attention and spent at least half an hour, every week, for 13 weeks, looking at it and then writing about it in my journal, beginning with the phrase: "Now I see…."  The paining was Woman (in Strong Light), by Emil Nolde. The experience was, to say the least, eye-opening.
So now I've decided to do it again. This time, I've decided to do it with the 11th century Guan Yin sculpture, pictured in the photo above. (Thank you, Scott.) My first visit to Guan Yin will be this Friday night.
Stay tuned.