Browsing Category "Books"
I thought today might be a good day to share one of my favorite passages from Mindfulness in Plain English, by Bhante Gunaratana. It's from Chapter 7, "What To Do With Your Mind."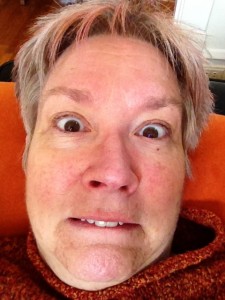 "Somewhere in this [meditation] process, you will come face to face with the sudden and shocking realization that you are completely crazy.
"Your mind is a shrieking, gibbering madhouse on wheels barreling pell-mell down the hill, utterly out of control and helpless.
"No problem.
"You are not crazier than you were yesterday. It has always been this way, and you just never noticed. You are also no crazier than everybody else around you.
"The only real difference is that you have confronted the situation; they have not. So they still feel relatively comfortable.
"Ignorance may be bliss, but it does not lead to liberation. So don't let this realization unsettle you. It is a milestone actually, a sign of real progress. The very fact that you have looked at the problem straight in the eye means that you are on your way up and out of it."
The Monday night "Dancing with Life" KM group meets again tonight and our "assignment," as always, is to bring a passage from the book that we'd like to discuss. The one I'm bringing starts on page 47: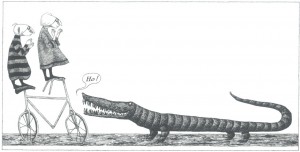 "The truth of the [inevitable stress] of change goes against the ethos of modern Western culture, which promotes an unrealistic expectation that you can manage your life to be secure against unwanted change.
"The false promise that you can maintain control creates an expectation that is a cause of suffering in itself, for you are bound to fail in this endeavor. Of course, you should act wisely as possible to manage change in your life–to do otherwise would be folly.
"But the difference lies in your attitude and expectations. Can you be at ease with its unpredictable, uncontrollable nature?" 
I'm working on it.
(image from "Gorey Creatures")
I keep going back to the book we got at the last DPP retreat–Dhamma Everywhere, by U Tejaniya. The first time I picked it up, I just sort of breezed through it. It seemed kind of basic, even simplistic.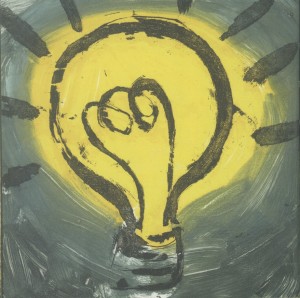 But a few lines got stuck in my mind. For example:
"Why is there so much focusing? It could be that you want a certain experience or you dislike what is happening…Is it meditation when we crave for what seems good or have an aversion to what seems bad?"
And: "Don't try to find fault with the thinking mind–you are not trying to stop thinking. Instead, you work to recognize thinking when there is thinking."
I guess you could say a little light came on in my mind, because now I really appreciate the simplicity–and wisdom–of his words.
Especially: "We practice because we want to understand. We wait, observe, and study what is happening in the mind and body so that we can understand their natures.
"We are not intentionally trying to make the mind calm or trying to have 'good sittings.' We meditate to see what is happening as it is and to have the right attitude regarding what is happening, [that] it is nature and nothing personal…
"As soon as there is a thought that this experience or object is good, there is craving for it. When we see what is right as what is right, what is there as what is there, then there is escape from craving…..
"We are meditating to be free of craving and clinging."  
(Dhamma Everywhere is published in Malaysia by Auspicious Affinity, for free distribution. You can download a pdf here.)
(image from "A Whole World," by Louchard and Couprie)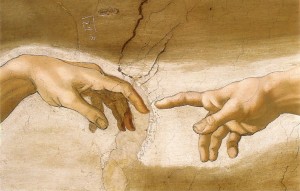 I've been listening to U Tejaniya answer questions from students on retreat at IMS (available on Dharma Seed here) and reading his most recent book, "Dhamma Everywhere" (available as a free pdf here), and I'm very intrigued by his teachings…which are light, relaxed and very naturalistic.
He says, "…Do you know that you have a mind? How do you know that you have a mind? You can see or observe the mind through its workings/functions, e.g. knowing, thinking, experiencing, feeling, wanting, focusing, etc.
"Now, put your hands together and look at your clasped hands. You know that your hands are touching, right? How do you know this touching sensation? What is the mind doing that you are able to know this? You know because the mind is aware and paying attention to it right now.
"Do you know that the mind is paying attention and aware? Would you know that your hands were touching if your mind was thinking about something else?
"No.
"So you can see that it is not merely because your hands are touching that you know but because the mind is paying attention and awareness is a quality that is part of this attention that you know they are touching.
"Can you shift your attention from your palms to your feet? You can, right? This shift in attention is actually the mind at work. It is the mind paying attention.
"If you know that you are paying attention, then you are aware of the mind." 
Maybe it's just where I am in my practice right now, but I find not only what he says — but how he says it — to be very, very helpful.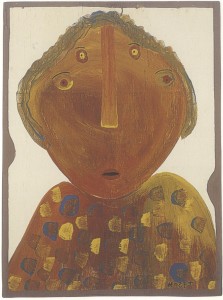 The Monday night Dancing with Life KM group meets again tonight. The group is reading the book, Dancing with Life, by Phillip Moffitt and the "assignment" for tonight is to read to the end of Chapter 5 and to come prepared with at least one sentence, phrase or paragraph to discuss with the group.
I chose a few from an early part of the book, where Phillip gives very clear instructions for the mindfulness meditation practice, AND very clear descriptions of the benefits.
From page 13: "Starting over is a key step in meditation." This is big for me because it's so reassuring. It's not a failure to have to keep starting over. It's a key part of the process!
From page 20: For the first few years of practice you are literally reprogramming your nervous system to free it from habitual reactivity. This alone will bring much ease and flexibility to your mind." I chose this sentence because he's talking about a benefit of meditation that's practical, tangle, not "woo-woo." It's a real, down-to-earth benefit that I have experienced.
And, he continues, "The most life-changing benefits of mindfulness meditation are the insights, which arise spontaneously the way a ripened apple falls from the tree of its own accord. Insight is what changes your life. Through insight you realize what brings well-being to yourself and others as well as what brings stress, discomfort, and dissatisfaction into your life." I chose this passage because of the phrase: Insight is what changes your life.
I chose it because Insight has changed mine.
(image by Mose Tolliver, from "Outsider Art" postcards)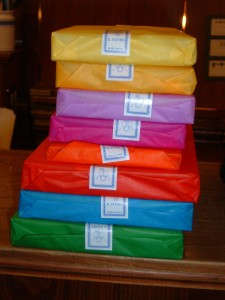 DharmaTown Library is now new and improved!
Categories have been added, so you'll be able to find groups of books, based on specific topics or areas of interest. The categories will surely change and grow, but right now they are:
* Beginner's Mind
* Classics
* Deep Practice
* Dharma of Money
* Inspiration
* Science
* Travel 
The Library Home Page will now focus on just one Featured Selection, which will change to reflect new books being released, popular topics, visiting teachers, and/or recent posting here on DharmaTown Times. Check it out!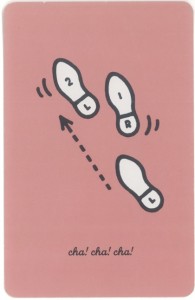 The Monday night "Dancing with Life" KM group has decided to start over because we felt that we haven't been focusing enough on the book ("Dancing with Life," by Phillip Moffitt). So we're going back to the beginning–starting with the preface–and each of us will bring a passage we've underlined…..something we've found helpful, or inspiring, or confusing…and we'll read it aloud and the group will discuss.
The first thing I underlined was: "…teaching the dharma is the most satisfying activity I have ever done in my life."
The next was: "Why do you suffer? Is there a purpose to your pain? What about the amount of suffering you experience–is it fair, based on some understandable system of cause and effect, or is it simply arbitrary? Can you affect how much you suffer? If so, how?"
But the one I want to bring to the group is: "….life will move you with the rhythm and in the direction of its own unfolding, irregardless of your best intentions. Life dances and you must dance with it. This is the necessary price and mysterious gift of being incarnate–alive in a body."
(image from Q-cards by Zolo, inc.)

I've been reading — and loving —  Phillip Moffitt's new book, Emotional Chaos to Clarity: How to Live More Skillfully, Make Better Decisions, and Find Purpose in Life. I've just finished Chapter 2, "Getting to Know the Real You," where he first goes through a list of who-you-are-not's:
* You Are Not Your Emotions
* You Are Not Your History
* You Are Not Your Responsibilities or Your Habits
* You Are Not Your Public Personna
* You Are Not Your Ego
* You Are Not Your Private Self
It's a wonderfully fresh, down-to-earth, easy-to-understand explanation of what the Buddha meant by "not self." For example, Phillip writes, "I don't mean to imply that your thoughts, emotions, and sensations aren't real. Rather I'm suggesting that your awareness of them does not constitute your essence or reflect your core values."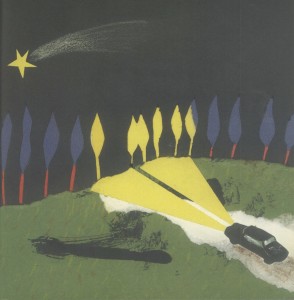 I especially like this analogy:
"To better understand the distinction between your private self and your authentic self, imagine that your life is like a road trip. Your inner identity is the ideal traveling companion to be seated next to on this journey because its thoughts and emotions provide depth, texture, and authenticity.
"But that doesn't mean you should allow it to drive the car. It might, on an impulse, drive straight off a cliff!
"The more skillful driver to sit behind the wheel is your authentic self, which knows your deepest intentions."   
(image from "A Whole World," by Katy Couprie and Antonin Louchard.)
A friend asked me over the weekend about resources for beginning meditators and without hesitation I recommended Mindfulness in Plain English, by Bhante Gunarantana. It's been my go-to book for a clear, easy-to-understand overview — with instructions — on how and why we practice Mindfulness Meditation. And Metta, too, because the newest edition includes a section on "The Power of Loving Friendliness."
I did a serious purge of books about a year ago, but I kept this one. So I took it off my shelf — with the intention of sharing it with my friend — and then I noticed how there was something highlighted on just about every page, and I started reading it again. It's even better than I remember!
I especially love the chapter on "What Meditation Isn't." Here's a list: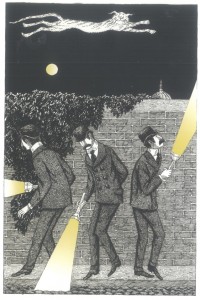 Misconception 1: Meditation is just a relaxation technique.
Misconception 2: Meditation means going into a trance.
Misconception 3: Meditation is a mysterious practice that cannot be understood.
Misconception 4: The purpose of meditation is to become psychic.
Misconception 5: Meditation is dangerous, and a prudent person should avoid it.
Misconception 6: Meditation is for saints and sadhus, not for regular people.
Misconception 7: Meditation is running away from reality.
Misconception 8: Meditation is a great way to get high.
Misconception 9: Meditation is selfish.
Misconception 10: When you meditate, you sit around thinking lofty thoughts.
Misconception 11: A couple of weeks of meditation and all my problems will go away.
I can't say this strongly enough: If you're looking for a wonderfully clear and straightforward introduction on the technique of and the understanding behind mindfulness meditation, read this book!
(image: "Macavity: The Mystery Cat, from T.S. Eliot's Old Possum's Book of Practical Cats," illustration by Edward Gorey)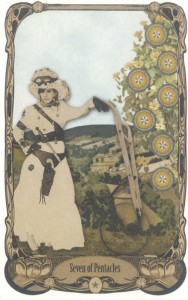 "Money is something we choose to trade our life energy for."
I read this in Your Money or Your Life, by Vicki Robin & Joe Dominguez, and have been thinking about it a lot. The book gives a very detailed process for discovering just how much money someone is actually getting for the job they are doing (after accounting for the actual number of hours worked and subtracting all the things they wouldn't have to buy, if they didn't have that job). Then it offers a structure for getting exceptional clear about where all that money (life energy) actually goes. And then it asks:
* "Are you receiving fulfillment, satisfaction and value in proportion to the life energy you spend?"
* "Is this expenditure of life energy in alignment with your values and life purpose?"
* "How might this expenditure change if you didn't have to work for a living?"
I'm only about half-way through the book, and haven't sat down to do all the calculations, but I can already feel these questions taking root in my mind. I have a feeling they will produce significant fruit.
(image from Steampunk Tarot)