Browsing Category "Books"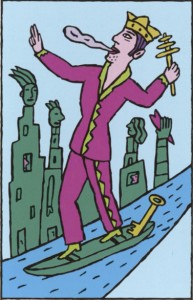 The Dancing with Life KM group meets tonight. The passage I chose for our discussion is from Chapter 15: When the Dance Ends, Freedom Begins.
"Ajahn Chah used to say, 'We focus on the here and now dharma. This is where we can let go of things and resolve our difficulties. We look at the present and see continuous arising and ceasing. When the mind starts to realize that all things without exception are by their very nature uncertain, the problems of grasping and attachment start to decrease and wither away….'
"To practice Ajahn Chah's style of moment-to-moment awareness in daily life, when your mind is engaged in a specific task, you train it to automatically rest in awareness of breath and body sensations. Eventually breath and body awareness will become the 'default' position of your attention.
"Once you develop this ease of attention on the breath and body, you begin to note that every breath and every sensation ceases. At first, practicing noticing these endings may feel mechanical, but gradually a realization of wonder emerges: It is really true–everything that arises disappears! Such a moment of wonder is the direct experience of cessation."
Phillip Moffitt says, "If you only develop one practice for cessation, this is the one I recommend."
(image: Kitty Kahane Tarot)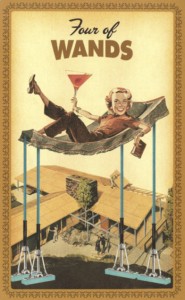 In Dancing with Life, Phillip Moffitt writes, "In daily life you've no doubt experienced many moments of cessation when your mind was finally free from stress and contraction after a period of suffering: There were the arguments in which you were attached to being right, but winning them suddenly no longer mattered; there were your old desires of receiving recognition or acceptance, or getting some material object, but now you realize you no longer care about them; or there was the time you were rejected by someone you were in love with and it hurt for a long time, but now there is no pain. The stress you felt about all of those things that you thought you had to have just disappeared.
"The late Thai meditation teacher the Venerable Ajahn Buddhadosa says that each of these ordinary moments in which the mind is no longer grasping is a moment of nibbana, a little sampling of the mind being free from clinging. He teaches that if you did not have many of these small, brief moments of cessation each day you would literally go crazy from the tension and stress that arise from clinging.
"There are hundreds, even thousands of moments each day when your mind is not grasping at anything. Your mind is temporarily, albeit briefly, content with how things are, and it is not stressed."
So pay attention….and enjoy all those little bits of freedom!
(image: Housewives Tarot)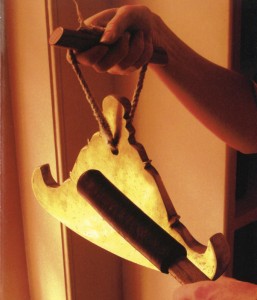 Two KM groups has been reading and discussing Phillip Moffitt's, "Dancing with Life," for more than a year now….and all I can say is the more I read and reflect on this book, the more it speaks to me.
I leave you to savor this quote (from page 167):
Just show up for your deepest intentions, as best you can, and then allow the dharma, the truth of awakened presence, to do the work.
(image: Insight Meditation Society)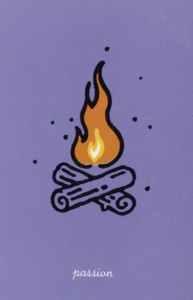 The Monday night "Dancing with Life" KM group has started reading Chapter 14, which begins looking deeply into the Third Noble Truth: The Noble Truth of Cessation is the abandoning of all craving.
Phillip Moffitt writes, "Imagine your mind totally free of craving, ill will, and delusion. It is clear, alert, and unaffected by external and internal conditions, whether pleasant or unpleasant. This liberated mind state is what comes with the realization of the Third Noble Truth….
"The fruit of realizing cessation is nibbana, in which you are no longer affected by dukkha. Nibbana literally means, 'cooled' and is analogous to a fire that's no longer burning. Thus, when there is cessation, your mind no longer burns in response to the arising of pleasant and unpleasant in your life; it isn't reactive or controlled by what you like or dislike…
"From this place of non-attachement, you are free to respond to the moment in a manner that is aligned with your values and reflects your deepest wisdom."
(image: Q-cards)
The Monday night "Dancing with Life" KM group has started reading Chapter 12: The Paradox of Desire. In it, Phillip Moffitt writes, "Being in the physical realm, you are undeniably involved with the energy of desire…This, then, is the paradox of desire–it leads to suffering when grasped after, yet without it there is no movement to tend to your child's needs or to help your sick neighbor, or to free yourself from suffering.Thus, your challenge is not to rid yourself of desire, but rather to choose your desires wisely and respond skillfully…
"Desire always involves movement–either toward something pleasant, or away from something unpleasant. There is movement in desire whether you are reacting to something that is happening right now, thinking about the future, or even remembering the past. The frozen states of apathy, helplessness, cynicism, and depression have little movement and, therefore, little life. They are hindrances to freedom and well-being. Such wounded states of mind point to the necessity of movement for healthy life. They also reveal that you need healthy desire to provide the energy you need to seek liberation.
"To understand the relationship between movement and your desires, there are two refinements that I suggest you reflect upon. The first is to make the movement of your desire the object of your mindful attention. By focusing on the energetic movement, you can quickly determine if what you are being drawn toward or repulsed from is in line with your deepest values…..
"A second refinement for working with the energy of desire is to explore the great mystery of stillness. Stillness is not apathy or collapse; it is vibrant, fully alive energy. In stillness the movement is neither away from nor toward any object…
"By becoming aware of the moments of stillness in yourself (you do have them!) you gain the ability to clearly see your desire as movement. You see how desire arises naturally from causes and conditions and aren't beguiled by it. You know that clinging to desire is not the freedom of stillness. You understand that in order to be free your challenge is to come to terms with desire and to cease to be attached to it."
(image: Q-cards)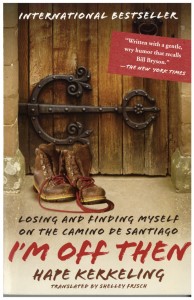 At Cafe Sangha this month, I got a chance to talk with Pamela, who is a regular at the Dharma Seed KM group, and found out that she is planning to walk the Camino de Santiago this spring! I met someone at the DPP retreat last fall who had just come back from walking it, and was immediately inspired…but then I started thinking that I can't get enough time off until next year at the earliest, and my knees hurt, and my back goes out, and — basically , I'm a couch potato — so I started to think I was crazy to even consider it…and then I ran into Pamela…and now I'm inspired all over again!
So naturally, I got out my favorite Camino book and read it again over the weekend. It's called I'm Off Then: Losing and Finding Myself on the Camino de Santiago and it's by a German comedian named Hape Kerkeling (who is apparently very famous). He is funny. And a great storyteller. Very down-to-earth. But also very inspiring. In a delightfully heartfelt but non-pious way.
Here's a sample:
"I decide to spend the remaining miles today without speaking or thinking, following advice from Sheelah, who said to me in Leon: 'You don't feel the toll this trek is taking on your body when you walk without thinking or speaking.'…Silence is easy to maintain; I've gotten fairly used to that. I say nothing to the farmers on the field as I pass by, and they respond in kind. They seem to respect my silence. But it is nearly impossible to stop thinking. In my mind I keep breaking out into song, or my thoughts turn to disjointed drivel along the lines of 'Where are my keys?' 'Buy cigarettes!' 'Aching feet!' 'Could go for some potato salad!'
"At some point I find I'm actually able to switch off my stream of thoughts and simply stop thinking. Incidentally, it is virtually impossible to describe a path after the fact when you are not thinking about it, since you see things without sorting them out or judging them. Dispassionate perception is hard to put into words.
"Everything joins together: my breath, my steps, the wind, the singing of birds, the waving of grain fields, and the cool feeling on my skin. I walk in silence. Am I pressing my feet onto the ground while I walk, or is the ground pressing up onto my feet?…
"Needless to say, I get hopelessly lost. With silence in my head and all this nonthinking for nine miles, I've lost track of the path's arrows and scallop signposts. And once I start to focus again, I am simply somewhere at some time. It's lovely here, but wrong. Later, though, it turns out that my meandering did not add up to more miles at all–in fact, it save me about two miles. A farmer sends me through a filed with grain as tall as I am, which brings me back to the right path. How funny! I stop paying attention to the trail, lose my way, and still wind up taking a shortcut…"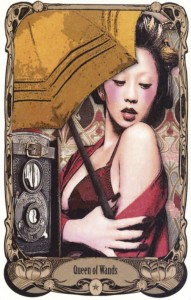 The third Ego-Renunciation Practice that the "Dancing with Life" KM group will be playing with over the next couple of weeks is: giving up being the star of your own movie.
In Dancing with Life, Phillip Moffitt writes, "The unfolding of events that make up your life is like a movie, is it not? And you interpret every scene or event from the vantage point of being the star of your movie–is it good or bad for you, do you like it or not, and so on.
"Once you renounce being the star of your own movie, you begin to see the unfolding of each scene and the movie as a whole from multiple perspectives. You don't forsake your role in the movie, but once you cease making it be all about you, the movie creates less anxiety and you are more able to live from your core values."
Give it a try!
(image: Steampunk Tarot by Curly Cue Design)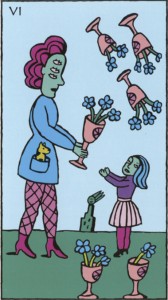 The second Ego-Renunciation Practice in Dancing with Life is committing to no longer measuring the success of your life by how many of your wants are met.
Phillip Moffitt writes, "This renunciation allows you to still have desires, but they're not at the center of your life. You fulfill those wants that can be fulfilled while living from your deepest values, and you slowly abandon the rest.
"This means that your sexual desires are constrained by non-harming, material gains are limited by ethical and generous behavior, and your ego need for achievement and attention is less of a priority than living according to your core values. Of course you still have to fulfill your basic needs and live up to your responsibilities as best you can, but you renounce measuring success by what you have and what you have achieved.
"You many be surprised to discover how much you have been judging your life by this standard. It is so common that it is almost entirely unconscious, and it is devastating to inner growth because the ego can always distract you with another want."
(image: Kitty Kahane Tarot)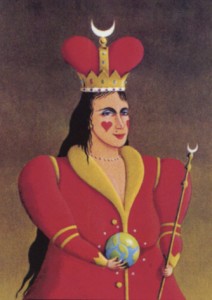 The Monday night "Dancing with Life" KM group has decided to try out the Three Ego-Renunciation Practices Phillip Moffitt describes in Chapter 11 (of Dancing with Life: Buddhist Insights for Finding Meaning and Joy in the Face of Suffering). He suggests these practices as a way to "directly challenge your ego's desire to always be in charge." They are particularly helpful for modern practitioners because they "loosen the ego's grasp on the mind but don't require you to make any outward changes in your life."
The first practice is: Renouncing Your Attachment to Being Right
"Most of us cling to the need to be right, and making this renunciation can dramatically affect both how you interact with others and how you interpret events. When the renunciation starts to be real, you have a much easier time making decisions and have less of a need to position yourself with others or in your own mind.
"Giving up always being right doesn't mean you forsake your opinions or your right to seek social justice, but you are not defensive, judgmental, or self-righteous in your approach to life.
"You mindfully live with the fact that even when you're wrong, it's okay because you are coming from your deepest intention. Also, you learn from being wrong (or right), therefore you become a more effective person."
Give it a try!
I'll post the second and third practices in the Friday and Monday posts. Stay tuned.
(image: Witch Tarot)
More from Kamma and the End of Kamma, by Ajahn Sucitto: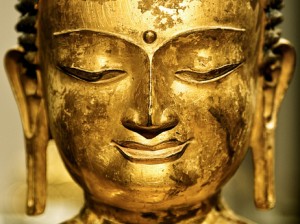 "Meditation is a deeply transformative activity. This may sound strange, as meditation doesn't look that active: it ofter centers on sitting still, and within that, in silence. And as for doing anything with the mind….all that apparently entails is a few seemingly inconsequential things like bringing attention onto the sensations associated with breathing; or, maybe witnessing thoughts as they pass through. Meditation doesn't seem to be a very significant process at all.
"Beginners ask: 'What am I supposed to do with my mind to make it better…what should I think about?' In fact, one point about meditation is that it's about moderating that 'doing' energy; and consequently being more receptive.
"The teaching is that the more we moderate our energy in this way, the more we're going to arrive at a resultant brightness, confidence and clarity. Then restlessness, worry, and impulses to distort ourselves don't arise.
"And because of this, meditation can generate far-reaching effects in our life: we get to enjoy and value stillness and simplicity, and that inclines us towards wanting less and letting go.
"Meditation centers around two functions. The first is a kind of healing, a tonic. It's called 'calming' (samatha); the settling and easing of the bodily and mental energies. The second function is 'insight' (vipassana), which is more a matter of looking into the body/mind that has become calm, taking in how things really are.
"The two functions work together: as you settle down, your attention gets clearer, and as you see things more clearly, there's less agitation, confusion or things to fix. And where the two processes conclude is in guiding the mind–or rather the moods, attitudes and memories that get us going–to a place of resolution.
"Meditation is about action that leads to the end of action."