Articles by " Jan"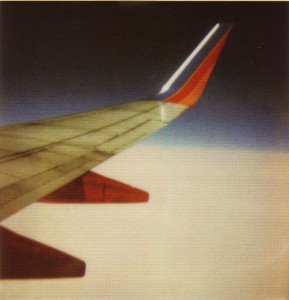 I leave tomorrow afternoon for a month-long retreat at Dharmagiri Hermitage in South Africa. I return on Wed, Feb 4, but it may take a while before I'm un-jetlagged and ready to post. So check back on Monday, Feb 9. I should have something posted by then.
In the mean time, I leave you with this quote from Listening to the Heart: A Contemplative Journey to Engaged Buddhism, by Kittisaro and Thanissara, who will be teaching the retreat.
Meditation is the cultivation of a steady mind….When the mind is gathered, collected, and unified, it naturally leads to wisdom, as it sees things realistically, the way they actually are….
Meditation matures us. It enables us to be more realistic and to work with the actualities of life, without being poisoned by the negatively that arises in the face of difficulty….
Ajahn Chah taught, "Do everything with a mind that lets go. Do not expect any praise or reward. If you let go a little, you experience a little peace. If you let go a lot, you experience a lot of peace. If you let go completely, you will know complete peace and freedom. Your struggle with the world will have come to an end."
****
(photo by Hannah Huffman, from Polaroid Notes, published by Chronicle Books)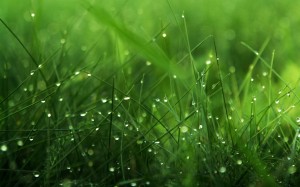 In celebration of the end of the Old Year and the beginning of the New, I offer yet another poem by Mary Oliver — this one a perennial favorite.
Mindful
Every day I see or hear something that more or less
kills me with delight, that leaves me like a needle
in the haystack of light. It was what I was born for — to look, to listen,
to lose myself inside this soft world — to instruct myself over and over
in joy, and acclamation. Nor am I talking about the exceptional,
the fearful, the dreadful, the very extravagant — but of the ordinary, the common, the very drab,
the daily presentations. Oh, good scholar, I say to myself, how can you help
but grow wise with such teachings as these — the untrimmable light
of the world, the ocean's shine, the prayers that are made out of grass?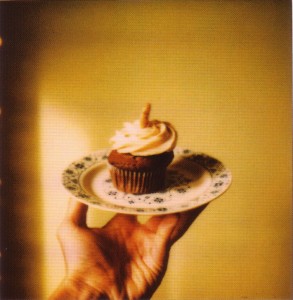 Today is my birthday.
I am grateful for this precious human birth.
For a mind that's open to the Buddha's teachings and a heart that's inclined to practice.
For my parents, teachers, benefactors, and all the many causes and conditions that have brought this moment into existence.
For the mystery of incarnation.
And for this very breath.
(photo by Mathias Meyer, from Polaroid Notes, published by Chronicle Books)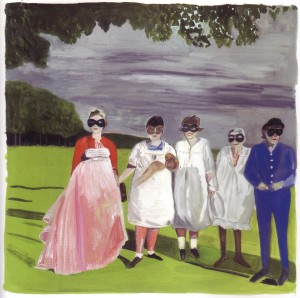 Last night I listened to an excellent talk by Gloria Taraniya, given at the Forest Refuge this past week, in which she offers reflections on not getting caught up in how we SHOULD be, but instead, turning to how we actually ARE.
She said that as she was struggling with this process, these four questions spontaneous arose in her mind:
1. What if there isn't any right way to be?
2. What if the way you are is just fine?
3. What if all the self-improvement just compounds the suffering?
4. What if the only problem here is that you think there's a problem here?
Yeah!
***
(illustration from "My Favorite Things," by Maira Kalman; click on image to enlarge)
Have yourself a merry little Christmas!
(art by Claire Robinson)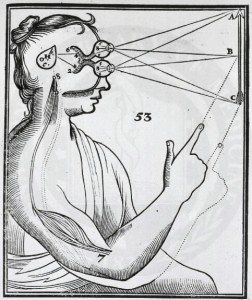 I'm still practicing the "Now I See" exercise I wrote about previously (here and here and here) in which I go to the St. Louis Art Museum, choose a piece of art that "catches my eye," then look at it awhile and write a page about it in my journal beginning with the phrase: "Now I see…," then go back a week or more later, look at it some more and write about it again, and then go back and look-and-write until I've done it 13 times.
It's an amazing and enlightening exercise.
There's nothing magic about doing it 13 times. It just needs to be done a few more times that you think you'll be able to look at the same frickin' thing and still be able to write about it!
Also, it's inspired by this poem by Wallace Stevens, which I don't exactly understand, but I keep returning to again and again:
Thirteen Ways of Looking at a Blackbird
I
Among twenty snowy mountains,
The only moving thing
Was the eye of the blackbird.
II
I was of three minds,
Like a tree
In which there are three blackbirds.
III
The blackbird whirled in the autumn winds.
It was a small part of the pantomime.
IV
A man and a woman
Are one.
A man and a woman and a blackbird
Are one.
V
I do not know which to prefer,
The beauty of inflections
or the beauty of innuendoes,
The blackbird whistling
Or just after.
VI
Icicles filled the long window
With barbaric glass.
The shadow of the blackbird
Crossed it, to and fro.
The mood traced in the shadow
An indecipherable cause.
VII
O thin men of Haddam,
Why do you imagine golden birds?
Do you not see how the blackbird
Walks around the feet
Of the women about you?
VIII
I know noble accents
And lucid, inescapable rhythms;
But I know, too,
That the blackbird is involved
In what I know.
IX
When the blackbird flew out of sight,
It marked the edge
Of one of many circles.
X
At the sight of blackbirds
Flying in a green light,
Even the bawds of euphony
Would cry out sharply.
XI
He road over Connecticut
In a glass couch.
Once, a fear pierced him,
In that he mistook
The shadow of his equipage
For blackbirds.
XII
The river is moving.
The blackbirds must be flying.
XIII
It was evening all afternoon.
It was snowing
And it was going to snow.
The blackbird sat
In the cedar-limbs.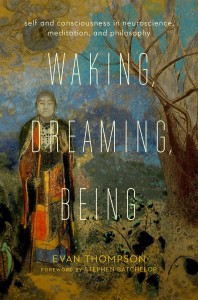 This is an unabashed plug for a remarkable new book, Waking, Dreaming, Being: Self and Consciousness in Neuroscience, Meditation and Philosophy, by Evan Thompson. I stumbled on a review of it in the New York Times late Saturday night and thought WOW!, so I immediately downloaded it onto my iPad and started reading. (Click here for the review.)
The book begins with a Forward by Stephen Batchelor, which is terrific, then a Prologue (The Dalai Lama's Conjecture), and then an Introduction (which gives an overview of the book and a summary of each of the chapters)…and then it gets down to the fundamental questions of consciousness:
Seeing: What Is Consciousness?
Waking: How Do We Perceive?
Being: What Is Pure Awareness?
Dreaming: Who Am I?
Witnessing: Is This a Dream?
Imagining: Are We Real?
Floating: Where Am I?
Sleeping: Are We Conscious in Deep Sleep?
Dying: What Happens When We Die?
Knowing: Is the Self an Illusion?
I've just finished "Waking" (chapter 2) and can't wait to get started on "Being." If you're at all interested in the nature of consciousness, especially as it's addressed by the intersection of Western Neuroscience and Eastern Philosophy/Religion…this is the book for you!
Enjoy.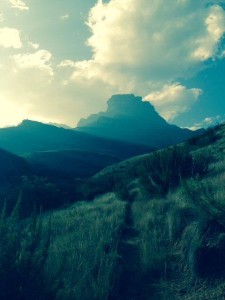 I just received the year-end newsletter from Dharmagiri (which is the Hermitage in South Africa that I'll be going to in January). It included this photo of the Sacred Mountain (which is the translation of Dharmagiri) along with this message from Kitisarro and Thanissara, who will be leading the retreat:
"It's interesting that the the word for gratitude in Pali, katannuta, actually translates as knowing what has been done. Gratitude is less a perfunctory "thanks very much" but more a capacity to appreciate the learning from the whole spectrum of life experiences; even difficulties are something we can be grateful for — usually in retrospect!
"How is that? At some point, once we move out of our reactivity and quiet ourselves into a deeper wisdom, we attune to a knowing that accepts the perfection of our life — just as it is. From there, we are able to feel the blessing of it all."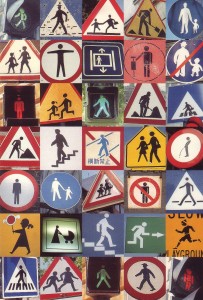 Preparations are now seriously underway for my upcoming trip to South Africa where I'll be spending the month of January on retreat with Kittisaro and Thanissara at their Dharmagiri Hermitage in the foothills of the Drakensberg mountains in KwaZulu Natal. (!)
Here's what I've done so far:
* I've got my plane tickets. (I fly from St. Louis to Atlanta then directly to Johannesburg, where I'll spend two nights, then fly to Durban, where a bus will pick me up and take me to the Hermitage…which will take 3 hours.)
* I've reserved my hotel. I'll be staying in a very nice Western-style hotel in the Rosebank neighborhood (recommended by the office manager at the Hermitage). It's about 20 miles from the airport, so transportation will need to be arranged.
* I've emailed the hotel and they have arranged for a car to pick me up at the airport. (whew)
* I've made sure my passport is current and that there's an empty page for the on-site VISA that, apparently, will be issued once I land at the Jo'burg airport.
* I've purchased traveler health insurance. (Recommended by the Hermitage)
* I've purchased TSA luggage locks. (Recommended by my travel-savey teacher and friend, Lila)
* I've purchased a universal plug adapter for my iPhone and iPad. The one I have is for Europe, but I checked, and it won't work in S. Africa. (I don't have to worry about a power converter because I'm not going to bring my hairdryer — I'll be on retreat, and it'll be hot there, and I won't need be worried about fluffing up my hair!)
* I've checked into getting a short-term phone plan to cover service in S. Africa, but since I won't be using the phone while I'm on retreat, and since it costs $30 and it only reduces the cost of calls from $2.00/minute to $1.00/per minute — I've decided it's not worth it.
* I've called my credit card company, and my special international debit card bank account, to let them know when and where I'll be traveling.
* I've Skyped my friend, Jill, who lives in Singapore and who travels regularly to S. Africa (where her husband is from) and she said I'd be able to find ATM machines I can use at the airports….and other places….so no need to bring a lot of cash.
* I've checked to make sure I don't need any shots. And that I won't need malaria pills.
* I've started making a list of travel meds. Which includes lots of Pepto-Bismol tablets, sunscreen and the antibiotics I didn't use when I went to Burma last year.
* I've arranged for someone to stay at my house and I've made an "Important Stuff" folder for her, which includes a copy of my passport, my itinerary and information about how to get in touch with me at the Hermitage if there's an emergency.
* I've started thinking about what clothes I'll need to take: things that will be comfortable for a lot of sitting and walking; that I can do yoga in; that I can hand wash and will dry on a line; boots for walking on trails, socks, and slippers for in-between times;  a rain jacket and things that will layer because it's summer there, but we'll be in the mountains (6,000 ft), so it will get cool, even chilly, at night; P.J.s for both hot and cold weather; a robe, since there will surely be shared shower facilities; a shawl for the mediation room; a hat for the sun; etc.
Hmmm. That's about it. But I'm sure there'll be more.
Stay tuned.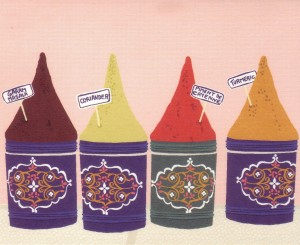 For Christmas this year, I'm giving the foodies in my family hand-mixed batches of Jan's Magical Mystery Spice Mix (a.k.a. Peggy's Spice Rub, from The New Vegetarian Cooking for Everyone by Deborah Madison). It's fabulous on winter squash, roast carrots, sweet potato fries, grilled eggplant and even avocados. Also just the thing to add a "mystery finish" to soups that seem to need a little something extra. (Also excellent, I'm told, as a dry rub for pork…if you're into that sort of thing.)
1 tsp. black peppercorns
2 tsp. sea salt
3 Tbs. coriander seeds
5 whole star anise
1 Tbs. fennel seeds
1 Tbs. ground ginger
1/2 tsp. cayenne
1 tsp. red pepper flakes
1 tsp. ground cinnamon
1 Tbs. five-spice powder
3 Tbs. organic brown or coconut sugar
Crush the peppercorns in a motar and pestle, add the salt and whole spices, then grind until everything is broken up and well blended. (A little texture is good.) Add the remaining ingredients and mix.
Yum!
***
(illustration by Kate Pocrass, from En Route Notecards, published by Chronicle Books)